By Dave Cronin.
Something I've been thinking about…
"Put your medals on the table."
How many times have we heard the cliché from smug BBC football pundits including our own Alan Hansen and Mark Lawrenson who also played for us.
"Put your medals on the table."
For the class of Bob Paisley, this was considered the measure of a player – indeed, maybe of a man.
You can picture the scene: Hansen, Lawrenson and Alan Shearer sitting on the Match of the Day sofa dressing in shiny pinstriped shirts – open collar, legs apart, fancy tans and increasingly podgy bellies.  Lineker sits opposite them eating Walkers crisps.
In walks Steven Gerrard.
"Put your medals on the table, Stevie."
Stevie shifts uncomfortably.  He reaches into his pocket and pulls out a medal.  He studies it for a second before a flicker of recognition registers.
"Worthington Cup," he says.
Out comes another.
"FA Cup," he says.  "I've got another one of them somewhere."
From his pockets he produces a Carling Cup medal, a Capital One Cup medal, another FA Cup, a couple of Charity/Community shield trinkets and a European Super Cup, a UEFA Cup relic and then the big one.
"Here it is!" he declares.  "European Cup winner."
"I've got three of them, son," responds Hansen gesturing to a stack of medals piled up like poker chips.
"And I've got one plus five League winner's medals," witters Lawrenson.
Stevie looks at his feet.  No League winner's medals.  None.  Zilch.
Shearer has one. Over in the BT Sport studio McManaman lies in a Michael Owen commentary-induced sleep clutching his La Liga medals and next to him a Premier League winner's medal hangs around the neck of Owen himself.  The latter duo had to leave Liverpool Football Club to get those medals.  Gerrard chose not to.
As Steven Gerrard emerges from a guard of honour in his final official appearance at Anfield, serenaded by Palace fans singing "He slips on his f***ing arse, and gave it to Demba Ba", somewhere in Manchester a plane will be taking off trailing a banner mocking Gerrard for failing to register a single League title in Manchester United's 137-year history.
To the Palace supporters, Gerrard's failure to win the medal their club has never won in 109 years and will most likely never win, is something he should be mocked for.  But they won't warrant any coverage.  Their 'banter' will be a mere footnote on a day all about Steven Gerrard.
The focus will be on the Liverpool supporters' acclaim for a living legend.  The tears that flow from Gerrard's eyes as he embarks on his final lap of honour will stem from genuine heartbreak at representing the club he loves, through and through, at Anfield for the final time.  Love will pour down from the stands.
But that stabbing pain will still be there.  That singular regret.  That glaring omission from an otherwise replete career.  No League winner's medal.
But here's the thing: that Steven Gerrard walks away having never won a League title with Liverpool is the club's failure; not the player's.  It's a team sport.  One man wins nothing in football.
Alan Hansen never won a medal by himself.  Mark Lawrenson never won a medal by himself.  The same Alan Shearer that won one Premier League winner's medal when surrounded by a strong team of players at Blackburn under the management of Kenny Dalglish, won nothing at Newcastle.  Steve McManaman won honours when surrounded by Galacticos but nothing in the company of Spice Boys.
Swap Steven Gerrard with any decorated player at the same age and Liverpool win no more and probably fewer medals in the last 15 years.
The medals are nice.  It's great to win stuff.  But it's not the be all and end all.  It makes Steven Gerrard no less a player that he leaves Liverpool Football Club without having won the honour he craved the most.
Compare Gerrard to 6-time Premier League winner Nicky Butt.  Was Butt the greater player?  He'd win the "put your medals on the table" challenge but in 10 years time, will you find in the pubs near Old Trafford with a veteran Man United supporter telling nostalgic tales of when he saw Nicky Butt play?
Remember Nicky Butt smashing in that dramatic late winner to secure Champions League group stage qualification?  Remember Nicky Butt's Roy of the Rovers last minute equaliser in the FA Cup Final?  Remember Nicky Butt doing anything at all?  Literally anything?
Nicky Butt was a functional squad player.  He did a job and deserves credit for doing that job to a standard where when one of United's star midfield players was missing or needed a rest, Butt could step in without weakening the team too much.  But if Nicky Butt had been the key player in the United sides he played for, he would have considerably fewer medals to put on that table.  His success was that when great Manchester United sides won trophies, he was there.
And if Steven Gerrard should have any lingering doubts over his career choices, he would do well to consider his former teammate and friend Michael Owen.
Was Owen's career more complete because he finally added the League winner's medal to his collection at the age of 31?  How did he feel pogo-ing up and down on the podium at Old Trafford celebrating someone else's success?  Did Owen believe his solitary League start and goal prior to the title being won justified the medal hanging around his neck?  Were his 9 substitute appearances enough to convince him he was part of the achievement?  Or did he know that the sum of his achievements was to be there when a team won the title without needing any meaningful contribution from him?
Compare that to Gerrard's European Cup winner's medal.  It is a team sport but certain individuals contributed to the 2005 Champions League success over and above other players.  Gerrard's contribution was arguably the greatest of all.  Without him, there would be no 5th European Cup at Anfield.  He didn't win it all by himself but he contributed a hell of a lot.  Manchester United would have won the League with or without Michael Owen.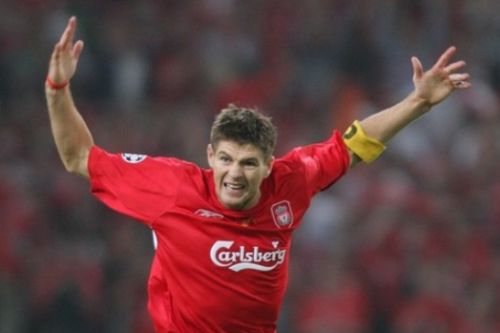 Who can hold his head high for the rest of his life?  Who will forever be welcomed and applauded back onto the Anfield turf?  Who will be talked about as arguably the greatest player ever to represent Liverpool Football Club?
Michael Owen was booed on the last few occasions he stepped out at Anfield.  Even when wearing Liverpool red at Carragher's testimonial.  Was it really worth burning his bridges for a piece of gold?
Steven Gerrard could have gone to Chelsea and he would have won League titles.  He would have been booed when he stepped out at Anfield in Chelsea blue.  Ask Fernando Torres.
Steven Gerrard can forever hold his head high.  He never sold his soul.  He played for the club he loved.  He played for the club we loved.  He did himself proud.  He did us proud.
Put that on your table.