Summary
Villa's use of their midfield quartet revealed a cautious, considered approach
Villa's mdfield started off being aggressive and man-oriented, denying Liverpool time and space
But Villa were poor in using the ball meaningfully in the final third and very vulnerable defensively
Villa had the wrong deep-lying midfielder in Westwood
Liverpool were able to exploit Villa's weaknesses without playing that well
Liverpool were too 'boxy' and lacked midfield fluidity
They were also surprisingly sluggish defensively
At 1-0 Liverpool retreated into counter-attacking mode and improved defensively
Villa start the 2nd half on the offensive
Operational tweaks gave Villa better movement fluidity and more support to  Benteke
Villa's subs made for an increased tempo and increased energy in Villa's play
Following Lambert's introduction Villa's pressure faded and Liverpool regained their composure, calmed the tempo and got back in control
Rodgers impressed with his reading of the game and his well-timed and sensible in-game changes and adaptations.
Given the lack of available centre-backs (Clark suspended, Vlaar and Senderos injured), it was expected Villa would start with a back four formation (although a back three shape may have benefited the clash tactically, making it more fascinating). Lambert's decision to start with four central midfielders was interesting though and kept his options open in terms of what formation his team would line-up in. At the end it was a kind of lopsided 4-1-4-1 with Cleverley deeper and narrower off the right and Agbonlahor keeping a higher and wider position on the left.
Rodgers's decisions were more straightforward. With Gerrard not fit enough to be even on the bench, Sterling came into the starting XI after his two week break as the single change from the Sunderland game.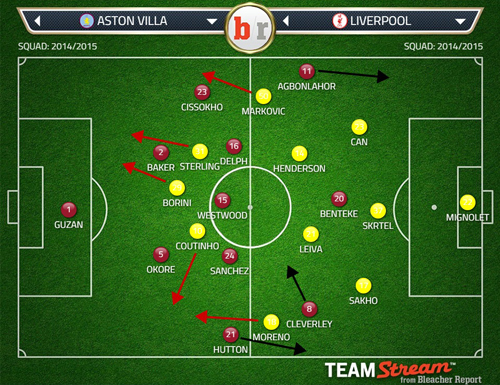 Villa good in the middle but poor at both ends
Lambert's starting XI meant Villa could line up in two ways. The first option was for the four central midfielders to form a diamond midfield unit with basically any of them able to play at the tip. Depending on what Lambert wanted from his team he may have used Sanchez as a kind of advanced destroyer, Westwood as advanced playmaker or one of Delph or Cleverley as additional runner. Similarly, depending on what Lambert would put emphasis on – additional creativity or extra defensive cover – Westwood or Sanchez, respectively, could have been utilised at its base.
The rest of this analysis is for Subscribers only.
[ttt-subscribe-article]