By Paul Tomkins.
Some of this season's problems I was able to foretell – plenty of which were obvious, but a few of which followed patterns and trends most fans don't seem aware of. Others I didn't see coming, or was just plain wrong about.
A quick check of Twitter this morning – and believe me, it was only safe to be brief – tells me that Liverpool should offload 5-10 players this January; that last season was all down to Suarez; that Rodgers was sacked from Reading for a reason; and so on.
Looking back, you were probably able to list the foreseeable problems behind the team's woes without too much trouble: Suarez was world-class; the defence – or rather, defending as a team – wasn't good enough; the extra burden of European football; the arrival of Mario Balotelli; and so on. These weren't guaranteeing that Liverpool would fail, but if Liverpool did fail, they would be the obvious issues to point to. You can add the failure to buy a ready-made defensive midfielder, although that falls into the defending as a team category, and you can bemoan the lack of striking cover, although that is included in the Balotelli dilemma.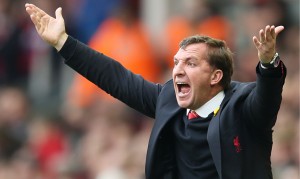 I will always believe that Liverpool were right to sell Suarez, once his latest ban for biting was added to his increased desire to go to Spain (if he stayed and bit someone again, and got a longer ban, everyone would say he should have been sold). He would always be difficult to replace; indeed, nigh-on impossible. We can go over and over the reasons behind not getting Alexis Sanchez, and other big names who were bid on, but Liverpool are a club with a grand history and a chequered recent past, who can't afford to pay the really big wages. (If you haven't read my piece that shows just how far adrift the Reds are in financial terms, please do.)
The most surreal solution I've heard was Martin Samuel repeating his claim on The Sunday Supplement that Liverpool should have gone to Manchester City and offered £60m for Sergio Aguero. Presumably City, so short of cash, would have been only too eager to sell their best player to the team who were their closest rivals last season, while the player himself would have jumped at the chance to join an inferior side and have his wages lowered. Quite what this would have achieved beyond wasting everybody's time is beyond me. It makes less sense than Arsenal thinking they could get Luis Suarez last season for £40,000,001, and didn't result in the Gunners being taken seriously by the media.
People will say that Liverpool needed a world-class replacement for Suarez, but Daniel Sturridge scored 21 league goals last season; having a fit Sturridge would have gone a long way to obviating some of the problems. He's had injury problems in the past, but never like this.
Equally, how many league goals have Suarez and Falcao scored this season? Very different situations of course, and they've only played a dozen or so games (itself an issue), but the combined total of two of the very best finishers in world football is the same number as the tally of Sturridge, who has only played three games. The 'obvious' solutions don't always work; at least in the short-term. In all competitions, Mario Balotelli has as many goals this season as Suarez and Falcao combined. Falcao is a great striker, but his injury record didn't make him the ideal alternative to Sturridge. Divock Origi seems a great buy, in that he's young, absolutely outstanding for his age, and cheap at twice the price. We just have to wait on him. (Which doesn't mean he'll be a surefire hit, as no one ever is, but he has the pace we miss in Sturridge's absence.)
The trouble with overachieving in a season is that if you don't get off to a good start the next season there's a greater sense of disappointment than is fair and logical. Like a team who are promoted a year too early, and aren't ready for the Premier League, Liverpool weren't ready for the Champions League (although should still have won more than a single game). The jump from 7th to 2nd was fun, but some of our helium balloons were always going to pop.
If Suarez is the sole reason for Liverpool's successes last season, as I see so many fans saying, then what about Everton? They've only racked up just over 60% of the points they picked up after 15 games last season; 18 compared with 28. They didn't spend fortunes in the summer, but they also didn't lose by far and away their best striker (indeed, they secured him for £28m after a loan). I'd argue that expectations were raised too high, and the Europa League sapped the extra 20% of energy needed on the weekends in the Premier League.
If adding a world-class striker to your team is the solution, why are Arsenal, who have done just that with Alexis Sanchez, currently 6th, when after 15 games, without one, they were top last December? They qualified easily from their Champions League group, but they don't have the resources of City, Chelsea and United, and as such they are perhaps like Liverpool under Rafa Benítez, in that they can't easily handle both Europe and the Premier League; and that in most seasons they'll be clearly better in one than the other. Only the übersquads do well across both, as I've been saying for years. (The one exception of recent times being Atletico Madrid, with possibly Dortmund a second example, although they're having a nightmare season in the league, to show that good things can go badly wrong.)
As I've noted before, I spent the first half of last season feeling unconvinced by Brendan Rodgers; so much so that I was told, quite clearly, that I had no right to enjoy Liverpool's late blooming in 2013/14. But once he/his team achieved something only done four times in the Premier League era – winning eleven league games in a row in the same season – I came down in favour of him and his methods. I might not necessarily agree with them all, but it was the best season in years.
Right now I could trumpet about how right I was all along, and that he never was good enough, but that seems hollow – and I'm sick of people who only ever point out what they got right while sweeping what they got wrong under the carpet. He's made some bad mistakes this season (some of the signings, the crippling lack of pace in the side, etc), but also had some bad luck: Sturridge's injury woes (worse than usual); some shocking refereeing, where, after the furore of last season's 'penaltypool', his team no longer get valid penalties (and contrast some of the tackles put in on Liverpool player's at Newcastle with the 'violent conduct' of Lazar Markovic last night); and the fact that his team looked superb at Spurs before injury issues mounted and more than two or three of the new buys were going into the team at once. He hasn't helped himself in recent weeks by omitting Borini from the squad, which I find as baffling as playing Sterling for 120 minutes versus Boro in the League Cup. Those are two big mistakes, but we can always point to managerial mistakes; with a different manager we'd just be pointing out his (or has there been a manager in the past 20 years who we haven't moaned about in some way or other?).
But a lot of this goes to prove that it's tough being in Europe whilst simultaneously getting results in the league. It's not just the tiredness after Champions League matches, but the physical and psychological drop-off the weekend before a big game. Some players will always have an eye on preserving themselves for Real Madrid three days later. I've seen this time and again, for 12 years now. Cup football damages your league health: of this I have no doubt. Not every single time, but more often than not.
Teams who overachieve often drop violently in the next season. They'll regress to the mean. Newcastle did it under Pardew, after they finished 5th; Everton after they finished 5th last season. (Perhaps the reason Southampton haven't is because they lost all expectations after a painful summer.) Before they steadied to a decent level under David Moyes, Everton were up near the top one season then down near the bottom. While I'm not Moyes' biggest fan, he wasn't as bad as his worst season suggests, if also not as good as his best season would have you believe.
Over the past two seasons Liverpool's TPI £XI (the inflated average cost of their league XIs, which closely correlates with finishing positions) has ranked 4th and 5th. Average out the league position of last season and this (if the Reds were to finish 7th, say) and it'd just about be right: 4.5. The trouble is that last season felt like a rocket firing into the sky on all cylinders, whereas this feels like the return module falling limply towards the sea. The alternative – to just finish 4th every season, 'on par', and escape the Champions League group – sees Arsene Wenger being harangued like a serial killer walking from police station to armoured prison van. That's modern football for you.
Rodgers is making mistakes, but last season his attacking philosophy broke records. It's not working this time, due to injuries, poor purchases (on the evidence to date) to replace Suarez, and various other little things that are going wrong. The especially quick players – Moreno and Markovic – were either playing quite well but making bad mistakes (Moreno) or looking overwhelmed (Markovic). Markovic finally started looking like a £20m bargain last night, until he brutally and savagely dangled some limp fingers in the direction of a Basel player. As much as you can blame Rodgers for the terrible first half, you have to say that, having made two positive changes at half-time, he was unlucky with having to face an underrated team for 30 minutes with 10 men.
I think that, in time, we'll be very happy with the signings of Moreno, Markovic, Can, Manquillo and, when he arrives, Origi. These are astute buys, even if it's unlikely that they'll all mature as expected. But it's harder to justify the performances of the more experienced new arrivals.
Changes
At the start of the summer I said that Liverpool shouldn't be in a hurry to sell its decent older players: namely Lucas, Agger and Johnson. If you sign eight players, then the law of averages states that at least half won't make an impact, especially immediately. Lucas, for example, isn't what he was, but he's proved very valuable in recent weeks (as has Toure, unexpectedly) in keeping the goals-against column more respectable.
Players like Aspas – who just weren't at the races – could be offloaded without any impact, but you need a stable core of Steady Eddies. It's interesting how Alex Ferguson hung on to so many unremarkable players for so long (Butt, Phil Neville, Wes Brown, John O'Shea, Fletcher, Gibson et al), because he knew they'd do a job. If they were at another club those fans would say "we'll never win the league with him". Between them they must have about 20 league winners' medals. (Martin Kelly fit into this category at Liverpool, but was never fit.)
I have also spent a couple of years warning about buying too heavily from the Premier League, as I just don't think there's any evidence to suggest superior success rates; just a price tag that's too high. While I have no major objection to the purchase of Adam Lallana, Southampton replaced him with a better player at half the price. The lesson from buying Andy Carroll should have been that the transfer fee can be too big for the player to carry.
One thing I can't easily measure is the blend of characters and nationalities that makes a side successful; when it goes wrong you'll probably end up with separate cliques of Brits and the rest, but having lots of French players at Arsenal in the early 2000s, or lots of Spanish at Liverpool a few years later, was far from a hindrance.
Rodgers appears to be on a mission – based on his owns statements – to prove that English players are better than perceived. I'd personally rather he just went for the best players that the club's money (which isn't tons, when wages are factored in) can buy.
So, some of this was foreseeable. And some of it – Sturridge missing virtually the whole of the first half of the season, Balotelli not even registering a single league goal, the relative short-term failure of all of the new signings, the lack of protection afforded to Raheem Sterling by referee's, the total failure of Steven Gerrard in the role he excelled in during the first half of 2014 – was unforeseeable; certainly to such severe degrees. If you asked even the most cynical Liverpool fans to bet on how many games Sturridge would start, how many goals Balotelli would get and what percentage of the new signings would make a clear immediate impact, you wouldn't have seen responses as pessimistic as what turned out to be true. I thought we'd probably finish 4th at best this season, but maybe 5th at worst; right now the Reds are 9th.
So it's not about jettisoning the Steady Eddies in January, or buying another half a dozen new players, or sacking the manager, or ditching Steven Gerrard, or promoting five kids because there's nothing to lose (except their confidence and careers). Some of these things may need to happen next summer, but things have a habit of changing. As I noted earlier in the week, humans have been proved to have a poor capacity to predict change: how things are right now feels like how they will be.
Players will get fit again. Some of the new signings will prove their worth. A striker will go on a run of scoring goals, having not bagged any for ages. Someone unexpected will pop up from the youth team. We saw in early 2013 the impact made by just two new arrivals, who turned the club's season on its head. We saw in early 2014 that a team that hadn't won more than four league games in a row under Rodgers suddenly won eleven. We saw a player bemoaned for his profligacy become as good as anyone in the world. We saw a teenager written off as "not good enough" in late November become a key player from December onwards. We saw Gerrard reinvented in a new role, and Henderson blossom into a vital cog in a well-oiled machine. Conversely, things that are working can also start to go wrong, of course, as we saw with Gerrard's effectiveness in the holding role. (The 'good news' is that nothing is going right at the moment!)
If I thought things were going to stay like this under Rodgers I'd accept the clamour to see him sacked. If this is truly his 'level', then get rid. But while I'm not convinced he's in the top echelon of managers, he and his team are better than this. Even if things don't get better by the summer I wouldn't say he had to be sacked, but equally, if things get no better it becomes ever harder to say the club must stick with him.
For my personal website, with details of my new novel and non-football stuff (about illness, depression and writing, with more to follow), click here.
A brand new review of my novel can be found here.