By Mihail Vladimirov. 
Summary:
Both managers started with flexible players, giving potential variety to the starting formations; however, Liverpool's 3-4-2-1 meant they were perfectly matched against United's 3-4-1-2. 

The Reds' opening spell of fierce pressing was effective, and enhanced by the roaming roles of Coutinho and Lallana.
Mata pushed forward, leaving both sides equal numerically all over the pitch: 3-v-3 at the back, 1-v-1 down each flank and 2-v-2 in midfield.
Not only did Liverpool succeed in denying Man Utd time to settle into their passing rhythm but they also continually looked dangerous on the break following any possession turnover.
However, once the first goal went in, Liverpool were increasingly passive, and Van Gaal's team more composed and structured in possession.
Balotelli was introduced at half-time, but it was the switch in formation that restricted Liverpool's attacking thrust. The 3-4-1-2 reduces the options in possession, and led to the team becoming broken.
Even after the third goal, the home team continued to attack and commit players forward, leaving plenty of space and offering Liverpool the chance of a goal.
After some more injuries, Van Gaal once again reshuffled his starting XI. With Rojo and Smalling now injured, Evans and Jones started instead. Given his nightmare first thirty minutes at Southampton, McNair was logically dropped with his place taken by another youngster – the forward Wilson.
Interestingly, Man Utd's starting XI for this game was such that it was perfectly feasible to see them start with either the 4-diamond-2 shape or both of the 3-5-2 alternatives, the 3-1-4-2 and the 3-4-1-2. Here, Van Gaal opted to start with the latter, playing Mata ahead of the midfield duo of Rooney and Fellaini with Carrick dropping in between the centre-backs.
It is worth noting that Man Utd's 3-4-1-2 formation actually didn't differ too much to their 4-diamond-2. What's more, during the early build-up play the latter shape actually morphs through a period of having a back three – precisely in a 3-4-1-2 framework – when the deepest midfielder drops towards the centre-backs and the full-backs push on to provide the wide outlets. As such it was a case of Van Gaal having the same midfield, attacking and wide structure, with the only difference being Carrick was permanently in-between the centre-backs, while the full-backs received greater attacking freedom as wing-backs.
A similar level of tweaking happened in the Liverpool camp. Rodgers, though, was even more proactive in changing his starting XI as the 'keeper, the left-back, one of the midfielders and the front unit all saw personnel rotation. Similarly, the Reds' starting XI could have been used in a few different ways. Any of the usual 4-2-3-1 or 4-1-2-3 (which would've been more of a 4-3-2-1) seemed plausible, with the more left-field alternatives being the 5-diamond-1 or a 3-4-2-1. Eventually it became clear the game will pit together two teams using similar formations, making it a battle of a 3-4-1-2 vs 3-4-2-1.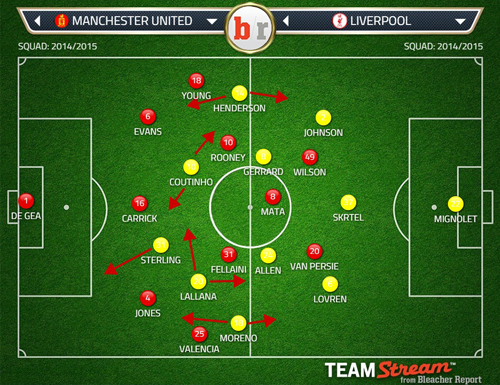 Liverpool pressing hard from the start
The possibility of both teams starting with narrow formations, resulting in a heavily congested midfield zone, coupled with both teams' ability to boss the game in terms of possession, made the game a battle of who could provide the more diverse and decisive tactical aspect in terms of pressing and/or added movement fluidity. The latter is needed to break any overlaps in the congestion of players, serving as a way to open up the field a bit more. The former is usually the tool that has the biggest effect on how the overall tactical battle, especially between two technical and possession-based teams, is going to unfold.
With Man Utd being the home team and given their growing emphasis on possession in the past couple of weeks – apart from the games where Van Gaal specifically wanted to be more reactive – it was logical to foresee that pressing would be an important facet for Liverpool. Regardless of whether Rodgers wanted to rival his opponent for possession dominance or to count on possession turnovers to break forward dangerously, pressing was going to be key for the visitors. Pressing was needed to win the ball back as quickly as possible and then, based on what the plan was going to be, focus on either continual ball retention or counter-attacking penetration. That Liverpool had the rare opportunity to go into this game much fresher than usual – as they had four full days since their last game – just meant seeing them pressing from the off was even more possible.
Not only did Liverpool press, but they did so very efficiently. Partially this was due to the higher level of intensity the players were able to start with; partially it was also to do with how both teams matched each other in terms of formation, which inevitably was going to favour the pressing team.
Leaving the overall match-up that made the pressing obvious, there were certain subtle details in how both teams lined-up and played within their formation that further benefited Liverpool and their pressing. Lallana and Coutinho's free roles between the lines proved invaluable on that front. With neither playing as a clear striker, nor as wingers or central midfielders, they had the freedom to roam around and help press wherever the ball was. They would push up and join Sterling to press Man Utd's backline, they would drop in and crowd out their midfield unit or they would drift wide and help Moreno and Henderson press down the flanks.
The rest of this article is for subscribers only. 
[ttt-subscribe-article]