By Paul Tomkins.
Is there anything better than losing to Manchester United? Like a walk in a bracing winter's wind, it certainly makes you feel alive. It's particularly good if you go absolutely mental about it, when whatever you say is forgivable because Liverpool lost to Manchester United.
Or perhaps you simply wanted the manager sacked, and were looking forward to a good hiding, to make your Christmas wish come true? If so, this was the game for you! No matter that there were signs of improvement; Liverpool lost to Manchester United.
Some of Liverpool's performances this season have been indefensible. Indeed, so has the team's "defending", which is often more like a local community hall's interpretative dance performance, with some statuesque Vogueing by one centre-back as the other throws some shapes (whilst apparently off his face on drugs). But at Old Trafford the Reds created over half a dozen good chances, and the aim of football is to create good chances, albeit whilst denying them at the other end. You can't convert good chances until you've created them, so if you're creating them you're doing something right. Bar a couple of errors at the back, which are par for the course (although obviously not acceptable), Liverpool played well; unfortunately, De Gea played better, and the visitors didn't put their chances in that narrow zone between 'out of his reach' and 'wide of the target'.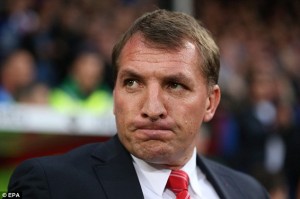 The game highlighted the fact that great goalkeepers are the most important commodity in football, along with reliable finishers. What you do in between – which, in this case, was better from Liverpool than it has been even in a couple of the (rare) wins this season – is still important. You need to try to play well, have a decent midfield presence. You can't plan to simply rely on brilliance at either end; but often that's where the margins are.
Last season Liverpool had an unusual level of brilliance at one end: Suarez and Sturridge who, together and apart, tore defences to ribbons. But plenty of other players helped them to attack to such devastating effect. This season the Reds have been fairly disastrous at both ends, although when certain aspects are excellent – such as chance creation at Old Trafford – then you should be able to acknowledge that without the wailing of "but we lost!". If Boxer A throws some good punches and Boxer B is an obdurate bastard who doesn't fall over, then that's better than Boxer A just standing there with his gloves up over his face.
But all is not lost. It's actually clear what Liverpool need. I've looked on the internet, and it told me.
Liverpool need players like Suarez, who can score lots of goals, apart from when he wasn't scoring lots of goals, and missing too many chances. Liverpool need to buy the kind of players United buy, when those same players are suddenly in a "weak" United team when it suits the slant of the argument. Liverpool shouldn't be giving Raheem Sterling £70,000 a week, because he misses chances; and yet if he scored more regularly he'd be worth £200,000 a week, and then fans would be bemoaning an inability to hold onto such players and blaming the club for not tying him down to a ten-year deal. Liverpool need a manager like Jurgen Klopp, who would never experience such a bad run (aside from being in the relegation zone right now, although that's presumably all Rodgers' fault too).
Liverpool need simply buy better players; indeed, they should type "buy better players" into a special new computer, which not only identifies these better players, but gets them to eschew any personal preferences and move to Merseyside, and never play badly or get injured. Irrespective of what Liverpool can afford to pay, they should buy world-class players, even if we can't agree on what that actually means, or if Liverpool have ever signed a bona fide world-class player (at the point of purchase, not after). And Liverpool also need to give young players a chance, but then tell them to fuck right off if they have the temerity to want paying the going rate to play for the club they should love, especially if they miss some chances in a game. The cheek! (Cue some fat tosser saying "I'd miss chances for Liverpool for half what he earns".)
Whatever Liverpool aren't doing right now, that's what they need. That. And when someone else comes into the team, or into the dug-out, Liverpool will then need to find new players and a new manager to do the different things that they aren't doing.
Liverpool need a manager who doesn't repeat his mistakes, as if all managers don't stick to the same basic structures in victory as they do in defeat. It is apparently the definition of insanity – as the scientific truth suggests – to do the same things time and again and expect to see different results, as if football was played under laboratory conditions with every game an exact repeat of the previous ones; things like persisting with a wasteful striker like Suarez who'll never get you 20 goals a season, or expecting goals from someone aged 20 when his record is a rather pathetic one in his first 46 games for the club (there's no way that Gerrard lad will score 17 or 18 in his Liverpool career, let alone 178!). It's insanity to expect someone like Daniel Sturridge to become a regular goalscorer – everyone knows why Chelsea never played him. And as we all know, whenever Barcelona lose they need to abandon that tiki-taka nonsense – although it's always brilliant when they win. (If only they'd played a bit more like Stoke in those games they lost.)
My issue is with all the noise. Valid criticisms get lost amidst the bullhorns of bullshit. For me, the noise has reached critical mass. I'm not sure anyone in and around the game can make considered decisions. Sack the manager! Sack the board! Sack the players! Sack the ground-staff! Bin everything and start afresh.
Last year I was berated for being too critical of Rodgers, particularly in the first half of the season, and was told I had no right to celebrate a good season, once I finally got onboard the bus. I am therefore not a Rodgers apologist, or a 'sunshiner'; I'm actually a depressive middle-aged man (with no hair) who finds the reactions of some fans – so soon after a season that outstripped expectations by a mile – a little hard to take. "Tell him to fuck off back to Watford" one person with Wildean wit tweeted to me, as if Brendan was on hold on the other phone. "Tell us what you really think," implored another, as if I spend my time saying the opposite of what I believe, because, y'know, who doesn't do that?
Cards on the table: I don't think it would be the end of the world if Rodgers was sacked, and I don't think it's impossible to find someone who could do a better job right now. However, I genuinely don't think anyone could have bettered 26 wins and 100+ goals last season from the starting point of 7th, and I would be sad if, having had such a good season, he was hounded out a mere six months later, when, despite some bad mistakes, there have also been some mitigating factors (losing Suarez, Sturridge's injury, Origi not being able to arrive before next summer, Borini refusing to move, etc.). Obviously I wouldn't expect him to still be here further down the line if results don't improve, but we're not at the Hodgson death-rattle stage yet.
I would question Rodgers' judgement on the summer signings (regarding the deals he drove through), but only those who run the club know for certain who was behind specific deals, so speculation is a little unfair. I don't necessarily agree with all of his decisions, but in some cases it's possible to see why he's making them (i.e. playing Lovren and Skrtel when they are the only two centre-backs not carrying injuries).
I would question his post-match comments, but when you're losing games you can't say much without annoying your critics. Too happy and you have your head in the clouds. Too honest and you sound like David Moyes at United, admitting he doesn't know what to do.
I would question some of Rodgers' tactics, too. But then we had a great tactical manager for six years and he was hounded out after one below-par season. Then it was said that the Reds needed a touchy-feely manager, who was bestest mates with the players. Who also had to be a British manager, and who didn't have a goatee (although I may be imagining this last one). Benítez's sides "were too defensive"; Rodgers' sides "can't defend". Perhaps the 'right man' will take the club into the Goldilocks zone, and everyone will live happily ever after. That's what people want, right?
Of course, I am fighting a losing battle. I want people to be less stupid, but the wonders of the Dunning-Kruger effect means that they don't know how stupid they are. Of course, I am equally stupid – if not even more stupid – to think that I might be able to correct their stupidity, so feel free to ignore me too.
MY NOVEL: Buy it here. (Or don't.)