By Paul Tomkins
Weirdly, when some Liverpool fans look at Mamadou Sakho they see Djimi Traore. As a pair of French-African centre-backs who stand approximately 6'3", some observers can't help but see the latter whenever they watch the former. It's probably not an issue of race as such, but a case of confirmation bias. Given that Sakho looks vaguely similar to Traore (due to their race), and shares his predecessor's lack of smooth movement (but not his wayward passing) there seems to be an instant comparison; and as Traore wasn't very good, it becomes unfavourable to Sakho.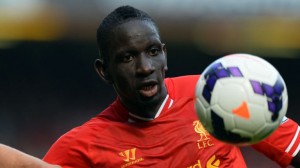 Presumably the same would be true if Liverpool signed another Ukrainian forward with a blonde ponytail, or a tall Geordie centre-forward with a dark ponytail. (Indeed, when you add Lucas' difficult early years to the equation, one could argue that Liverpool should insist on crewcuts for new signings. Sod the analytics, judge the hairstyles.)
I was curious about the reaction after the Burnley game, with many people I trust claiming that Sakho played well (mirroring my observations), and yet in some dark parts of the internet there were people moaning about how utterly awful he'd been. If we like a player we tend to acknowledge the things they do well; if we dislike a player we tend to pay more attention to their mistakes. It's hard to debate football with people who don't understand this.
Sakho's critics were deriding the stats that suggested he did indeed play well; and while stats can indeed skew the picture (they only tell the story in a certain way), if you're arguing against them it could mean that you are choosing to ignore the good that a player does while you watch the game. Nine out of ten tackles successful? Ninety-nine out of a hundred passes completed? If you're moaning about the one the player lost or misplaced, you're probably skewed in your thinking.
This phenomenon can be seen with Stewart Downing, whose weaknesses at Liverpool were clear (a lack of any extravagant skill, and, at times, a lack of bravery on the ball; plus a poor goalscoring return), but whose strengths can be seen in his stats across several Premier League teams, for things like chance creation – which, as a stat, is important (if also dependent on players taking up good positions to be passed to, unless they are the one who rolls the ball one yard from every indirect free-kick near the area).
I much prefer Philippe Coutinho, but is that because he looks better in what he does? Do I like him more because he's Brazilian? Downing has four goals this season, to Coutinho's two, and Downing ranks 3rd in the league for assists in 2014/15, with six, which is six times as many as the Reds' Brazilian, whose pass to Sterling on Boxing Day was almost worth two due to it's beautiful nature. It's worth noting that Coutinho is still only 22, so should get better, and that Downing was not as efficient under the spotlight at Liverpool as he is at West Ham. (Plus, Coutinho's overall scoring record is better, per game, than Downing's: a goal every 7.3 games compared with 9.9.) But it's an example of choosing to see the good in those we like and the ill in those we don't.
It's clear that we don't always judge what players do, but how they look when they are doing it. And this leads me to think of how we perceive things in general, and how that, in return, gets applied to football.
This article is for Subscribers only.
[ttt-subscribe-article]