By Paul Tomkins.
As the age-old English refrain reminds us at this time every year, as effigies are lifted onto pyres and fireworks are sent fizzing and popping into the sky, Remember remember … when Liverpool were good.
Alternatively, as Morrissey once put it (as he tugged on a half-open silk blouse in the middle of Death Valley), November spawned a monster. This season has been ugly, in stark contrast to the beautiful poetry (in motion) of 2013/14.
Obviously there's a lot going wrong right now, but I will leave others – not least this site's Mihail Vladmirov – to discuss tactical issues, as I focus on where my knowledges rests. A big issue this season has been the money Liverpool spent, and what they got in return. (To go through every issue and mistake this season – in detail – would take until next summer to write.)
The transfer spending of 2014 has proved fairly disastrous thus far, but it's still early days for the players (albeit, with each passing week, increasingly less-early days). The problem is not that some have failed to impress – as that happens – but rather, that none has clearly succeeded. You expect the former; you cannot get by with the latter.
Of course, it may be that Liverpool signed good players who are being dragged down by the despair surrounding the club, as they entered a team still shellshocked from last season's late collapse, with some tired from the World Cup, and everyone feeling like their superhuman powers – maybe from a radioactive bite – had just boarded a plane to Barcelona. Add Sturridge's injury, the extra Champions League games (which is why I think the League Cup should be avoided), and you can probably find more legitimate reasons for the Reds' struggles than you can for, say, Manchester City, who have a top manager, who are not integrating a load of new players, who didn't lose their best player in the summer, and who haven't lost their second-best player to injury.
Perhaps City just aren't very good at defending titles, although that doesn't explain their woeful Champions League form. Both clubs who gave the most to 2013/14 – who scored over 100 goals each, and played great football – look emotionally spent this season. None of which is to say that their managers are getting everything right this season. But is Pellegrini now an idiot? Are all those City players no longer any good?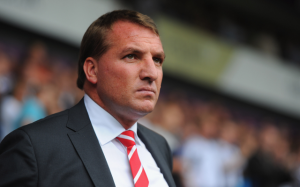 And while we're at it, how did Jurgen Klopp, who I'd have taken in a heartbeat in 2013 at the expense of Rodgers, end up at the very foot of the Bundesliga with Dortmund? (They are 18th out of 18 as I write this. I know – it's insane.) They also lost their best striker, of course, but so did Atletico Madrid (along with a whole host of their other stars), and they are still doing well. Given that Liverpool aren't as rich as Manchester City, Manchester United, Chelsea and Arsenal (whose wealth is partly stadium-based), it makes sense to follow the model perfected by Dortmund (who are dwarfed by Bayern Munich) and Atletico (whose resources are a mere fraction of those at Barcelona and Real Madrid).
Yet if you say that Dortmund and Atletico have an approach to aspire to, how do you explain one still doing brilliantly and the other having a nightmare of a season? Can ideologies be correct, but shit still happens?
Do you say that the Lyon model, which set the template over seven or eight consecutive years of French domination and diamond-polishing, was genius because it lifted them to incredible heights, or say that it doesn't work because they eventually fell away? Isn't it still better to have been a Lyon than a big-spending-followed-by-big-sales Monaco over the past decade? If buying the wrong players is unhealthy, so too is overspending on big names who are just there for the money (no one goes to Monaco for the atmosphere inside the ground).
With Liverpool the main criticism from the slump comes back to the buying. And yet several years ago I wrote that if Liverpool did win the league (so it must have been 2009 or before), I'd expect them to defend the title poorly, on account of the effort it would take with a smaller squad, and the emotional release involved; which, after decades, would be immense. In some ways that has happened without winning the league, because the team went so close. It was emotional. (I know other Liverpool fans with chronic illnesses who were wiped out by the run-in; I imagine that healthy fans and players found it tough, too.)
We can retrospectively say that the buying in 2002, when the club finished 2nd, and in 2009, when the club finished 2nd, and in 2014, when – you guessed it – the club finished 2nd, was to blame. But perhaps part of the reason Liverpool dropped to 5th, 7th and (currently) 8th respectively was the effort – emotional, physical, psychological – that went into the previous season. It might not be the buying – or just the buying – that's to blame.
Maybe this is less of the case in 2002, when the Reds were some distance behind Arsenal – I don't recall it being a title challenge – although it was the first season in the Champions League since the old European Cup had been rebranded. No matter how you slice it, Diouf, Diao and Cheyrou proved to be appalling buys. (Running the figures through this site's Transfer Price Index inflation model, that £20m investment twelve years ago works out at £24.4m for Diouf, £9.8m for Cheyrou and £12.2m for Diao; £46.4m in today's money for three players.) And in 2009, while Alberto Aquilani (£31m TPI) proved a costly mistake in replacing Xabi Alonso, there was also the issue of Gillett and Hicks cutting positive spending, and backing out of deals on a much-needed striker. So it's not like you can put any of these situations down one simplistic cause.
Irrespective of who signed off on them, I think there have been moments of promise from most of the summer's new arrivals. However, as yet, they have never been consistently good, nor all had their good moments in unison.
So, for example, Emre Can was very impressive in two big games this week, but Adam Lallana's one really good game was a while back, at home to West Brom. Lazar Markovic had his best game in Madrid, but otherwise is taking his time to settle. You can see the obvious potential in Manquillo and Moreno, but as you might expect for young full-backs new to England, both have made mistakes. Mario Balotelli has actually been quite good outside the box, with good skill and hold-up play, but has been totally ineffective within it.
Right now, if I'm being kind to Balotelli, just two players stick out like sore thumbs. Rickie Lambert has failed to do anything of note, as hard as he is trying; indeed, yesterday he was trying so hard to run fast he actually just fell over (which sums up his time back on Merseyside). And Dejan Lovren has been like the proverbial bull in a china shop, only, after that bull had just snorted a twelve-foot line of cocaine whilst having his testicles stroked by several Colombian dairy cows. Liverpool seemed to need more aggression at the back last season, but if anything, Lovren has been too aggressive in trying to win the ball in every single situation and ends up dragged hither and thither. In trying to anticipate danger he is causing chaos.
It's also important to remember that some of the buys weren't designed for immediate impact. That is not to say that they were bought with the knowledge that they weren't yet good enough, but when people talk of nine new signings and £110m/£120m, they have to acknowledge that it includes three 20-year-olds, plus a 19-year-old who doesn't even arrive until next season. With six or seven players from last season pretty much guaranteed a start if fit – Mignolet, Skrtel, Gerrard, Sterling, Henderson and Sturridge – you don't sign nine as definites for the XI, unless you're planning on switching codes to Rugby Union. (You can argue about whether or not Gerrard should still be in the team, but that's another issue. Ditto if Mignolet is good enough.)
Some of the new buys were expected to spend a bit of time bedding in, in the way that Liverpool paid relatively big fees (at the time) for Ian Rush and Steve Nicol when at similar ages, and gave them a year or two to develop. You can argue that Liverpool needed here and now signings, but with the rabid now-now-now of modern football you can always say that – fans, caught up in the moment, rarely think about the long-term. The fact is you have to focus on a range of ages when signing players. You need those to impact now, and those to filter through. Liverpool's problem is that none of those bought for the here and now have succeeded so far.
I actually feel fairly optimistic about the signings aged 22 or younger; the ones who are older represent more of a worry. Rumours persist about schisms between Rodgers and the transfer committee, and people are blaming one or the other, depending on their viewpoint (or agenda).
Historically I would have sided with the manager, but the way all big clubs operate has changed, and we can't keep harking back to old models, just as I don't want to hear what Bill Shankly would have done (because Shankly was an innovator, and using his ideas from 40 or 50 years ago would not be innovative; if he were alive and still managing, he'd be trying to innovate for the modern game, not the game from 1965. I mean, it's not like signing Scottish players is still the way to win things, is it?).
On top of that, I'm not sure that Rodgers has the transfer record to justify abandoning the club's policy in order to go with one man's vision, but he did do enough last season to suggest he's a good coach.
To be honest, I'm not entirely sure which players were his choice and which were at the committee's behest, but we do know that the signings of summer of 2012, bar Assaidi, were down to him, with the January 2013 signings down to the committee; and that from then on the perceptions of who is a 'Rodgers signing' has been down to who gets a regular game (which obviously falls down when talking about Daniel Sturridge, who Rodgers may not even have wanted, but who he has come to love and trust).
Logically, you can guess that the younger players scouted from abroad are the work of the committee, given that Rodgers won't have been as aware of Can, Manquillo and Origi (pre-World Cup) as those the club pays to watch foreign football; with Markovic and Moreno more widely known as full internationals at big clubs who contested the 2014 Europa League final. You sense that Rodgers is keener on Moreno than Markovic, but Markovic was injured at the start of the season and not fully match fit when introduced to the side.
Logically, you can say that Lovren, Lallana and Lambert were Rodgers' work, because you'd expect a Premier League manager to covet Premier League players, given the amount of time he will spend studying them. But that may be unfair on Rodgers, who speaks Spanish and watches La Liga too, amongst, you suspect, other international leagues broadcast to this country. Rodgers has also had stick for sidelining Sakho in favour of the hitherto hapless Lovren, but as much as I like Sakho, it's not like he hasn't had his critics or made his own mistakes (or proved injury-prone).
I'm not even entirely sure that Rodgers is favouriting his own signings, as suggested in some quarters. I think he has been fair to plenty of players who were not his signings. People berate him for marginalising Daniel Agger, but Agger himself admitted to struggling with Premier League football as he approached 30. Then there's Jordan Henderson, who was almost 'given' to Fulham for £4m by Rodgers, but who, after winning the boss round, was one of the best players in England last season.
(As an aside, Henderson's form this season seems to have dipped with the pressure of being vice-captain, in that once you're in that position you tend to take on the burden of the entire team's struggles. In cricket, England always tended to appoint the best batsmen as captain, and then his form would evaporate; and while Henderson isn't the full captain, he is known to be someone who is very conscientious. Strangely, sometimes the best captains are arrogant, self-centred bastards who want to win at all costs, but often as part of some personal glory. I mean, did John Terry care about 'betraying' Wayne Bridge and Rio Ferdinand?)
Rodgers has 'overlooked' Assaidi, Aspas, Alberto and others, and aside from an aversion to surnames beginning with A, I'm not sure any of them merited a run in the team (although they might argue that they never got the chance). Fabio Borini hasn't featured much, and he's an undisputed Rodgers buy. Rodgers seemed to be behind the Nuri Sahin loan, but quickly gave up on him.
Perhaps Liverpool should have spent bigger, but on fewer players. And yet everyone said the club needed quality and quantity (last season was built on the back of a small group of players; pretty much every pundit noted this). The trouble is, that's probably the hardest thing to do in the transfer market, and in recent times has only probably been seen done successfully by Chelsea a decade ago and City a few years later. They did so by paying massive fees and massive wages – in today's money dwarfing the outlay by the Reds, given that the average price of a Premier League player has risen markedly (a £20m player now was a c.£12m a couple of years ago, and about £6m a decade ago). They had so much money they could cast off expensive flops as if they were free transfers, knowing that the five or six who made it would make all the difference. They had billionaire benefactors and there was no FFP.
Chelsea, who outplayed the Reds this weekend (but rode their luck with a ludicrous late refereeing blunder), spent brilliantly in the summer: a handful of absolutely top-class players with bags of experience. But let's not forget the size of their squad last season – which was already big and experienced and expensive. And let's also not forget that they have been hoarding precocious teens and 20-year-olds for a few years now, loaning them out and then, as seen with Courtois, bringing them back when they finally want them. I don't blame them for playing the system so well, but at times the system sucks.
Liverpool have to work differently. According to the recent Ian Ayre talk given in Europe, Rodgers identifies the positions that need improving, the committee draw up a shortlist and the manager takes his pick. If this is true, it suggests a sensible way of working. It needs Rodgers to correctly identify the problem areas, the scouts to find and report on good options, and Rodgers to pick the one he fancies. Of course, if Rodgers is blind to the weaknesses in his side, the committee then recommend the wrong players and Rodgers chooses the worst option, it can go horribly wrong.
Perhaps the greater question is one of unease over the spread of the spending. Why do Liverpool now have two left-sided centre-backs who cost almost £40m between them? Why was £45m spent on two players who, it seems, would rarely be in the same team together (Lallana and Markovic)? Why did the Reds start the season with Lambert and Borini as third and fourth choice strikers? Also, as a more topical point, why didn't Liverpool make a move for any South Americans (beyond Sanchez), given that they tend to have the rare combination of street-fighter hunger and great technique? Is Rodgers losing sight of the challenge due to wanting to prove how many English players he can get in the side, or is he right to bank on homegrown talent?
Clearly the summer, as well as being defined by Suarez leaving and some 'duds' arriving, was also about what didn't happen. First, Alexis Sanchez chose Arsenal over Liverpool. We can debate whether Liverpool should have offered Barcelona more money, or promised higher wages, but if Sanchez preferred Arsenal (and London) then it's hard to force him to join your club. Newcastle effectively did that very thing with Michael Owen, who desperately wanted to return to Liverpool in 2005, but the Geordies effectively became his only option. He had a terrible time there, perhaps partly because he never wanted to be there. As a basic requirement you probably want to have players who are happy to be at your club. (Which, along with the potential of a two-year ban for a fourth bite, is the reason Suarez was sold; let's not overlook how much he wanted to go to Spain.)
Next, Origi, the bright young star of the World Cup (alongside Raheem Sterling), and recently described as a future great by teammate Simon Kjaer, was already lined up, but Lille refused to sell unless they could have him back until 2015. Again, maybe Ayre and co. could have offered an extra £10m, to sweeten the deal, but then suddenly Origi would become another £20m youngster, with that added pressure, and talk of paying too much for players would arise.
Finally, Fabio Borini wouldn't leave. Here was a £12m asset determined to stay, and fair play to him if he wanted to fight for a future at Anfield. But if he stayed it probably wasn't wise, or feasible, to bring in another striker, and maintain a wage bill that fits within the limits imposed on the club. If you can't get rid of players it becomes harder to bring new ones in without suddenly finding yourself critically overstaffed.
My overall sense is one of all not being well in terms of the transfer committee and Rodgers, in that even if there is no tension (and some say that there is), there were weaknesses that either weren't addressed, or weren't addressed adequately. Some of the signings seem at odds with some of the other signings. That's a concern.
But at least the international break has come at the right time. It's a chance to get Daniel Sturridge fit for first team duty, and for Rodgers to do some work on the training ground with those around for the next fortnight. If some of the older players are tiring and not jetting off with their countries, it gives them a chance to rest. Whatever happens, it's a chance to regroup, and for the coaching staff to get their thinking caps on. It's also time for the transfer committee to work with the manager to identify solutions in January.
The title – always a long-shot – is well gone, but the race for the top four is still wide open.
My debut novel, 'The Girl on the Pier', is out now. Click on the Amazon link below or visit my personal website – www.paultomkins.com – for details. Apparently it's surprisingly good, according to people I've neither met nor paid money to.