By Paul Little.
I've only ever wanted one manager to be shown the door at Liverpool. And that manager was Roy Hodgson. Despite how others struggled, or flattered to deceive, Hodgson was the only one I wanted to go because he was the only one I didn't want there in the first place.
Not all of the others were first choices for me. Not all filled me with any great hope. But all bar the current England manager offered something.
I don't want Brendan Rodgers to go. He wasn't my first choice. He wasn't even close. But I could see the logic in it. And I believed, if nothing else, the style of football displayed at Swansea would at the very least be interesting to watch at Anfield.
No, I don't want him to go. I want him to stay and prove me right. Because after almost 30 months with Rodgers in charge I became convinced that here was a man with a plan – no, several plans. Not necessarily a man who would bring Liverpool the title – I stopped believing in such things quite some time ago. But a man who could make Liverpool exciting, make Liverpool interesting and make them competitive.
I don't think it's rational to expect Liverpool to win the title anymore. To do so, they need a brilliant season and they need everything, absolutely everything, to go their way. But I do believe that it is not too much to ask that Liverpool be exciting, be attractive and be competitive.
Thirty months of Brendan and Liverpool have been all of those things, until now. Now, Liverpool are none of those things.
It's pretty easy to lose faith in football. No question faith is being tested right now. Make a change? Not for me. Not right now. I don't want to see us start all over again. It's tedious and tiresome and offers no guarantees.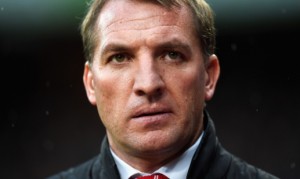 No, I want Rodgers to figure it out. He made me believe in the last 30 months that he can figure things out. He's shown that he's not wedded to one system, to one way of playing. He's shown that he can convince players of his methods. He's shown he can make Liverpool exciting and competitive. He's shown that he can adapt and change. I think he's shown enough to be given the chance to turn things round.
But he can't be given forever. Because there's plenty to suggest in recent weeks that he may not be up to it. From a manager who gave the impression that he could continually solve problems and get the best from his players, he increasingly looks like a manager running out of ideas.
When Rodgers took the job, he immediately set about getting Liverpool to play the tiki taka style that got him noticed at Swansea. He took all of the pressure onto himself and told his players how to play and to go and play. He convinced them not to be afraid to get it wrong. He took the blame if things went wrong – he convinced them to just keep on playing.
Then he lost Suarez for the start of last season, so he changed how Liverpool played. And it worked. Then he realised that he needed to reinvent Steven Gerrard and change Liverpool's shape to get the most from Suarez, Sterling, Sturridge and Coutinho. And it worked. In fact, it worked even better. And Liverpool came so close. And Liverpool returned to the Champions League.
And then he lost Suarez for good. And then he had to build a squad quickly that could cope with the dual demands of the Premier League and the Champions League. And then Daniel Sturridge's thighs became a medical mystery – and the wheels came off.
And after Sunday at Crystal Palace, the wheels now seem to be rolling dangerously away – almost out of Rodgers' reach. And you wonder can he somehow re-attach them whilst still driving the car.
That's what he has to do – and I want him to do it. It's hard. There are extenuating circumstances, but Liverpool spent £100 million in the summer. Yes, so much could change if and when Sturridge returns. But Liverpool shouldn't be so beholden to one player.
There are extenuating circumstances – but the manager keeps on making the same mistakes. The players are there for Liverpool to be competitive, but Steven Gerrard isn't one one of those players. The skipper has been a problem for quite some time – even before Rodgers' arrival. Rodgers found a way to make Gerrard relevant after Christmas last season. Before Christmas, Gerrard was much like he was now – a Gerrard-shaped hole in midfield. Rodgers changed Liverpool's shape and put in Allen and Henderson to do his running.
Gerrard got a deep-lying creative role – but he was not the side's "playmaker." Nor was he a defensive screen. Rather, he was an outlet, a conduit if the circumstances were right. He wasn't the hub. Instead, he was a creative option from deep – a role that made sense in a side brimming with creative options and two top class strikers punishing and punishing opponents.
But with Suarez gone and Sturridge injured, Liverpool are not the same team as last season. They don't frighten anyone. They don't stretch anyone. Gerrard's role made sense last season, despite his defensive frailties. This season, he looks what he is – a 34 year old central midfielder. And he is hurting Liverpool.
It's not a nice thing to say. A legend and all that. But then legends are all in the past. I don't believe in sacred cows. No football heroes for me – heroes are for kids. How can I have heroes 10, 15 or 20 years my junior? They are footballers and footballers come and go.
I won't pretend to have all the answers, but I think I know one of them. Rodgers must surely look at Gerrard and see it too.
Here is where Rodgers has to be bold. Here is where he has to show that he can be ruthless. Here is where I think he can start trying to re-attach the wheels. Here is where he has to show that he has a plan for the future, that the players can look to him again – take direction and strength from him.
Brendan Rodgers needs to be bold. He needs to go right to the heart of his side's problems and present a solution. And he needs to take the players with him.
He's done it before. I want him to do it again.