By Chris Rowland.
A lot of the best content on TTT is what no one outside of the subscriber-base gets to see. There's a whole world of brilliant debate going on all day every day.
So let's have a look at a few brief highlights of the conversations that have been taking place this week on the site's many debate threads, starting with this from the thread on Paul Tomkins' new article "Why Liverpool Never Win The League":
Garythespud:
THIS is why I subscribe to TTT. The banter (little old wink) is a massive plus but this analysis is so far ahead of the mainstream media you are having tomorrow's breakfast before Shearer et al are tucking into the fish and chips the night before!

In a way Rodgers is a very lucky boy. Re that last paragraph. The way his sides are playing there really shouldn't be any way back. If he can make bold decisions he can pull the proverbial rabbit from the hat. If he can't, then he's going to get sawn in half and locked into a fan meltdown straitjacket even Houdini (or James Randi) couldn't get out of!
If you were a baseball fan the day NESV bought the Boston Red Sox, you would have said that there was no way that John Henry's promise that the Red Sox would win the World Series would happen. In addition, no one in Red Sox nation would have said even in a drunker stupor that the Red Sox would win three World Series in the next decade. Why? At the time conventional wisdom was that only the rich teams such as the Yankees at a realistic shot at winning in baseball.

Well, times have changed and all sorts of people such as Billy Beane and Andrew Friedman have shown that conventional wisdom is not always right and if you are smart enough you can win in baseball which is something so called mid-market teams such as the Cardinals and the Giants and the Red Sox have shown by winning the World Series.

When the then NESV bought Liverpool, one has to assume that John Henry made the purchase on a series of assumptions. First, NESV could increase the commercial revenues of Liverpool to be competitive with the richest clubs in the world. Second, he assumed that if you hired the right people on the football side of the business you could find young talents who would blossom in Liverpool and in this world Liverpool would not only win the Premier League but also the European Cup. Simply put, Liverpool would have the financial muscle to compete with anybody/everybody and that Liverpool would have the smartest football people in the game.

If John Henry was right, the old way of football described so well by Paul would be superceded by a new way to succeed in football. On this point, only time will tell if Henry was right and remember he did put his money where his mouth was and he did the same thing in Boston. In this world, any blip in Liverpool this season is merely a blip on the road to success.
A little depressing in one way but equally the realigning of expectations cheers you up too paradoxically. Being well off top 4 is much less hurtful when you feel you'd be lucky to get in it at the end of any given season rather than feeling you should definitely be in it. Perhaps Hodgson was on to something all along with his relentless expectation lowering

On a more serious note if we're never going to win the league and are highly unlikely to win the Champions League then going all out in the domestic cups makes much more sense. Clearly CL qualification year on year is much better for the club's finances and attracting better players that could help us compete with the big three but from an owner's perspective is qualifying for the CL occasionally and winning a cup occasionally better than consistent CL qualification but no trophies?

If JWH is of the opinion that we have no hope in winning the big trophies anytime soon he may have realigned his perception of the domestic trophies and allow Rodgers a poor league campaign as long as a trophy is won unlike the time Kenny did the same?
Brilliant effort, Paul.

This, along with an understanding of the concepts of TPI, should be common knowledge to any football fan and certainly to anyone writing or talking about it in the media.

Yet, I bet no one, not a single person among the glorified ex-players-cum-pundits or "churnalists" that are called to give their "expert" view have the slightest inkling that in reality only three clubs stand a chance of winning the PL.

No wonder since very, very few have a real understanding of the tactics involved either, that the less "sexy" and much more academic concept of a corellation between money spent and talent accumulated over time in the top clubs, has such a huge significance in determining the champions. Every season.

The FA and the PL (same as in the other top leagues) basically have no interest in making this fact known to the world as it's deemed to not be good for business if everyone was aware and often reminded that in fact the only contest that exists is the one for the leftovers when the title is already a foregone conclusion decided between three clubs.

In other words: 90% of what is said and written about the PL is basically noise.

A good portion of the remaining 10% is found here on TTT – thanks Paul and everyone else contributing.
I don't know if we fully appreciate yet the full implications of this message.

This may well be a landmark article.

You will remember where you were when you read these words for the first time.

You'll divide your football supporting life in terms of 'before' and 'after' you read this revelation.

24/11 – The day that Tomkins 'killed' the Premier League Santa Claus.

Those sunny August dawns, full of renewed hope and optimism, are now a thing of the past that your grandchildren will struggle to comprehend.
It's also the day my voice went after talking for almost two hours to you and Daniel for the TPI podcast special!

I hear that Robert Peston (BBC News economist) has retweeted this to his half-million followers.
Not surprised he's retweeted it, Paul. First, because it's a fantastic article – crystal-sharp insight – but also because he's a mad-keen Arsenal supporter and the article could almost be titled Why Arsenal Never Win the League. Like Bob says, today only we seem to appreciate what you say – conceivably, some day soon, it'll be something 'everybody knows'.
Cheers, Mike. I had some Arsenal fans get behind the piece last week. It'll be interesting to see how many hits this gets outside of the usual TTT readership.
Given Paul's argument and Bob's comment, I can't help but think that eventually, without some effective brake on spending, the domestic Leagues will start to wither and die.  What's the point of a League where one of two or three clubs wins the title year in, year out? What's the point of football, if the same clubs win the more important cups too, most of the time. Competitions have to be competitive, don't they?

The owners of sports franchises in the US, especially in football (gridiron) and basketball, realized this long ago. Hence the salary caps and heavy restrictions on free agency for players (hence transfer activity for clubs). Of course, it's easier for such owners to operate as a cartel, given their legal protection from anti-trust law and lack of international competition. On the other hand, top-level football isn't really global: the money is in Europe. UEFA has taken baby steps with FFP and surely the pressure to do more will grow over time. Here's hoping, anyway.
Paul & TTT Team,

This is probably the first comment I'm posting after lurking for a long while. I'd like to say a big 'Thank You' for the amount of work that goes into running this site. Articles such as this one is miles ahead of rest of the work I come across on Liverpool and I couldn't help but say something after reading it.

I'm Malaysian and I've been a Liverpool fan all my life  and I can't tell you  how much my understanding of football as a whole has improved since being a TTT subscriber. I was already a fan when I used to read your articles on the official Liverpool site, so you can imagine my excitement when I came across TTT couple of years ago.

The regular people who post their comments are unbelievable in terms of their involvement, passion, knowledge and the best part for me, is that they do it with the right amount of wit and humour and I just love that. Many a times I've just gone 'WOW' from  reading some of the stuff that gets published/posted here.

As a Liverpool fan it's nice to know that you are part of this big family and you can share the same passion with people from around the world without even meeting them. You have a lifelong subscriber in me. Cheers.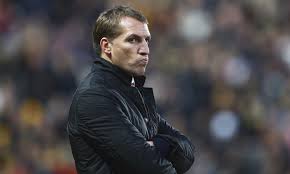 Another article by Paul Tomkins, "Time To Sack Rodgers?", also drew a great deal of debate. Here are some highlights:
Dave C:
Brilliantly summed up, Paul.  As I said in a recent post, sacking a manager is not a punishment for a few bad results or team selections we didn't like. It's a last resort when you simply can't see things improving to an acceptable level under that manager.

The increasing concern is we are rapidly heading towards the point where it is becoming hard to see things improving to an acceptable level under this manager.  I don't think we're a team out of form.  We've been this way for months.  This is our form.

From what Rodgers has shown us, he can do a thoroughly decent job with the right cocktail of players at his disposal but our record of signing decent players under him is woeful and he shows no sign of being able to eke out results when he doesn't have the right cocktail of players at his disposal.  That really doesn't bode well.
Si Steers:
Great piece Paul. I don't think Rodgers will be sacked, but I do think FSG will bring in a Sporting Director at some stage, and if he doesn't like it, I think he'll be given a stark choice. In my view, thats what should happen.

Rodgers remains a really talented young coach – but he has his flaws and after last season he has stopped listening to anybody other than himself. In this type of situation, a Sporting Director would act as a good challenge to some of the decisions he is making.

I also think that we need a far more strategic approach to transfers – I have absolutely no idea why we are recruiting from the Premier League. Players are overpriced and overhyped (as is the league in general) – I think value comes from outside of these shores. And for a Club that has to operate in value paremeters – its illogical that we did the bulk of our 'big' business here this summer.

This is where I think a Sporting Director comes in – Rodgers is naturally drawn to players he knows – he needs somebody that shares his view of the game and can recruit internationally so that he can be confident he is getting the players that are the right level and fit for his style. That just hasn't happened for whatever reason.

I do think our struggles this season are both down to mistakes, loss of form and confidence, but also a structural gap at the club.

Rodgers has probably been given too much power and influence – it was a similar story with Rafa – and I don't think it ends well.

A wise man once said that none of us are as smart as all of us – I know that is the concept of the committee, but I do think somebody with experience, wisdom and gravitas adds an objective voice at the club to keep everyone focused on what they do best – I'm not sure that focus is there at the moment.
I saw a tweet earlier which said "It's not even the results. It's that we have no identity". I thought it nailed the issue, really. What are we now? What are we trying to be? What's our style of play? I don't know the answers to any of these questions.
Imagine you are Lucas.

You're sat on the bench.

You're reading the game.

You can see what is happening.

You can see what is not happening.

You're sat on the bench.
Now imagine being Gerrard, Lovren or Johnson. Colossally underperforming and knowing that it matters not one jot – you'll still be picked for the next big match.