By Paul Tomkins.
"I'm not fucking paying for that" is probably the most common response I encounter on Twitter. "You charge to read a blog? Fuck off!" ranks second. And while "You speccy egg" has only been said once, as a bald man with glasses I reluctantly accept this point.
If I have to justify the concept of charging for original content to you, then you're probably not going to be interested. But it's worth pointing out, now and again, what we offer, and why it costs money to bring it to you.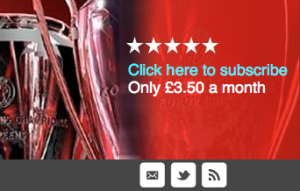 For starters, this is not a hobby. The site is my sole source of income, and the same can be said of two of the site's full-time staffers. A further three people receive money for their efforts, which means none of us are getting rich, but we are able to pay our bills. Half of us have chronic illnesses preclude us from gainful employment in traditional jobs.
Our writing is a service, to you, the readers. You opt to pay for it just as you'd opt to buy a newspaper or magazine, the overheads of which are not merely the paper its printed on but the staff who write and edit the words. We don't have any printing involved, but we do need payment for our time and energy – and skill – to pay for things like the internet, gas, electricity, water, council tax, rent/mortgages, food, and so on. We've yet to be able to walk out of Sainsburys with a trolley food of groceries shouting "I'm not fucking paying for that!"
(NB: people often say 'why not run adverts?' The monthly income we received from one single, prime-placed Google Adsense ad would support the site's running costs for about 15 minutes a month; so we'd get together on a Monday morning, boot up our computers, write a couple of sentences, then shut down for a month. Also, we don't want to be a site that's plastered in ads, or to run paid-for articles that look like editorial content. We'd rather be beholden to you, the subscriber, than to The Man.)
We hope – indeed, believe – that what we produce is worth paying for. But it won't be worth it to everyone. If you can find something you prefer, and it's free, that's great. We will continue to strive to produce interesting, intelligent and unique content for as long as people are willing to pay for it; and although subscriber levels rise and fall for a variety of reasons (time of year, performance of team, frequency of articles, etc.), thousands of different people have signed up to the site in its five years to date. As long as some people subscribe, that's good enough.
We currently provide a mix of free and paywalled articles, so that non-subscribers still get to read some of our content. However, we are aiming to increase the amount of subscriber-only material, as we've probably been too generous with the freebies (which showcase the quality, but becomes a disincentive to signing up). We are currently exploring the best way to do this; it may be that everything is paywalled for three weeks and then free for the final week of a month.
The best part of the site, however, is something that no outsider currently gets to see; something that takes place in private. (No, there aren't S&M dungeons. At least, not anymore.) The comments section, which leads to tiers of debate, is, we feel, one of the best on the internet. People often tell us that this alone is worth the subscription fee, and that it's our unique selling point.
That people have to pay £3.50 a month means that we don't get any spammers. About 10,000 Russian spam user-accounts have been set-up, but of course they get no further than the PayPal page. We have next-to-no trolling, although some people can post in a slightly provocative style that leads to heated debate, but it usually simmers nicely rather than boiling over. There is a wide range of viewpoints amongst the community.
Very few people make personal attacks on other members, because if they do they know they will be banned. (And when we ban people, which has only happened a dozen-or-so times in five years, they tend to go a bit postal and get very nasty about us. Which is a shame, but it's a fact of life.)
We will try to highlight some of these hidden delights in a new free weekly feature, Behind The Paywall, which will give a taste of how things are discussed and debated on TTT, and the quality of the comments and interactions. It's a great community, and not at all cliquey (although obviously people who know each other will not act like they're total strangers).
All of our writers, including Dan Kennett, Andrew Beasley, Mihail Vladimirov, Chris Rowland, Daniel Rhodes, Bob Pearce, Si Steers and countless others, take part in the debate, as do I. (We also do a fortnightly podcast, although we don't claim to be professional broadcasters.)
Plans are afoot to redesign the website and introduce new, improved payment methods. This could take quite a few months. The aim is to improve TTT in 2015, and the more subscribers we have, the more content and features we can invest in.
To become a subscriber, click the link below:
https://tomkinstimes.com/wp-login.php?action=register
Additional News for Subscribers
[ttt-subscribe-article]