By Bob Pearce.
In part one I matched each player and each team role against a table of 30 physical, mental and technical elements. I then used a scoring system to match these player profiles against the role requirements to get a Player/Role Requirements Rating (P/RRR). To help remove some of the 'noise' from the results I applied two filters. One was to only include players scoring a 75%+ match in a role. The second was to only include the roles which are included as part of the formations which Rodgers can be expected to employ. Based on his close tactical analysis of Rodgers to date, Mihail (Vladimirov, TTT tactical expert) believes that he will employ four main formations during the seasons.
The 4-2-3-1 and 4-diamond-2 are more useful if you plan to play on the break against pressing and/or possession-based sides.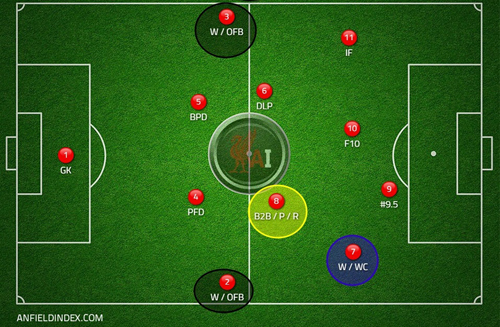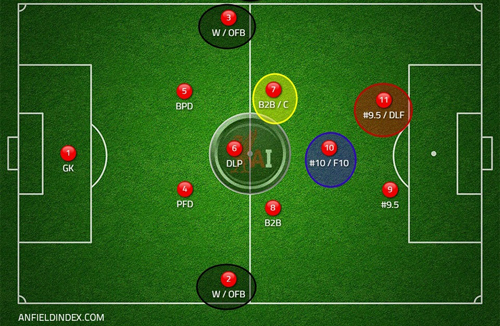 The 4-1-2-3 and 4-2-1-3 are more useful if you plan to play a proactive style of play against pressing sides (because of the combination of width and extra passing angles through the middle).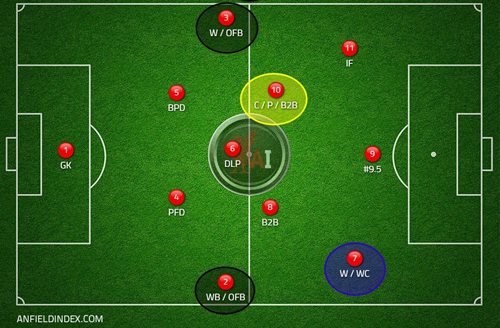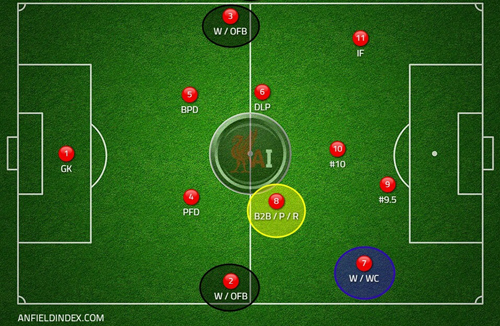 All four formations are suitable to face packed defences because, ultimately (based on the players selected), there will be certain 'flavours' or emphasis available to enable this.
These four formations have a number of possible variations within them, achieved by the mixing and matching of roles within the formation. These are indicated on the diagrams above by the coloured circles containing two or more options. The next step is to then list all the Rodgers relevant roles with the top five players based on the highest Player/Rodgers Relevant Role Requirement Rating (P/RRRRR).
Before taking this step we'll now add two further filters. We'll divide the formations into five lines which we'll label Defensive, Deep Midfield, Central Midfield, Advanced Midfield, and Attacking. This allows us to then allocate each role and player to their primary line, where you would expect to see them operating. With the level of 'universatility' in modern football it makes sense to recognise that players can also be employed in secondary roles which, simply put, will be in the neighbouring lines. So players whose primary roles are Defensive or Attacking have one set of neighbouring secondary roles. So Defensive line players who will be expected to perform primarily in Possession Friendly Defender (PFD) and Ball Playing Defender (BPD) may also be required to be able to perform in the secondary line of Deep Midfield roles of Overlapping Full Back (OFB), Wing Back (WB) and Deep Lying Playmaker (DLP). The three midfield lines though each have two neighbouring sets of secondary roles, hence the need for the greater level of 'universatility' from these players.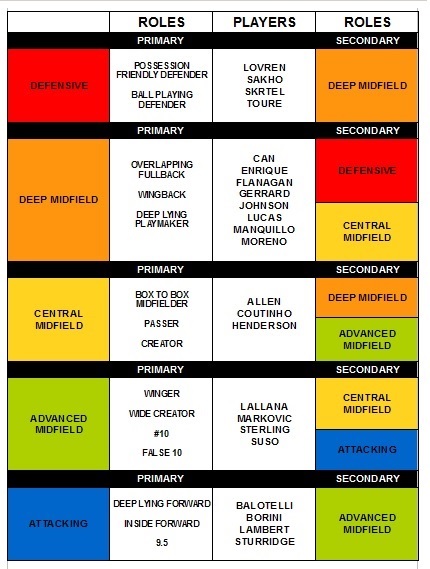 The rest of this article is for Subscribers only.
[ttt-subscribe-article]