By Krishen Bhautoo (TTT Subscriber Krishaldo).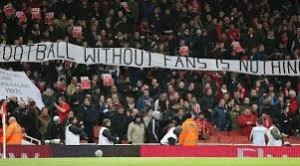 To get a grasp of the feelings other teams have about the season ahead and how they did in the transfer window, I emailed two or three forums from each Premier League side to ask their opinions.
A slightly underwhelming response in general, but huge thanks to those who did. These are the questions and the responses:
How did you feel about your team's performance last season?
Sunderland: Last season had it all as far as I and many other Sunderland fans are concerned. We reached a Wembley final, beat Newcastle twice, also picked up all three points at both Old Trafford and Stamford Bridge and pulled off arguably the greatest escape from relegation the Premier League has ever seen.
Obviously we had the annual managerial change and the realisation that Paolo Di Canio's revolution was never going to happen. But overall it was a strange and extremely gripping season.
West Ham: It was dire, we have a manager that only knows how to play one way and it's awful to watch week in, week out
Leicester: It was better than anyone expected. We gained our highest ever points total (102), and broke many more club records during the course of the season, playing attractive, attacking football.
Newcastle: Started well, thanks mainly to Remy's goals. Stopped playing after Christmas when we all but secured top flight status and Cabaye was sold without being replaced. Relegation form from then on, gutless performances. The owner sent a message that he didn't care and the players followed suit.
Tottenham: In over 30 years of supporting Tottenham, I have never not wanted to watch my team play. Under Villas-Boas I found it hard to have any enthusiasm towards my team. Sheesh, even under Gorge Graham we weren't that bad. Then Sherwood came in and we were all over the place. It was the most bizarre period in the history of Tottenham (well, maybe not as bad as when Sugar was trying to out Venables but still). So to answer your question; terrible lol! Having said that, Eriksen and Bentaleb came through the season with a lot of positives. As did Lloris and Dembele. Some of the other players were a fair tad short of expectations to put it mildly.
Chelsea: Just felt if we'd had a better striker upfront we'd have walked it. As far as the big games went we couldn't have asked for more but I'd be lying if I said I wasn't disappointed that we didn't win anything.
Swansea: Highs and lows, overall OK
What are your expectations for this season in the league and cups?
Chelsea: Hoping for the league title of course but anything else is a bonus.
Leicester: Most fans would be happy to avoid relegation, but we should be capable of finishing mid-table.
We're already out of the League Cup. Hopefully the manager and players will take the FA Cup more seriously, but the league is the number one priority.
Newcastle: We will do just enough to survive. Ashley might sanction some January window panic buys if we're really struggling but all he's really arsed about is we don't go down and he'll gamble we have enough in the squad to keep us up. Early exits in both cups. The club confirmed in the summer that they're not a priority and that early exits aren't a bad thing as they distract from the main goal of surviving in the league.
Sunderland: Our expectations have to be solidarity. We need to build and become more of a steady team who compete well and consistently throughout the season. I'd happily take a comfortable mid table year in the league. As for the cups, I'm hoping we can put together another little run. Last season we could of and probably should have done better in the FA Cup as well, but without being greedy I was grateful for our Wembley bow in the Capital One Cup final.
Cup runs are important especially for a club like us because that's our only chance of silverware as we're never likely to challenge for the title. It can also galvanise the fans and the club into producing better league form, like we saw last season…
Swansea: High expectations for this year.
Tottenham: We are up against it this season. I hope that the fans stick with Pochettino as he seems to be moving us in the right direction but, I fear there will be plenty more games like the one against your lot. This will of course bring out the plastics from under their rocks and pelt the team with all and sundry. Pffft! Where we will finish depends on how quick the manager's philosophy is taken up by the players. I'm not expecting much to be honest but, I don't really care too much about the results as long as I, as a fan of football, am entertained.
West Ham: Well we're already out of the League Cup and I don't hold out any hope for the FA Cup as we have a manger that shows no respect for Cup Competitions, so that leaves the league and as supporters we're constantly being told that we should be grateful that we have Allardyce as he "guarantees" you won't get relegated, so that's our lot in a nutshell. Being a West Ham fan these days is very hard
How do you think your summer transfers make you better/worse?
Chelsea: Better, out of all the big clubs we've had the best summer as far as I'm concerned. Shipped out dead wood and brought in top replacements.
Leicester: Last season's team was made up mainly of young players who are getting better all the time, so there was no need for major surgery to the squad. We've signed a couple of top quality players, and others to add competition for places without necessarily replacing what we already have.
Three games in, and only one of our new signings has started a game, record signing Leonardo Ulloa. Our previous record signing was Ade Akinbiyi, and many fans were worried that we'd spent so much (£8M) on another relatively unknown player who would be a flop. Ulloa is no Akinbiyi though. He's scored two goals already (against Everton and Arsenal), and I'm sure he'll score many more.
Our best known new signing is Esteban Cambiasso, who joined us after being released by Inter Milan. He won pretty much everything there is to win in his ten years at Inter. Hopefully he'll quickly adjust to playing in England and will be a real star for us.
We also signed Marc Albrighton, Ben Hamer, Matt Upson, Danny Simpson, Tom Lawrence and Nick Powell. All should be solid additions to the squad.
Newcastle: Marginally stronger in midfield than second half of last season after losing Cabaye but that was before de Jong picked up a 4 month injury. Weaker up front and in defence after losing Mbiwa, Ben Arfa and Remy and not replacing them with players of similar talent or experience, or at all in Mbiwa's case.
Sunderland: Gus Poyet has brought in nine new faces all of who have a clear and direct importance on the squad. Jack Rodwell is our star signing and will offer much needed quality in the midfield. His ability to carry the ball with strong and powerful runs are exactly what we've been crying out for, for many years. While the other players are ones Poyet knows a lot about. I wouldn't say he has taken many gambles or risks, only Ricky Alvarez is the unknown quantity.
Swansea: We now have a better balance and better strike options, siggys signing has made a real difference, Fabianski and Fernandez will beef up our defence.
Tottenham: Definitely stronger but, we sold Sandro. What the heck? If I see Levy in Tokyo he is bang on for a smack in the chops for that one. Mind, the players we have brought in look like they could bring something to the team. Dier looks like a very shrewd bit of business, as does Vorm. Fazio and unspellable are yet to play for us so I guess only time will tell about those two eh? Davies is giving Rose the kick up the arsenal he needed last year.
West Ham: They make us a lot better and we now have a squad that should comfortably finish around 10th, unfortunately we have a clown in charge that doesn't know how to play them so we'll struggle
Were there any positions/players you wished you had strengthened/signed?
Chelsea: None, I think we did all we had to, I'd say we're maybe a little short in defence but I want to see guys like Kalas get a shot next season.
Leicester: Most fans were hoping for a left-back. Despite the team's excellent performances, first choice left-back Paul Konchesky was often criticised last season and seen as a weak link. Our second choice left-back is actually a striker/winger, playing out of position.
Konchesky has started the season well though, which I'm sure will surprise Liverpool fans, and he deserves to keep his place in the team.
Newcastle: We were crying out for a proven goal scorer after losing Remy. We got this Rivière kid from Monaco, who so far looks like a shot shy target man at best.
Sunderland: A lot of people were hoping we signed a striker because we lack goals, but in truth I'm not sure. Of course I would have loved Fabio Borini to return to Sunderland but Steven Fletcher missed most of last season and we know he can be a prolific goal scorer, when in form. The same for Connor Wickham after he scored five in three games in the back end of last season to help keep us up. So I'd argue we have goals in our team it's just at the moment our strikers including Jozy Altidore are completely drained of any confidence.
Tottenham: No one really. I think we should bring through young talent from within the club. Our youth team has some great prospects. OK, it's easier to sign tom, dick and Harry but any what cost? The amount of young talent that is lost isn't very encouraging. A lot of people wanted to sign a left-winger for example. I'd rather see how the young lad Ceballos does.
West Ham: A centre-back, we need a quality centre-back but must look on the bright side that we didn't re-sign Roger Johnson
Is your manager the right man to take you forward?
Chelsea: Yes he's the bear.
Leicester: Nigel Pearson has done exceptionally well for us in his two spells at the club. He's intelligent enough to adapt to the new challenge of the Premier League, and has a good team of coaches and assistants around him. I think he'll go on to be a very good manager at this level. Hopefully with Leicester.
Newcastle: You're taking the piss with this one, right? [I laughed so hard at this – Krish]
Sunderland: Poyet is a great manager. He has implemented a passing philosophy on our club and it's something we've lacked in previous years. The reality though is that it takes time. We need to be content with Poyet even if it doesn't work out straight away. And then we still need to be realistic because it's so easy for expectations to rocket when we're doing well. But we need to remember we are never going to be challenging for the league, so what's there for us to achieve? Well firstly mid-table mediocrity and anything better than that is a huge bonus.
Swansea: In Garry we trust
Tottenham: Looks ok so far…will decide at the end of the season. I do like what I have seen so far.
West Ham: No, he's a clueless clown that belongs at Bolton, at least he'll be accepted there and it's his level.
What are your thoughts on Liverpool and where will we finish?
Chelsea: Don't care really, as long as it's not above us.
Leicester: I would like to see the dominance of Chelsea and the Manchester clubs broken, so it would be good to see a new winner this season and Liverpool look the best placed club to do that. I expect you'll finish third or fourth though.
Newcastle: Good signings, you'll miss Suarez though. Balotelli a talent but unlikely to guarantee as many goals as the bucked tooth animal from Uruguay. Seems almost as mentally unhinged so at least you've tried to plug that gap. I think you've got a decent chance of top 4 again but unlikely to challenge for the title like last season. Citeh and Chelsea look too strong this year. Last year was your golden chance.
Sunderland: I would have loved to have seen you win the league last season. This year there's a slight Tottenham-esque approach after you sold Luis Suarez and went out and brought a host of players with the profits raised. Whether they are any good or not we'll have to wait and see. But I suspect Brendan Rodgers is preparing to slowly filter out the aging Steven Gerrard and build for the future. If you could maintain your top four spot it would be a massive success and put you in a great position to challenge for the title next season.
Swansea: You will struggle without Suarez, and the champions league will take its toll, 7th spot at best.
Tottenham: I think you will not make top 4 this season. The loss of Suarez and the influx of new players may have a negative impact to your club (Like Spurs last season)….hopefully 😀
To be honest, I don't like your manager's attitude in defeat, and comes across as a smarmy git on TV. But I guess as long as he keeps winning, fans will love him.
West Ham: Top four, but think the 'Champions' League will de-rail any thoughts of being serious title contenders
Many thanks to these contributors from the sites who emailed me back, and for the ones who didn't I think I've learned my lesson that it's much more efficient to just sign up to a forum and ask the fans directly rather than just email the editors who are busy.
Chelsea: Bobbywoodhogan from The Shed End forum
Leicester: Jeff from Talking Balls Forum
Newcastle: Dr Gloom from Toontastic forum
Sunderland: Sam from A Love Supreme forum
Swansea: Bobby from The Jack Army forum
Tottenham: Boo from Shelf Side Spurs forum
West Ham: Gus from West Ham Online forum