By Mihail Vladimirov.
Main Points:
The frenetic opening

Both teams' similar defensive strength and attacking frailties
Naismith deeper, Everton's midfield diamond
Hibbert and McCarthy nullify Sterling on the right
Gerrard and Henderson in the double pivot
Martinez's passive in-game substitutions
Post-match thoughts
Team selections and formations
With Sturridge unsurprisingly not risked in this game and Coutinho only being enough fit to start on the bench, Rodgers' XI was quite predictable. Even following the mid-week exertions, it was clear at least two of Sterling, Lallana and Markovic would need to start.
However, with Gerrard's recent struggles the main dilemma for Rodgers was how exactly to arrange his team. As it was, he (correctly) decided the best way is to move to a 4-2-3-1 formation and put the mobile and energetic Henderson alongside the captain.
Martinez's selection and chosen formation was the closest thing the game had to a tactical surprise. With Coleman still not fit and Distin deliberately left out of the match squad, Hibbert had to fill in at right-back, with Stones joining Jagielka as the centre-back duo. This was Hibbert's first PL start for 22 months (since February 2013), as last season he had only a single brief cameo worth of playing minutes. In addition, Martinez started with a clearly cautious 4-1-2-3 formation, utilising a very functional midfield three, and Naismith as a deep-lying forward, attempting to get goal-side.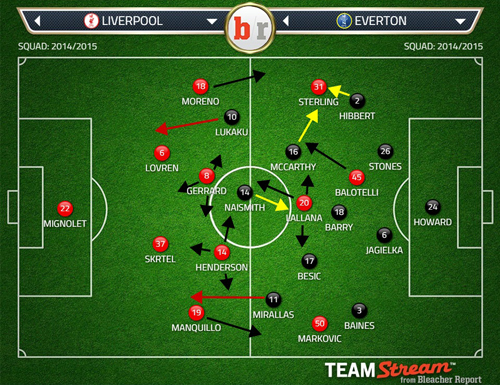 After last season's goal-festivals in both Merseyside derbies, it might have been expected to see a game full of the usual caginess and with little technical quality. As a tactical clash, the main interesting aspect of the game was the way Everton completely revamped their usual approach to be able to stifle Liverpool, blunting their own attacking threat as a result. This further contributed to the game being of little excitement as a whole.
Opening ten minutes
The way the game actually started it seemed it would be another cracking game. Right from the off the tempo was quite frantic by both teams, with lots of feisty challenges and aggressive closing down all over the pitch. Both sides looked to use the ball quickly and purposefully, rushing forward as soon someone managed to get hold of the ball.
Liverpool did a better job in pressing, regaining the ball and moving forward; this is why they managed to create a few dangerous moments following crosses or various set-plays situations. In the tenth minute Balotelli's second direct free-kick so far was scrambled away by Howard. From the following corner Lallana connected with a header from Gerrard's cross and would have opened his Liverpool goal account if it wasn't for a superb Howard save. Before that, both teams also had a penalty appeal turned down. First, in the fifth minute, Moreno tugged Lukaku in behind in the penalty area; then, in the ninth minute, Barry handballed in his own box.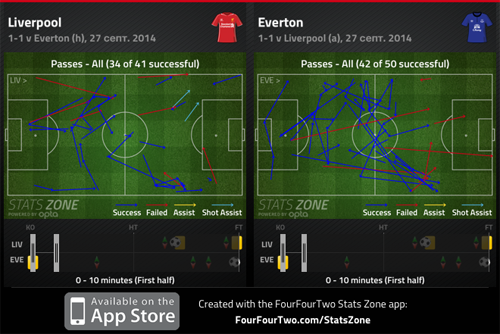 Gradually though, after the fierce first ten minutes, the tempo cooled and the game became more thoughtful. Soon the exact formations being used became clear, including the specific approaches and detailed tactical patterns of play.
There was a nice contrast now in terms of how both teams preferred to get going into the game. Everton tried to be more methodical, gradually developing into the game using their patient passing, while Liverpool's focus remained on being quick and direct in possession, looking to attack and quicken the tempo whenever possible.
This rest of this article is for subscribers only. 
[ttt-subscribe-article]