By Bob Pearce and Mihail Vladimirov.
When the team sheet is announced an hour before kick-off we can't stop ourselves asking so many questions. Why has the manager chosen this eleven? Why has he not chosen that player today? How will the team set up? What plan does he have in mind?
It would be fascinating to understand some of the thinking and preparation that goes into the manager's selections and judgements. What information, advice, intelligence, and insight do they draw on to help make these decisions?
Brendan Rodgers has assembled a team of trusted eyes and ears that can offer him specialist opinions and expert perspectives. One of those is Chris Davies, Liverpool's Head of Opposition Analysis.
Chris was kind enough to spare some time to answer our questions about some of the unseen work that contributes to the decision-making process which ultimately results in that team sheet.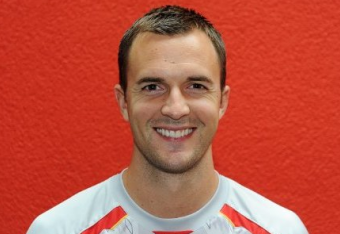 Chris, briefly, what was your journey to becoming Liverpool's match analyst?
OK, I'll try and make it brief. My journey here started from a relationship with Brendan Rodgers 15 years ago when I was a youth team player at Reading. From Reading I dropped out of professional football through injury and was on an educational journey, doing my coaching badges and a sports science degree at Loughborough. It was around that time, in the early part of that decade, 2002-ish or 2004-ish, that performance analysis was starting to come out, so I was learning that as I was re-educating myself. Six years on from leaving Reading, I came back from time abroad in New Zealand coaching football, and Brendan needed someone to go into Swansea with him. He only needed the one person doing the opposition analysis and it was something I was skilled to do with my playing and coaching background, and obviously with a degree, so it was perfect for me. So I joined him at Swansea. We had two years there, one year getting promoted, second year in the Prem, and then came with him here.
Given the 15 years or so that you have known Brendan, would you mind sharing how he has influenced how you work?
Well he's been a massive influence. First thing to say about Brendan is that he hasn't changed the values of him as a man from 15 years ago, and he retains them today. I think anyone that meets him sees his charisma and his warmth. He's a genuinely nice guy who's got a passion for football and helping people and developing them. He's influenced my work greatly really. He's probably the single biggest influence in my life, probably behind my parents I'd say. He's certainly influenced my work in terms of professionalism and  detail and becoming meticulous, and just generally with work ethic I suppose. I certainly think that's something I've always had, but Brendan always reinforces that the hours you put in eventually will reap the rewards. So he's influenced it in so, so many ways, but definitely in terms of the details you put into your work and professional life.
In a typical week what are your regular responsibilities?
OK, let's say we have one game in that week. So whilst Liverpool are playing say at Tottenham on the Sunday, I will probably be watching the next opponent, which could be West Ham. So I'll travel around the country, watch them play, come back, and then start building video presentations using all the intelligence we've gathered through the week. Then game day minus two I'll have a formal meeting with Brendan and the coaching staff for a couple of hours to go through all my work. Then we present to the players the following day, and the process just continues like that.
As a scout, what can you see being at a game that you can never see on TV?
You can see the full pitch, you're not watching through a camera lens, so you can see 22 players at all times. And certainly in terms of team shape and tactics that's really, really important to be able to give that bigger picture. And also some of the body language and moments off the ball that again the camera doesn't pick up.
As a scout at a game you certainly get a feel for the physical aspect. The speed of a player, and the size of a player that you just don't get.  And that's particularly important in the Champions League when we don't know the players as well, or a new signing. It's very, very important, for example Pelle who played for Southampton. I couldn't see on the videos I'd watched really his size. I go down to Southampton to watch them play Bayer Leverkusen and I really saw what a big unit he was. And that's important information because, as a player, it sounds quite simple but that's the sort of thing you want to know. So going to the game does give you an extra 10%, and it's all about the details for us, so it's well worth it.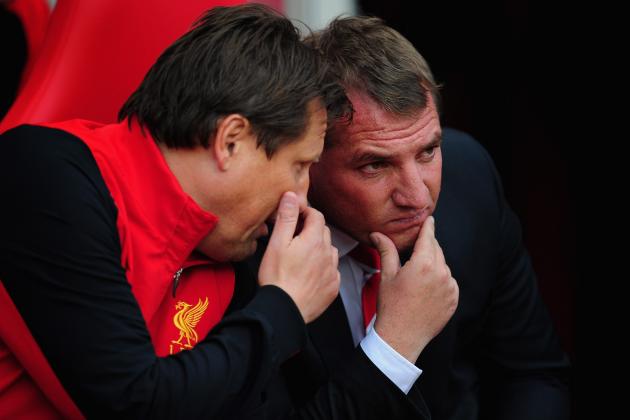 In supporting Brendan Rodgers to prepare for a game, what type of information would you be collecting and presenting in your tactical/scouting report?
We have a quite detailed 10 page report. We look at stuff including styles of play, strengths and weaknesses, and obviously we've got our own specific elements we focus on. But generally the scouting report will be based on anything from the set pieces to the tactical nature of that team.
When you are analysing opponents how much do you focus on individual players, and how much do you focus on team roles, regardless of who fulfils them?
We look at both to be honest. If you wanted a percentage, 50-50. I look at every single player and how they function, individually their habits, and importantly how the team performs and tactically how they play, and their roles within that. Certainly it's defining the team tactics because the players may change. So you could spend all your time looking at an individual player then on the Saturday he's not on the team sheet. So really we have managers who have a specific way of playing, players dip in and out, but the team roles and functions remain the same, so that is an important part. But also it's an important part for me to predict the next team, and get as much detail as I can on each player.
Does Brendan ask you to cover specific aspects of the opponent's game, or do you have the freedom to share whatever you think he should know about them?
Yes, he's got very specific criteria he wants to know, which is on the template that I work off. But definitely he is very open to me sharing with him specific ideas that I've got or information about that team that isn't on our template. He's more than happy to receive that information.
As this will be the first Champions League season for Brendan Rodgers, will he have any 'new' or additional requirements for you to meet?
It's business as usual really. Obviously I'll be going out into Europe and watching the opponent and gathering all that intelligence. I suppose the one demand is more games, but we've been here before. But it's probably just the fact that we're looking further ahead, and we have a bigger squad and bigger demands on the squad. So, looking a little bit further ahead earlier to what teams are coming up, to give Brendan a real picture of how he can use his squad most effectively in the short term.
Do you think of different teams as having different tactical 'personalities'?
Yes, definitely every team's got its own tactical approach. There are different words for it, 'approach' or 'personality', but every team has a style of football, an 'identity' that they play usually, and that's very different to the system. That's probably one misconception that people have got. I think teams can have a style and they can change systems numerous times, like Liverpool do. They have a certain style of play under Brendan but we change the system all the time to suit what players we have and the opponent's strengths and weaknesses. So definitely each team has its own tactical personality and identity in the way they approach the game.
Do you have a tactical 'shorthand' to describe these? How wide is the range of styles, is every team unique, or can they be grouped?
Yes, they can can be grouped to a certain extent. What you find is generally the very best teams have a variety of ways they can play the game. They can counter-attack, they can keep the ball, they can drop into half a pitch and defend deep, they can high press, and they're generally the very, very elite teams. But certainly some of the groups we look for are 'are they a possession team that are looking to open up the pitch and keep the ball?' or 'they've got a direct style, where their focus is more on territory, direct play and crosses?'. Counter-attack teams you can certainly define. Arguably Atletico Madrid last year, and Chelsea certainly at times were counter-attack. So you can define into sub-groups and then you lay the detail on the different layers below that. But definitely they're the type of groups that we're thinking about.
When you prepare each tactical report, how do you approach it? Do you work to some form of 'template' (e.g. most regularly used formation, most frequently used defensive/offensive/set-play patterns of play, potential starting XIs with their strength/weaknesses and how Liverpool could cover/exploit them respectively)?
It's ten pages. We intro with their last most recent formations (we've got diagrams of that). We look through the physical characteristics of each player (height, weight and all that type of stuff). What I'll focus then on is more the individual reports on each player, but it's only very short and concise information on their habits and trends. This is something that's been built up over 10, 15, 20 games worth of intelligence we've got on that player. Then we'll move on to team areas to exploit, how we think we can beat them, which helps Brendan devise his sessions and approach to the game. We also focus on the defensive and offensive transitions which are really important in football with the counter-attack and the speed of the game. I focus a lot on how teams react to the transition moment in a football game.
Could you describe some of the detail of what you are looking for transitions, and how you can put that information to use?
Well the key thing is, because we're a team that gets on the ball and passes and dominates, we're looking at the defensive transition. So when a team loses the ball, what's their immediate action? Do they full pitch press, 3/4 pitch press, or are they setting up into half a pitch? So once we know that we can prepare the team well for what to expect and how much time they might have on the ball in different zones in the field. That's also related to how quickly the team recovers into a certain shape. And that's a big part of the modern game, with the speed of it. Offensively, just looking at the details of their counter-attack on the transition, the details of if they're a team that retains the ball, and who is the reference for that possession?. And it gives us an idea, in these transition moments, of what we need to immediately think about.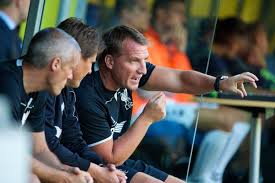 Has this played a part in the overall change in approach we've seen from Liverpool in the past 18 months, with an increased emphasis on swift and direct attacks?
Yes, I think so.  As I said earlier, the best teams can score in different ways. They can counter-attack, they can build their way through the game, and they can combine and link against a deep defence and create opportunities, and they can score from set pieces. So I think the improvement in our counter-attack in the last 18 months has not been through any specific idea or focus, it's just been with a general improvement as the philosophy gets ingrained that when it's 'on' to counter-attack we've got speed in the team, we flood forward quickly and create chances.
You talked earlier about players' habits. Are players more predictable than they'd like to think?
Yes, I think so. I think especially under pressure. Because obviously we all revert to our prototype under pressure and we have these habits ingrained within us. Often they are things you learn from when you're playing as a child, in terms of what foot you take the ball with, and what movements you make, and what actions you make. And probably the more pressure, the more you revert to those habits. So yes the players are predictable to a certain extent, if you watch them enough. This is not just watching a player once or twice, but it's watching them in 10, 20, even 30 games, to see these habits crop up. And obviously the best players have more variation, they're harder to really give a definitive habit to, and generally the lesser players you can define quite easily. But certainly they have habits that are predictable, and that all helps us in terms of preparing to play against them.
How far ahead can you plan for, when injuries, suspensions, or rotation may come into play?
Brendan really narrows his focus onto the forthcoming opponent as soon as the last game's finished. So really, between that moment and the actual next game kicking off there's not an awful lot that will change. We get a good feel for the injuries and suspensions through that week to know who's going to be available. Generally, through all our expertises, we can predict pretty closely, including rotation, what a team will do. Brendan will have his own ideas. He'll put himself into the opposition manager's shoes and look forward to what he might do rotation-wise as well.
Are there rare occasions when you're taken by surprise. Does the coaching staff have to use that hour between when their starting XI is announced and kick off to make some tactical adjustments?
There's probably no time to make any big tactical adjustments. We're never very far off at all. One or two players won't make a huge difference to the way the team functions. But in that interim period between team-sheets out and kick off, it'll be the job of the coaching staff to go around to the players, who it affects, and maybe talk to them individually about how this new player may affect the dynamic of the game. So that does take place in that period if we hear any thing is different? Sometimes of course, very rarely, the team actually sets up in a different way, with a different system, that they've obviously planned for behind closed doors during the week, to play us. Again, it's about the alertness and the speed of the manager and the coaching staff on the touchline to get the message across to the players. Again, Brendan drives that process.
Does your role include input into formulating Liverpool's tactics for the next game, or does your involvement end when you submit your report? 
I think Brendan is open to input from others. He's having that meeting with us game day minus two, and we're discussing where we're at and what the opponent's going to do. Then Brendan will open up the discussion. It's myself, Colin Pascoe, and Mike Marsh. Usually he's got quite a clear idea of what he wants to go with team-wise because he's very organised and prepared in that way. But he's always open to suggestions and input from the other members of the senior coaching team regarding certain players or systems. But the final decision's always his.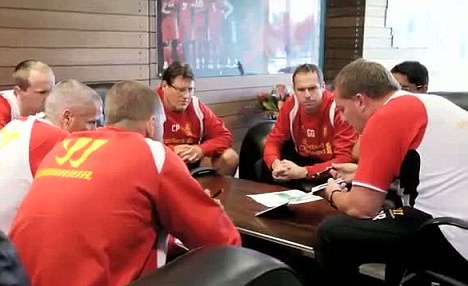 How much difference does a change in the opposition's manager make to your work?
It does make a difference, definitely. Managers have got their set ideologies, clear ingrained philosophies, especially at this level, and that's something you need as a manager, and that's probably why they arrive in the position. So these aren't going to change too much. So for example we were playing Manchester City. Pellegrini we know from two games last season, we beat them once and should've beaten them again, but we know how his teams play, we know about his style as a manager. But if there was a change, and a new coach came in, it can change an awful lot about the team immediately. Pochettino changing from Nigel Adkins was an example of that at Southampton.
In your opinion, what is the most effective way of getting results; reduce the vulnerabilities of your team, or target the opposition's weaknesses? 
Well, in the simplest form it's both really. That is 50/50 split if you're going purely on what should happen. I think we would probably edge on the side of targeting the opposition's weakness. I think Brendan's an aggressive coach and his teams play an aggressive way. He likes to be very aware of the opponent's strengths, but he likes to focus more on how we can beat them and how we can impose our game on them. But of course always reassessing and analysing where we are vulnerable and just trying to address that. So, in essence, it's both.
How many tactical variations or scenarios do you typically help Brendan to plan for?
We always have discussions on how the game might evolve tactically, and Brendan will have a very clear tactical plan. As soon as he sees what formation, system, and gets a brief feel for how the opponents are going to play, (which a lot of the time he'll have a good feel for anyway knowing the Premier League teams), he'll have a plan in his mind tactically of how he wants the game to go. But he also has plan B, and plan C, and how he can change it within a game. I think Brendan's one of the most dynamic managers at making changes within games. He's made changes within the first half of games as well, which is quite rare and I think it's a very proactive manager that does that. So there are different scenarios that we plan for.
How much can your work help Brendan to react in-game and adjust to how the game is playing out? 
I think it can. Brendan will know certainly a lot of the information on what a team may do in a game from my work, so I'll have been at games where they'll have made tactical changes. A lot of good communication Brendan and I have is actually informal. It might be a quick chat in the morning if I've come back from a game. He's always interested to know how a team has reacted to going a goal down, or late in the game. And I think that can help him prepare for the eventualities where hopefully we're winning in a game, and how that team may react, and what players they may bring on, which I think helps him in terms of his own decision-making.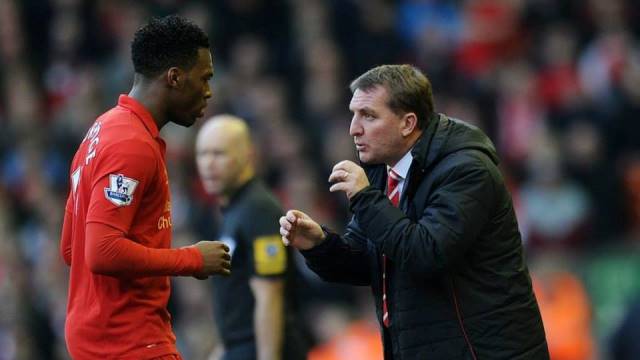 What kinds of considerations are managers typically using in evaluating and anticipating what is happening on the pitch and judging when to 'stick or twist'?
I think it depends on what club you're at really, and what you want from the game really. Being at a club like Liverpool the idea really is you have to win games, so invariably if it's one nil or one all in a game we would generally look to try and get the win, certainly in the majority of the games home and away. But I think it's a consideration for Brendan to just see the psychological state of the players on both teams, see what condition they're in, and judge, with the momentum of the game, to make his decision.
In your opinion do you think a manager should anticipate the opposition's next move and pre-empt it, or simply continue using his team's strengths?
I think both. I think it depends on the variables. What's the score? Who you're playing? Are you home or away? Who's on the bench for the opponent? They might have a player coming back from injury who's a big threat who may be coming off the bench. So it does vary and again I wouldn't put more emphasis on one or the other. I think you need to have the awareness to anticipate the threat and pre-empt it, but I also think you should really give your players confidence by being proactive and making changes to suit your team's strengths. So again, I would say having worked with Brendan that he does both of those equally.
Purely from a tactical point of view, which for you is the most useful player – one who is able to evaluate for himself what is required on the pitch and respond as required, or the player who is an excellent listener and is able to follow the agreed game plan (and any in-game adjustments) to perfection?
It's a good question, and again they're both really important in their own right. I think it's the old classic one about players 'crossing the white line'. Your decision-making, ultimately you do it yourself, and to have 'managers' on the pitch who can understand tactically how the game is evolving and make decisions and respond as required is imperative. But so is the compliance of players to listen to a game plan and a structure, and follow it. So both are very important. I think ultimately, because the points are won and lost on the field, you would probably want marginally the ones that can go on and respond and understand the game. But I think that only takes place through the listening and the tactical learning that they go through with Brendan.
Who is responsible for the post-match analysis? If you play a part, how does this differ from your pre-match work? 
We have two post-match analysts, Harrison Kingston and Mark Leyland, and what they'll do is watch the game and clip individual moments for each player to take away on DVD. The players then can analyse their own performance. In terms of the post-match analysis, we'll have a coaches' meeting with the manager, Mike Marsh, Colin Pascoe, John Achterberg (the goalkeeping coach), myself and Harrison, to watch the game back the day after the game has taken place. And this is when everyone reflects and discusses and analyses it intricately. Then we come up with some action points that we're going to deliver to the players through the week, some of the training is probably shaped around these action points, and individual meetings with players, which I'm a part of, take place to review the performance.
What does this individual work with players typically cover?
These are top players who are interested, like a golfer or tennis player, in every tiny action of their game because they're searching for that perfection. That covers their performance, but if I'm ever working with a player 1 on 1 I'm linking always my thoughts and ideas back to who we're playing in the next game so they can have a clear structure of 'OK, this is how I performed, but this is who I'm going to play against, these are the type of things I need to think about in this particular game in my position'.
How do you maintain your knowledge to remain up-to-date as the game evolves?
I'm quite fortunate that in my role I'm obviously working at an elite level in the Premier League, and I'm watching maybe six or seven Premier League games a day. So I'm up to date with the elite level of probably the best league in the world. Outside of that of course I'm interested in the other top European leagues, and that's something I'll get more of an exposure to now we're in the Champions League. And also the World Cup and the European cup competitions are really good to watch as well. But generally the Premier League is as cutting edge as you'll find.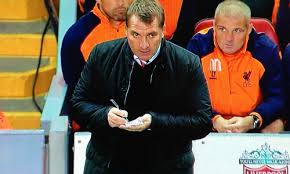 Would you like to see fans have a greater appreciation of the tactical side of the game?
Yes definitely. I think unfortunately we seem to focus more media- wise (I don't know if the fans want this or it's what the media wants) we tend to focus more on the incidents of a game, and we'll talk for hours about a hand ball or a maybe a keeper handling the ball outside of his box, and we'll keep running the replay, and we'll just forget there was another over 90 minutes of action where something else was happening. These are key moments in a game, but really taking them out there's still plenty of opportunities for the team to score. I would love to see the fans and the media really drive a more tactical side of talking and thinking about football, which in turn I think would help the national team and our whole football culture in this country.
What one aspect of the game could fans focus on to help improve their appreciation of the tactical side of  matches?
I suppose one aspect they could focus on, without patronising their knowledge, almost as a start point would be 'where's the space on the field?' So when your team's attacking, you just define OK is the space out wide, are they narrow, do we have to go around them? Is the space in between them, are they quite spread out, do we have to go through them?  Or is the space in behind them, do they have a high line, do we have to go over them? And once you establish that, and how that team is defending against you, you can probably give more critique to your team's offensive play. And equally, flip that and do it the other way.
What is the most helpful advice anyone has given you in relation to your work?
In relation to my actual job, I couldn't say I've had some sort of outstanding, profound advice. Probably just related to my work in general and my professional life, probably came from my Dad. The advice he gave me as a young footballer was literally to listen and learn from people, and just try your best. Sounds a very simple concept, but I think it's still applicable at any level you get to.
We'd like to thank Chris and the Liverpool FC Press Office for being so generous and helpful with their time.