By Bob Pearce and Mihail Vladimirov.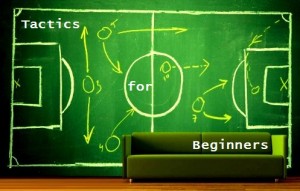 'Balance the balance'
You have talked a lot about teams needing to be balanced. In simple terms I picture this as a team that is not leaning too far in one direction.
Yes, in short, this is it. The word 'balance' describes something that is in perfect equilibrium, not being too much of one thing or too much of something else. From a football point of view this magical word should be seen in everything – the chosen formation, players' roles in all four phases of play, the pressing patterns, and then based on the formation and specific strategy and game plan, what type of players are selected to play and whether they are complementing each other, etc. Generally you shouldn't use a formation which leaves you lacking numbers, weaker and vulnerable in certain areas.
The exception would be if your overall strategy and game plan is to be deliberately unbalanced and employ some kind of a specific 'extreme' tactical approach. An example of this might be if you plan to 'park the bus' and play in a 5-diamond-1 formation and simply flood the centre of the pitch. Or perhaps it could be a case of you going out 'all guns blazing' with the intention of simply wanting to overload the opposition's last third with something like a 2-3-5 formation.
Even in these cases the balance in the players' roles should still be in accordance with your game plan, which in turn should take into account both the opposition's strengths (to know how to guard against them) and their weaknesses (to be able to efficiently exploit them).
Clearly you won't be able to attack properly if you select a back four of all centre-backs and have four destroyers ahead of them. Your team will be one dimensional and lack any of the required creativity to be adequately able to breakdown the opposition. At the same time you clearly won't be able to defend properly if you have only the centre-backs as your defensively capable players.
And this is an active kind of balance.
A good example is the pressing (which is one of my favourite subjects), where having the right balance is clearly vital but very tricky. Obviously the aim of the press is to suffocate the opposition of time and/or space on the ball and regain the ball as quickly as possible, either directly by dispossessing them or forcing them into poor passes which your players can then intercept. The thing is that to do this you need the majority of your players to be arranged in a good pressing framework in order to both cover the space and the opposition's players simultaneously. At the same time though you'd like to have enough cover left in behind in case your pressing is bypassed.
Which is why there are no universal rules to this. Everything depends on the opposition, their formation and style of passing.
The beauty of football and the world of tactics is that there is no one universal way you could and should be balanced. There are numerous ways in which you can set up your team and still be balanced. Sometimes what seems an unbalanced set up is actually very well balanced, because it has been designed to play in certain way, taking into account the whole tactical battle between both sides' strengths and weaknesses.
So for example, against Blue team who are parking the bus in a 5-4-1 formation, Red team don't need to always keep their whole back four behind the play. So they could use a 2-3-5 formation. Again, at first glance that formation might sound ridiculously unbalanced and far too offensive, but in reality it's suitably balanced given the match context.
So a balance never exists in isolation. You can't just balance your team by simply taking into account only your own players. That is just half the job. A truly balanced side is one which applies a  balanced approach in terms of how best to guard against the opposition's strengths, while at the same time ruthlessly exploiting their weaknesses. Ignoring this would see your team either too defensive and lacking any threat going forward (if the main focus is to nullify the opposition's strengths) or too attacking and generally naïve in overall (if the emphasis is solely on looking to exploit their weaknesses without any other considerations).
So balance is not just achieved within the team, it is in balance to what the opponent is doing.
Which is why there is no such thing as a single 'perfect' tactic or balance. Ultimately, you'll always have to make an attacking/defensive trade-off somewhere to suit the context and the opposition's strengths and weaknesses.
If there is no one perfect 'one-size-fits-all' balance (because what counts as balance depends on both teams' plan and so there are many balances that can be achieved), what are the tell-tale signs that a team is well balanced, whatever plan they are working to?
The rest of this article is for Subscribers only.
[ttt-subscribe-article]