By Gary Fulcher, Daniel Rhodes and Mihail Vladimirov.
Liverpool will be hoping for a repeat of last season's demolition of Spurs when we travel to White Hart Lane on Sunday – 1.30pm kick off UK time – to face Mauricio Pochettino's rejuvenated Tottenham side. The Reds suffered a 1-3 defeat to Manchester City on Monday, while Spurs made it two wins from two in the league with a 4-0 victory over Q.P.R.
Our 5-0 hammering of Spurs in the corresponding fixture last season was our first league victory at the Lane since May 2008, ending a run of five consecutive defeats.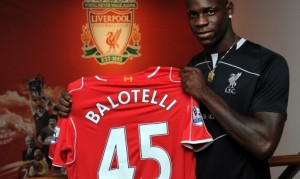 Liverpool have added the explosive but unpredictable  talent of Mario Balotelli to the squad and he may prove to be a pivotal signing depending on how he performs over the coming months. More importantly for the Reds and Brendan Rodgers is how quickly our other new signings bed in to Rodgers' playing style and the various systems that we use.
The rest of this article is for subscribers only.
[ttt-subscribe-article]
Liverpool's overall league record against Tottenham:
Total – P: 142 W: 66 D: 35 L: 41 F: 228 A: 162 GD: +66
Home – P: 71 W: 45 D: 20 L: 6 F: 140 A: 57 GD: +83
Away – P: 71 W: 21 D: 15 L: 35 F: 88 A: 105 GD: -17
Liverpool's record against teams managed by Mauricio Pochettino (all competitions):
Total – P: 3 W: 1 D: 0 L: 2 F: 4 A: 4 GD: 0
Home – P: 1 W: 0 D: 0 L: 1 F: 0 A: 1 GD: -1
Away – P: 2 W: 1 D: 0 L: 1 F: 4 A: 3 GD: +1
The match-day officials for this fixture are:
Referee: Phil Dowd
Assistants: S Ledger, D Bryan
Fourth Official: N Swarbrick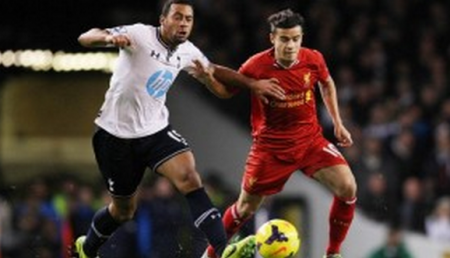 TEAM NEWS
Lallana (knee), Flanagan (knee) and Agger (knee) definitely miss out, while Johnson (thigh), Moreno (foot), Skrtel (knock) and Assaidi (knee) are doubtful.
Spurs have doubts over Chiriches (back) and Walker (groin). It was unclear at the time of publishing whether new central defender Federico Fazio's registration would be completed in time. Sevilla claim he's still their player!
Liverpool:
Goalkeepers: Mignolet, Jones, Ward
Defenders: Johnson (?), Skrtel (?), Kolo Toure, Sakho, Lovren, Enrique, Coates, Manquillo, Moreno (?)
Midfielders: Gerrard (c),  Henderson, Lucas, Coutinho, Allen, Sterling, Can, Markovic
Forwards: Sturridge, Balotelli, Lambert, Borini
Tottenham:
Goalkeepers: Lloris, Vorm, Friedel
Defenders: Walker (?), Rose, Kaboul (c), Vertonghen, Fazio? Chiriches (?), Dier, Naughten, Assou-Ekotto, Davies, Fryers
Midfielders: Lennon, Paulinho, Lamela, Holtby, Townsend, Dembele, Chadi, Eriksen, Capoue, Sandro, Mason, Bentaleb
Forwards: Soldado, Adebayor, Kane

Spurs' goals: 2014/15 from Daniel Rhodes on Vimeo.
Mihail's Tactical Preview:
Liverpool return to the 'crime scene' of the one of their best performances of last season, when they completely destroyed their hosts Tottenham. Even though AVB and his players kindly assisted the Reds on their way to such a marvellous win, it was true the fierce pressing, the sublime passing and the mesmerising movement on the break of Rodgers' team was simply of a different world that day.
On the back of already having lost the confidence of his players, which certainly impacted negatively on their motivation to put up their bests efforts to execute his overall tactical plan, AVB made some glaring tactical errors in that game, namely insisting on a ridiculously high defensive line with rather slow centre-backs and then not setting up his team with the required emphasis to press hard in midfield to protect it. This time tough, the expectancy is Pocchetino won't make the same amateurish mistakes to make Liverpool's life as easy as possible. This should make the game more competitive, as both teams try to force each other to play their best if they want to take the maximum from the game.
Tottenham on an evolutionary, not revolutionary, path
Although being in England only a year and half, the Argentinian manager is already a household name, and not because of his insistence to not speak English and use a translator in each press-conference. His overall work at Southampton, namely in how quickly he improved the team's results with the help of a very positive style of play based on proactive behaviour out of possession and creative football when on the ball, has quickly made him one of the hot names and prospects among the current managerial flora. His sudden rise as one of the top managers in the PL secured him the move to Tottenham this summer, as he was asked to fulfil what AVB tried but clearly failed (for whatever reasons) to do – secure Spurs a permanent spot in the Top 4 and gradually build from there over the time.
Interestingly, AVB and Pochettino's preferred style of play and overall footballing philosophy have more in common than in contrast. Both managers insist on proactive defending based on a high defensive line and lots of pressing with their other main similarity being the preference on quick and direct attacking football, based on swift transitions and creative usage of the ball. Following this it's easy to argue Pochettino's appointment is simply a continuance of the 'project AVB' and not Levy feeling the need to quickly re-load and start something new and different to the last one from the scratch. It feels like Levy wanted to continue with the same project and simply find a man who can continue to implement the same overall philosophy and tactical style of play but has the required tools to do it successfully from a coaching and man-management point of view (arguably the two aspects where AVB struggled to the point of losing his job once again).
Pochettino's Spurs
While it's too early to make any general conclusions for Tottenham under their new manager, it's true that there are certain signs that perfectly illustrate what Pochettino's Spurs would look alike. The Argentinian is one of those rare managers who upon their arrival at a new club needs a very short space of time to stamp their authority and provide tangible signs of improvement of the results and the team's performances. This is because of two main things. First, Pochettino's vision and tactical preferences are very distinct and easily recognisable. This means it's quite easy to say when and whether his philosophy is properly displayed by the players on the pitch. And second, because of his coaching and man-management abilities his teams are quick to embark on a progressive path of exponential improvement.
Under AVB, Tottenham repeatedly showed glimpses of a better future due to their at times sublime football, which came as a direct result of the Portuguese manager' tactical vision being properly executed. But what lacked was that consistency and continual gradual improvement. Too often the team looked to finally click and go on a successful run of games, only to be quickly put down on the earth following yet another embarrassing result and/or performance.
Since Pochettino came in, the London club, simply said, looks already better. Their on-pitch behaviour and coordination in all phases of play seems refined, varied and structured. The players display much better understanding of the tactical system and the patterns of play within it. With basically the same core group of players, Pochettino has already achieved more than AVB on the tactical front.
Defensive phase
Both AVB and Pochettino are stern disciples of the pressing game. For both of them pressing the opposition from higher up is the main way to defend, as much also a way to create dangerous attacks. The difference, however, lies in the perceived success in how both managers are able to coach their players to press in a coordinated and efficient way. AVB seemed unable to do so at both Chelsea and Spurs, while Pochettino – as soon as he came in – made both Southampton and now Tottenham an efficient pressing team.
At Southampton the Argentinian manager counted or much more advanced pressing, meaning his team were often pressing near the opposition penalty box. No matter the exact shape – a 4-2-3-1 or a 4-1-2-3 – the Saints were often sending no less than six or seven players deep in the opposition half to close down fiercely. This often meant the opposition was completely suffocated and they were forced into either easily misplaced or intercepted short passes or inaccurate long passes, which ended as easy targets for the physically strong and good in the air centre-backs (Lovren and Jose Fonte especially). In his first year at the helm of Southampton, Pochettino used the 4-2-3-1 formation which often pressed in the very aggressive 2-4-4ish shape. Then as he moved to the 4-1-2-3 mid-December in 2013, the team generally pressed with 'only' seven players in a 3-4-3ish formation.
Currently, at Spurs, Pochettino is using a hybrid of the above two approaches when it comes to pressing. He started his reign at London with the 4-2-3-1 formation, as he has plenty of quality attacking midfielders and wide men (he didn't have such richness at Southampton, so eventually reverted to a proper midfield 3 in a 4-1-2-3 shape, to use the depth of his midfield options). However, as Spurs haven't been asked to press from as high up the pitch as Southampton – yet – Pochettino hasn't got his team pressing in a 2-4-4 formation. At least up to now, Tottenham have been mainly pressing mainly in the midfield zone, with only sporadic individual attempts being made to press closer to the opposition penalty box. With the focus being more on the midfield third of the pitch, Pochettino has his formation morphing from 4-2-3-1 to a 2-3-4-1 when pressing there. This is done by one of the double pivot – up to now Bentaleb – joining whoever out of the roaming trio of attacking midfielders is central, to form a midfield quartet, who positionally are able to occupy all the lateral space in the midfield zone and press fiercely. Meanwhile, the remaining deep-lying midfielder (Capoue) remains just in front of the centre-backs to give additional freedom for the full-backs to push up, just behind the midfield quartet, and be ready to apply the secondary pressing wave.
With the defensive line being advanced and the front players dropping deep – unless a couple of them are about to go on individual pressing runs in the final third  – Spurs end up with a very congested formation which squeezes the space at both ends towards the midfield third. From there, once the  opposition is 'guided' into that trap, the team's aggressive pressing starts, which often enough results in the team regaining the ball and a counter-attacking opportunity arises (see the first goal vs QPR).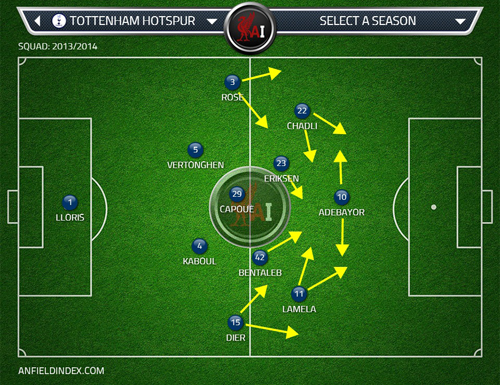 Spurs, as did Southampton, are mainly defending by pressing. But in the rare situations their initial pressing failed in either regaining the ball or forcing the opposition to go backwards (which delays the attack and gives Spurs time to re-arrange behind the ball), Pochettino's players are creating a solid nine-men wall behind the ball. The 4-2-3-1 formation drops back into a pure 4-4-1-1 with only the centre-forward lurking around the central circle. The wide men are expected to go closer to their full-backs and prevent them being easily overloaded. Meanwhile, the double pivot drops just ahead of the centre-backs, creating a second layer of two players in the vital space around the 'D-zone', while the advanced midfielder is expected to be alert enough for any incoming runners from deep and track them back.
Build-up phase, transitions
At Southampton, Pochettino had his team play a typical Bielsa-style brand of football. Whenever the ball was regained the first thought was to search a quick forward pass to try catching the opposition off guard. Basically such a style was following two main things: first, the Saints pressed from really high up the pitch and often they regained the ball inside the opposition's half. So there were plenty of possibilities for them to quickly arrange a dangerous counter-attack. Second, for all their quality players, what Southampton lacked was a genuinely creative playmaker in the final third. Lallana was more of a wide attacker than a central creator, while Rodriguez was a centre-forward starting from out wide. Meanwhile the midfielders were either calm recyclers (Cork), pure ball-winners (Wanyama) or more box-to-boxers (Schneiderlin, Davis). Only the Uruguayan Ramirez resembled the required type of #10 player, but for all his talents he remained hugely inconsistent and frustrating with his end product. Which is why he rarely commanded a starting place under Pochettino. All of this left Lambert as the only player who could play between the lines and display the required vision and anticipation to thread those through balls into the runs of the other players. And yet, being a forward, he had to often drop into such a zone and try to compensate for the lack of a true #10 in the team.
At Tottenham the case is different. Not only does Pochettino now have the creative players – mainly Eriksen and Lamela – but his team is going to often face packed and deep-staying defences. Which means there won't be that extra space in the final third for his team to focus their pressing activities. Instead, Spurs would be forced to build-up their game gradually and put extra emphasis on being intelligent and creative on the ball in the final third. That's why, in contrast to Pochettino's Southampton, Tottenham of Pochettino are seemingly different – it's because that extra emphasis on gradual and longer build-up play through the thirds, based on much calmer and methodical possession play.
The movement patterns and the roles of the players resemble that change too. Although the formation on paper is a pure 4-2-1-3, in attack the team is often morphing into different shapes. At times the team look like a pure 3-4-3 team, other times it's more like a 2-4-4 or even 2-3-5.  It's that extra possession focus and extra movement fluidity that is the main differences between the two teams managed by Pochettino in England up to now.
During the early build-up play (i.e. the recycling process within the own third), the 4-2-1-3 formation often resembles something akin to a 2-3-1-3-1 shape. This is because of the following movement of the players: first, the double pivot of Capoue and Bentaleb divide their roles with the former dropping near (but rarely between) the centre-backs, enabling the full-backs to push slightly ahead (but not as high as the central line). Meanwhile Bentaleb stays just ahead, roaming laterally to open himself to a potential pass from any of the back five players (the centre-backs, the full-backs or Capoue). Bentaleb is acting as the de-facto link player between the back five and the front four players, who are staying in an advanced position.
The obvious benefit of that particular shape during the build-up play is to prevent the opposition coming at Spurs to try and press them. Not only is there several players close to each other to offer the required passing angles for simple short passes, but the front four unit is liberated to stay in advanced positions meaning the opposition is more or less pinned back and forced to keep up at least the same number of players deep in their half.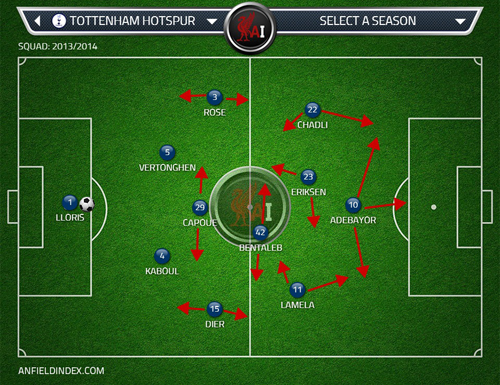 To help illustrate the above, let's compare it with the Liverpool approach to the early build-up play. The main difference is that in contrast to Capoue, Gerrard is often dropping between the centre-backs, making a flat back three unit. Although this gives extra freedom for the full-backs to push near the central line, this means the connection between the recyclers and the midfield players is not as smooth, unless one of the midfield duo drops in and plays the role of Bentaleb – to link the deep-staying players with the more advanced ones. But if this is done, the front three then is forced to follow and drop deep too, or will risk making the team 'broken'. This leads to the whole Liverpool team having to play deep, which enables the opposition to come at them and press them hard.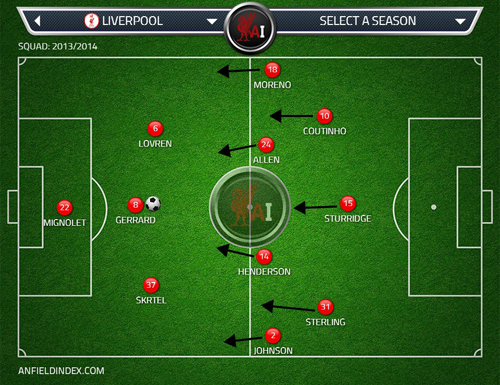 The difference between Liverpool's and Spurs' way of building up from the back is stark but is arguably nothing to do with each manager's specific preferences. Arguably it's more to do with the type of players each manager has at his current disposal. The main difference is that Pochettino's teams notoriously play much higher up the pitch, even when building up from the back, than Liverpool. At Spurs this is enabled by having a true sweeper-keeper (Lloris) who is comfortable to even come out of the box to join the passing flow. This means the dropping from the double pivot player isn't forced to drop as deep as between the centre-backs to help offer enough bodies to prevent the centre-backs being pressed easily. Then although Spurs' full-backs are generally staying deeper than Liverpool's in that phase of play, Spurs' team – due to the advanced front four – are able to occupy more advanced zones during their early build-up play without risking their team becoming broken. This is because of that the Capoue (in contrast to Gerrard) is staying near the midfield connector (Bentaleb) and there is enough passing angles from back to front (from the centre-backs, through the staying deeper full-backs, through the diverse double pivot to the advanced staying front four) for the ball to be quickly moved higher up the pitch.
Attacking phase
Whenever the ball reaches the opposition half, it's all about the passing fluency and especially the movement fluidity provided by the front four – now keenly supported by the bombing forward full-backs – into the final third. One of the key traits of any Pochettino team is that specific rotation and interplay of the attacking players around the opposition's penalty box. At Southampton we saw the trio of Lambert, Lallana and Rodriguez repeatedly breaking the defensive shape and the marking patterns – no matter how good they were – of the opposition. Now, with Spurs being a bigger team – meaning they would often face even sterner – as quality and quantity – defensive units, Pochettino has included a fourth player.
As at Southampton, although there is an emphasis of always retaining width and depth of the attack, Spurs' front players are given that extra freedom to overload certain areas. In the QPR game especially, the front four of Eriksen, Lamela, Chadli and Adebayor constantly ripped apart the opposition defence by first stretching them in different directions (due to their roaming) and then suddenly overloading a certain zone (due to their ability to quickly congest that zone with at least two players). Although the front players were given total positional freedom and often most of them ended up close to each other somewhere in the final third, the team's front players had certain responsibilities to provide different things and as such balance things out.
Adebayor used his all-round attributes to roam all over the final third. Sometimes he was staying high up, pinning back at least two of QPR's centre-backs, opening more space between the lines for the band of three behind him to work their magic. Other times he was dropping deep, inviting two of them to spring ahead of him. At times he was drifting wide too, again encouraging players to make the reverse movement. When in the proper mood and in form – as he clearly is since Pochettino's arrival – Adebayor is almost an impossible player to stop. He has everything to call him a complete forward and that is not overstating his abilities. He is quick and technical enough, so is able to work the channels and sprint in behind to latch on to through balls. But he is strong and powerful enough to be able receive aerial balls and hold up the play, waiting for the support to arrive. Meanwhile, his constant roaming makes him so hard to mark out of the game, as both following him too tightly and leaving him alone would be a gamble by equal proportions.
In behind, the trio of Eriksen, Lamela and Chadli has everything you'd like from an attacking band of three in a 4-2-1-3 formation. Individually, the three of them are mobile, tricky and creative enough to be able to provide and beat a man and provide the final pass. But what's more, the three of them offer the required movement balance even if they are given total positional freedom to roam as they see fit. When starting on the left, Lamela is constantly pulling infield, often ending as the de-facto left winger. In the meantime, Chadli is often doing the opposite but – as seen in the QPR game – is also tasked to provide the secondary forward runs and end up in the box as the additional direct attacking presence. Meanwhile, Eriksen is often seen operating all over the space between the lines. He often drops deep to further allow the wide men to cut infield and offer the required lateral (Lamela) and diagonal (Chadli) off the ball runs. But he is also seen drifting wide to help link the play via the overlapping full-backs and keep the width, forcing the opposition to pull wide and secure extra space for the roaming wide man and Adebayor to operate centrally.
What is missing though is the added danger of a player constantly surging forward from deep. However, up to now Pochettino doesn't have the required type of player who will be able to both act as the link-man whenever Capaoue drops deep and then be that additional attacking danger from deep. The current Spurs squad has players who are capable to provide either of these two roles, with no-one being comfortable enough or even capable at all to deliver both things. Bentaleb is great as the advanced link-up play, helping bridging the gap between Capoue and Eriksen, as to not force either of them to leave their designed position (Capoue to step forward too far away from his position as the main anchor man and deep-lying passer; Eriksen to drop beyond the central line to pick up the ball) and risk ruining the whole shape of the team. Dembele is great at running at people and passing the ball accurately in short spaces, but isn't such an attacking threat from deep. Paulinho is Spurs' only genuine midfield runner, but he lacks the positional discipline to offer the initial passing presence deep in his half. Which is why Pochettino has been so keen to bring Schneiderlin at Spurs – the Frenchman, as showed at Southampton, is perfectly able to provide both aspects of the required in that system role.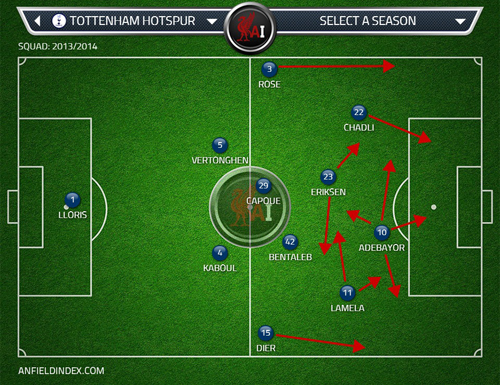 Spurs' potential formation, starting XI and approach
Considering all of the above it is relatively easy to foresee how Pochettino will have his team play in this game.
In terms of formation there isn't a logical reason as to why Pochettino might want to use anything different from the current 4-2-1-3 shape. With Spurs having to play on Thursday in the Europe League qualifier, the personnel should remain the very same as against QPR. The only difference might be if Kaboul – who played 90 mins against both QPR and AEL – is replaced by Pochettino's latest defensive reinforcement, the former Sevilla captain Fazio.
Expect to see Tottenham continue with their proactive style, safe in the knowledge Lloris sweeping and the good mobility of Vertonghen and Kaboul would cope with any through ball sent in behind. Meanwhile, whenever Spurs would be forced to defend for a larger period and put the majority of their players behind the ball, the presence of a natural holding midfielder (Capoue) and another who is displaying the required defensive nous (Bentaleb) to be a useful defensive shield for the back four.
In attack the greatest threat will come from the always roaming and interplaying front four unit. The lack of added threat in the face of a genuine midfield runner would come in handy for Liverpool, as would be the fact that Dier although mobile enough and a keen overlapper, won't provide much attacking threat – at least from open play – with his runs down the right flank. However, on the right Rose is more dangerous, not least because he is very quick and converted into a full-back after being a former winger.
In terms of the approach it'll be interesting to see whether Pochettino will ask his team to start the game pressing deep into Liverpool's half, putting emphasis on shutting down Gerrard. If so it might be a case of Bentaleb rushing forward to close him down quickly, while the front four will look to occupy Liverpool's back four. The alternative is to see Spurs stand-off Liverpool, giving them free run to recycle at the back and push forward their defence when trying to transition higher up. And then, once Liverpool cross the central line, the home team to spring into life and press them aggressively, aiming to win the ball and quickly target the free space in behind with their technical and mobile front four unit.
Liverpool
Rodgers has certain defensive worries. While Johnson being definitely out of the game won't be as much as a worry, given his poor form, and that Manquillo could come in and replace him, a problem would be if Moreno and Skrtel are forced to sit out the game too. Enrique is the obvious player to replace the former, but the worry is he simply lacks the required match sharpness to perform in such a demanding game. Meanwhile, if Skrtel is to leave then Sakho would surely come in. This might lead to certain issues, namely the fact both him and Lovren are very aggressive defenders and would prefer to step out and leave space in behind when neither of them, nor the keeper, would be capable to adequately cover.
Anyway, apart from these defensive worries, the main dilemma for Rodgers would be whether or not to start with Balotelli. Depending on this, Liverpool could approach the game with either a 4-2-1-3, a 4-1-2-3 or go back to the 4-diamond-2 shape.
Balotelli plays, Liverpool two up top
Although on paper both Sturridge and Balotelli are capable to play on the flank as the inside forward, neither of them is particularly hard-working or defensively capable to be used in that position against such high-quality opposition away from home. This means that if Rodgers opts to hand the Italian his Liverpool debut, it would necessitate a return to the 4-diamond-2 formation.
On paper against this Tottenham side, it makes sense to first flood the centre of the pitch and still have enough counter-attacking firepower. And this is exactly what the diamond formation will deliver. However, to work adequately, especially in defence, the midfield quartet should be asked to perform in a very specific way.
First of all, to prevent Spurs' roaming band of attacking midfielders continually overloading the space between the lines and from there send a runner unmarked into the box, Liverpool should approach the game similar to the way they did against Man City. Allen and Henderson would need to again be the players either side of Gerrard, with the two of them again sitting deep and narrow to help him out defensively. If Liverpool manages to limit the space in that zone, a huge part of the Spurs' threat would vanish. In addition, Sterling could be used – from his advanced position at the tip of the diamond – to try his best and upset Spurs' passing rhythm by pressing the opposition's double pivot and mainly Capoue.  If the Frenchman is unable to start Spurs' passing moves from deep, it'll force Spurs to either go down the flanks and build-up through Rose or Dier, or Eriksen would be forced to drop deep, which will further limit Spurs' danger form higher up.
As Spurs' wide men would be mainly playing in central roles, there is less of a risk on the diamond formation's inherent weaknesses (down the flank, the full-backs being easily overloaded) to be exploited. Both Moreno/Enrique and Manquillo would need to simply pay attention to the forward runs of Dier and Rose respectively.
The other key defensive aspect is how will Liverpool handle Adebayor? It's equally dangerous to leave him completely unmarked as it to attach a player onto him and risk leaving vital space in behind uncovered. Therefore it makes sense to use a centre-back pair that would be capable to provide different defensive techniques. Assuming Skrtel is fit to start it might help Liverpool in that Lovren could be assigned on Adebayor with Skrtel left as the zonal cover in behind. In case Sakho and Lovren start there would be an onus on the two of them to constantly communicate and coordinate who will step out and follow him and who will remain in behind.
In attack, with Spurs pushing their full-backs to help provide the attacking width that otherwise might go missing with Chadli and Lamela often roaming infield, Liverpool would have the opportunity to play on the break and by using Sturridge and Balotelli 2-v-2 against Vertonghen and Kaboul/Fazio. Surely, such individual battles, more so with the centre-backs forced to cover a huge amount of space in the defensive third, should favour Liverpool's forwards. Ideally Balotelli and Sturridge should be starting on their wrong sides, initially positioning themselves in that space between Spurs' centre-backs and full-backs. Defensively this will help slow their play out of from the back; especially if Sterling is used and manages to upset Capoue's passing. In attack, this will mean when Liverpool are about to break, the two forward would be high and wide, meaning they will either force Spurs' centre-backs to come out wide and leave even more of a space around the penalty area, or that both Sturridge and Balotelli would be left free to pick up the ball and drive infield, ready to shoot on their strong foot.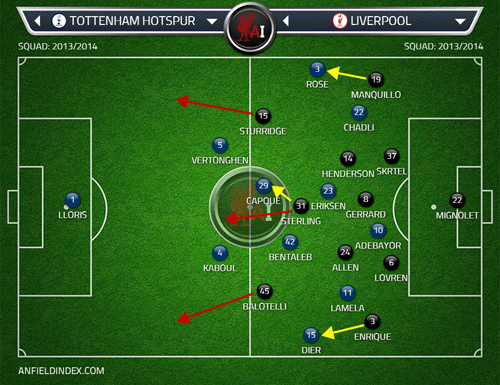 Use the narrow 4-1-2-3 again
In case Rodgers isn't keen to use Balotelli right from the start, one of the two alternatives is to see Liverpool go with the same system as they played against Man City.
As above, the first important thing would be to have Allen and Henderson closer to Gerrard, with the wide man asked to drop deep and narrow and help further solidify the space through the middle. With Spurs surely to see more of the ball, it might make sense for Liverpool to use Markovic instead of Coutinho. Not only has the Brazilian started the season poorly, but Markovic's pace and trickery would come in handy on the break, duplicating Sterling on the opposite flank. With the wide men initially tucked in to defend, Spurs would be further forced to play out down the sides. This will indirectly push their full-backs even more in attack, leaving space for Markovic and Sterling to then break out making inside to outside runs on and off the ball. With Sturridge staying in advanced position and helping pin back the centre-backs, Liverpool's wide men should theoretically receive enough space to do their damage.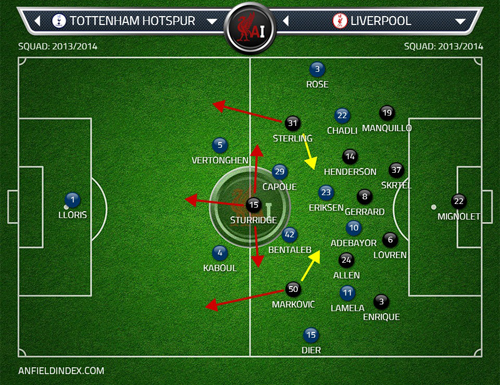 The 4-2-1-3 alternative
The other approach that seems possible for Rodgers to start with is to see Liverpool return to the 4-2-1-3 shape used in the Southampton game. This might be Rodgers' attempt to improve Coutinho's form, putting him in his theoretical best position advanced between the lines. However, as much as this might help the Brazilian flourish, as much there is the risk of certain defensive weaknesses to show themselves again.
With only two central players – be it even Allen/Can and Gerrard – Liverpool risk leaving the space between the lines less protected, something that will be welcomed by Spurs' attacking quartet.  The only way that shape could be retained – to keep Coutinho in the #10 position – and still be in use defensively for Liverpool, is to see the wide man, Sterling and Henderson, tucking very narrow and compressing the space either side of the Allen/Can-Gerrard pair.
Similarly to the above 4-3-2-1 variant, the narrow positioning of Liverpool's wide men might come in useful on the break, as this will invite Spurs' full-backs forward, meaning Sterling and Henderson would have the space to quickly surge forward and receive good passes coming from Gerrard and Coutinho.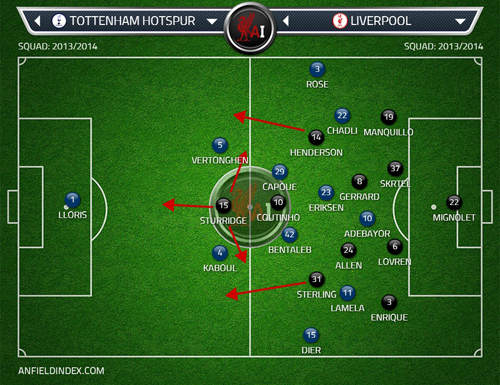 Conclusion
No matter Rodgers' exact starting approach in terms of formation and personnel, this will be a tough game for Liverpool. Last season's Spurs are totally different to this year's version. Not that Liverpool can't win this game, more that it'll require much more effort from the Reds to achieve the win.
If Liverpool defends as well as in the first half of the Man City game and succeed in cutting-off the poor individual mistakes, there is enough to believe sooner or later the team would have a chance to threaten in attack. But if Liverpool tries to make the game as open as possible, it might backfire as Spurs' current better form and greater defensive and offensive organisation will surely shine through and prove to be the decisive factor.
For once, Liverpool might have a much greater range of tactical options on the bench than the opposition in such big games. Even if Balotelli starts, the likes of Lallana and Markovic – if not fully fit and firing – should be able to provide something extra for half an hour. Meanwhile, Lambert and Can's physicality and overall tenacity might be useful late on in order to close down the game if the result is favourable.
[ttt-subscribe-article]