By Paul Tomkins.
Wow, I genuinely didn't see this coming. The first word I associate with Mario Balotelli is bargepole. As in, don't go near him with one.
That said, £16m for his talent is a steal. But why are AC Milan letting him go quite so cheaply? Once penalties are excluded he has a very good goalscoring record there in a poor team (with penalties it's an excellent record, but Steven Gerrard still takes Liverpool's spot-kicks). Why do people keep offloading him? Why always him?
Obviously he may now be starting to grow up; but frankly, he needs to.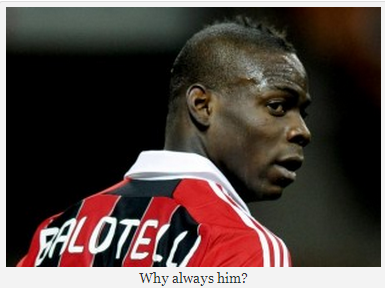 Lots of people on Twitter telling me Balo is like Sturridge was, but I don't recall Sturridge fighting with managers on the training ground and apparently getting sent off on purpose, let alone pulling crazy stunts away from the game. Sturridge left City by his choice, did very well on loan at Bolton, so was only a failure at Chelsea in that he couldn't get into the team despite a good run of form. He was 22. Balo has been sold by Inter, City and now, it seems, AC Milan. He's 24. Yes, there are similarities, but by contrast, the Italian has a far longer rap sheet.
Other people have told me he's like Suarez, but Suarez is the epitome of a player who gives his all out on the pitch. It's easier to carry a madmen if he's carrying his own weight, and more.
The Balotelli from Euro 2012 – big, strong, skilful, determined – was worth £50m. The one who played his final season at City looked barely worth 50p. A good behaviour clause seems essential, because he's someone who, it seems, can piss everyone off; even if, like Suarez, he's an easy target for sections of the media who, on occasions, overstate his shortcomings.
Brendan Rodgers and Dr Steve Peters have their work cut out, but he's worth the risk at that price, assuming that the whole squad doesn't become toxic. I think managers can show favouritism, and it not lead to unrest, if it's given to a star like Suarez. I don't think you can indulge those who are not trying, unless they can stroll around a pitch and still score a hat-trick.
Craig Bellamy – a gobshite of an opponent if ever there was one –was twice worth the risk, but once he took a golf club to a team-mate in 2007 he had to be let go, not least because he wasn't delivering much on the pitch. A club can carry disputes between two players, but it can't carry disputes between two factions. As long as Rodgers can manage to keep everyone happy, then why not go for Balotelli? The question is, can he keep everyone happy? And will splits appear?
Rather than Sturridge, Balotelli reminds me of Stan Collymore – the lack of effort behind the scenes (missing training) and the examples of sulking on the pitch, in between moments of magic; a great player who had amazing spells when the world was at his feet, but who ultimately found himself offloaded by every manager after a year or two. Suarez was trouble, but he never got sent off, worked harder than the mere water carriers and never upset his own team-mates or manager in training. This is a different player entirely. Suarez was emotional, rather than moody.
The reverse is that while Balotelli runs the risk of red cards, and could possibly ruin Sturridge's mojo, he's not one bite away from a two-year ban. He may cause lots of small problems, but Suarez was starting to represent one big one.
So I'm half excited, half terrified. At £30m, which Balotelli should be worth at his age and with his talent, I'd say it was a 50-50 bet. At £16m it's perhaps 70-30 in his favour, if you want to be generous, but there's always the risk of a violently upset apple-cart. Squad harmony is probably worth £100m a season, in that talent, without unity, will not bring success.
Either way, strap in, boys and girls: the ride is gonna be bumpy, but it should be fun.
Balotelli Stats by Dan Kennett: