By Krishen Bhautoo.
The Elite Player Performance Plan (EPPP) was initiated by the Premier League and accepted by the 72 Football League clubs on 20 October 2011. The clubs voted 46 in favour and 22 against, with three no-shows and one abstention.
According to the Premier League, the EPPP is:
… a long-term strategy designed to take Premier League Youth Development to the next level.

The EPPP is the result of consultation between the Premier League and its clubs, representatives of the Football League, the Football Association and other key football stakeholders.

It has six fundamental principles:

·    Increase the number and quality of Home Grown Players gaining professional contracts in the clubs and playing first-team football at the highest level
·    Create more time for players to play and be coached
·    Improve coaching provision
·    Implement a system of effective measurement and quality assurance
·    Positively influence strategic investment into the Academy System, demonstrating value for money
·    Seek to implement significant gains in every aspect of player development
The idea behind it is to improve the development of young English and British talent, which in turn will improve the chances of the respective national teams in international competitions. If we take a look at what Belgium have achieved in a relatively short amount of time since their version was put into place, we can see why this would be so attractive for the FA – if much less so for the rest of the Football league and at least half of the Premier League clubs.
The Belgian Example
Belgium reached the last 16 at the 2002 World Cup, but that came on the back of their failure to qualify from the group stage at the 1998 World Cup and at Euro 2000, where they were co-hosts. Belgium's former technical director Michel Sablon (who put together the plan for how they now develop their players) says "The people of Belgium were beginning to question the team. After Euro 2000, there was a feeling of embarrassment, the relationship was not good." Sound familiar?

What the Belgians did was to look at the best of what the world had to offer, try to take the best parts and formulate their own plans to eventually be able to compete. They had regular meetings with the development arms of French, Dutch and German FAs as well as clubs with a good reputation for developing players like Ajax and Barcelona. They saw the common theme and it was about producing footballers. And by this, I mean players who understood the game and with the technique to play it.
So how did they go about this?
Firstly, they developed a system for all youth players to play. After extensive analysis by the University of Louvain of 1,500 youth games they discovered that young players (8-9 years old) touched the ball on average twice in half an hour. Clearly not enough to develop any player, let alone at the most formative ages. This lead to the implementation of 2v2, 5v5 and 8v8 games to increase participation of each player and encourage touch, dribbling, diagonal passing and movement.
They found that the best way to develop players was to use a 4-3-3 formation which would be a natural progression from the games played at a younger level.
To 'force' players to develop, they were never moved down a group once they had gone up. So if you went from u17s to u19s, you'd never play for the u17s again. Regardless of how big a match the u17s had coming or if you are eligible, you had to make it at u19s. No exceptions.
Finally the university found that too much emphasis was placed on winning and not enough on the development of players. Develop the players and the wins will follow was the philosophy.
So the FA wrote this plan (in much more detail!) and forced it upon clubs, youth teams and even schools. It was met with resistance. Why should the FA be telling anyone how to train their young players? But as all clubs are under the FA (unlike in England with the Premier League) they were able to force this upon them. After some time, the clubs began to see the fruits of their labours.
Sablon:
"We found that our teams, even though it wasn't our target to be there, went from being ranked in the 20s to the top 10 in the 17s and the under-19s,

"You want to know why? It was simply down to the development plan – we were making players better. The objective was not to move up the rankings but the result of having a better system meant that we did anyway."
Implementation of EPPP in England
One of the key changes is that teams are now able to sign young players from anywhere in the country as opposed to only within 90 minutes of their training facility. This was an issue for clubs like Liverpool situated on the coast.
Each academy under the scheme or wishing to be rated must undergo an audit (unsurprisingly by a Belgian company called Double Pass). The score they receive from the audit will determine their category.
This category rating is fundamental to how clubs are allowed to train players.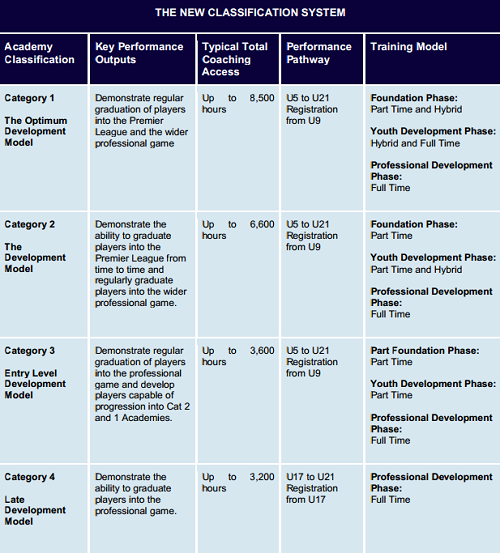 So the BEST academies who have a player from u9s all the way through until they are 21 will provide up to 8,500 hours of training, approaching the heralded 10,000 hour rule.
Category 4 clubs can't sign a player before they 17 and are released by another team.
Then we have costs:

Whilst these are the main areas of which the academy will be rated, there are 10 key KPIs which include the ratio of coaches per player depending on Category and age group (u21 at Category 1 academies must be 1:8 or better):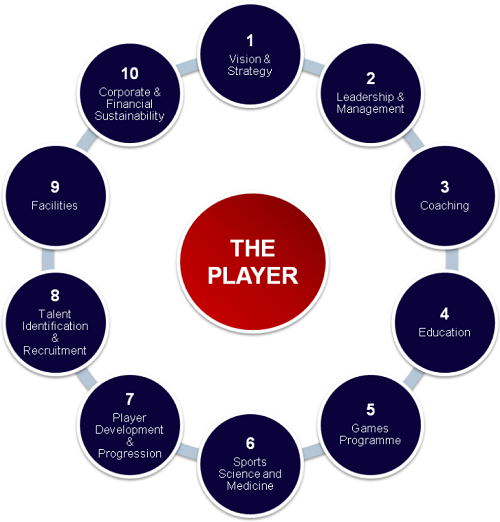 One thing that I was impressed by was the social and financial education players are required to receive. Hopefully this will reduce the number of players going off the rails with drink, drug and gambling addictions.
There is a clear progression in place for players. Different age groups are given different philosophies to focus on.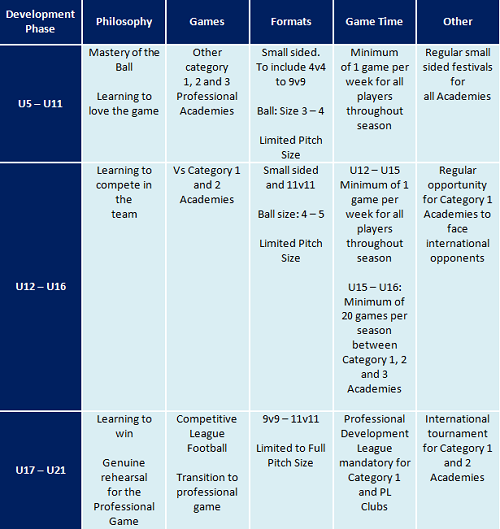 There is still a 'gap' in providing a genuine progression from u17-u21 and the first team with only 'Competitive League Football' given as a route, but I would imagine that at this point the FA are expecting the development program to be producing players good enough to realistically go on loan to league clubs.
The Problems With EPPP
So far it looks like a lot of thought and effort has gone into the EPPP set up. Academies will be ranked on not just the facilities, but the record of progression to first team football, coaching quality, time allocated to each player and a genuine effort to ensure that young players are educated both academically and in the 'dangers' surrounding the game.
These top Academies will presumably produce the best players. They will have the elite around them, top facilities and coaches so therefore every chance to develop into the best players they can be.
But the first 'problem' with EPPP though (as touched on before) is the progression from u17-21 to regular first team football. This still hasn't been resolved. The 'B League' was touted about for some time, but has finally be quashed after being voted out by the Football League. And in all honesty, what would a league sandwiched between League 2 and non-league do for progression of budding PL players? A new proposal has been put forward to increase the Johnstone's Paint Trophy to include a group stage for these youngsters to participate it. Decent idea but still with low quality opposition.
The 'best' solution I have heard is whereby the Category 1 clubs (predominantly Premier League sides) can form partnerships with sides in lower leagues. Picking sides with a tradition of playing football in a manner associated with their club, loaning them players and aiding with the coaching and even supplying equipment. It's not perfect, but certainly another route. Another option given has been to expand the Scottish and/or Welsh leagues to include Premier League B teams.
Another 'problem' is funding. The higher your category, the more funding you get from the FA. Seems a little counter-intuitive, although it would be wrong to reward clubs that put no effort into the youth system. It should be perhaps be done on the level of investment required and commitment of the club to invest time and effort in the youth set-up. If they don't comply with set targets, funding can be withdrawn and/or a point deduction. It doesn't seem to help grass roots, rather just maintain the elite at the top of the game.
The final and by far the biggest problem with EPPP is the scouting, transfer system and financial package.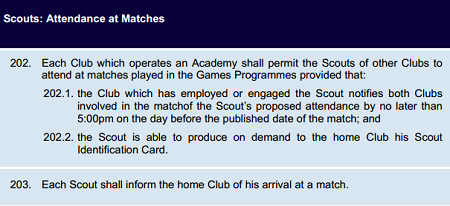 Any club can scout any club's players with less than 24 hours notice (assuming 3pm kick off). This in itself isn't a huge issue, but is when you consider the transfer system which has set fees depending on the length of time a player has been at the club.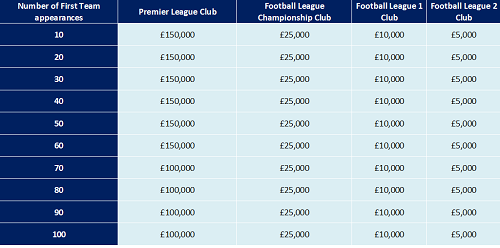 An absolutely ridiculous payment structure. For example, were we to sign West Ham's (who are also rated as Category 1) best youth player at the age of 16, we will have to pay them a grand total of £209,000. If he then goes on to make 100 or more Premier League appearances for us, we will have to pay them an additional £1.3m.

And as a top Premier League club with a Category 1 academy with no restrictions of who we scout or where, we can cherry pick the very best talent from around the country with nothing the parent club can do to stop us. The only carrot they can dangle is the promise of chances in the first team (but if BR is in charge, we can presumably offer them the best chances of any top club) or that the young lad is a supporter of the club.
It sounds fantastic for a Liverpool fan, but what if you are a lower league side? Or even lower in the Premier League. What is the incentive for you to produce players if they will be poached by the best around?
Previously there was the tribunal system which allocated funds for a youngster's transfer if the buying and selling clubs couldn't agree a fee. The most famous case of recent times is probably John Bostock moving from Palace to Tottenham. Palace valued the player at a meagre £2.5m after Aaron Ramsey moved to Arsenal for £5m. They rejected a £900,000 offer from Chelsea previously when Bostock was just 14. The tribunal awarded Palace just £700,000. But this seems a princely sum when compared to the £100,000 they would receive now.
Then we have the agents who don't have the players' best interests at heart (not all agents of course). Surely they will create bidding wars for their best players just to take a slice of the pie? Do you think John Bostock's agent was looking at the best interests of his client? He had already made five appearances for Palace at the age of 15. In reality, he would have made a lot more if he had stayed there, progressing to possibly be the player he promised to be. But after moving to Spurs, he was shipped to club after club on loan. Even a couple of months in Canada when they sent him home early. He now plies his trade in Belgium's second division at Royal Antwerp. Huge credit to him for making the move abroad on more than one occasion, but one can't help feel that his career may have taken a very different route had he stayed at Palace.
So why did 46 of the 72 Football League clubs vote in favour of the EPPP? Because the Premier League said that they would withdraw their £5m annual funding of youth and grassroots development if they didn't.
Paul Scally, Gillingham chairman and one of the twenty-two who voted against the reform, said:
""There were very strong threats that if the League didn't agree to Premier League plans, they would hold back the funding that is very much the lifeblood to a number of Football League clubs.

"It [the EPPP] feels very much like the Premier League forcing the Football League into submission. The Premier League can come into our youth systems and take which players they like and we get compensation through a ridiculous structure that has been developed by the Premier League."
The worst hit are the youngsters.
West Bromwich Albion's Chairman Jeremy Peace:
"In the short term, it isn't working. And I'm not convinced it'll work medium term. The way it's structured, these lads are going to go to the big clubs – that's the seduction.

"Why are we spending £2.5m to be another club's academy? We've brought in a whole load of staff, all these facilities and then a club can come along with £200,000 and say 'here you go, thank you very much'. It's about the big clubs, not about clubs like us. Perhaps £2.5m would be better spent bringing in a player rather than spending it every year on the academy."
This is a Premier League chairman considering shutting down an academy. When you also consider that several lower league clubs are now closing their academies, the already limited places for young boys to play football has gotten even more limited.
But let's for a moment assume that the boys will move to other clubs. Instead of West Brom they will go to Villa or Birmingham. And let's say the plan is a success and they become very good youngsters. Will they be hoovered up by the top clubs to become the new John Bostocks if they aren't the absolute best? Or will the parent club be left with a pittance, demotivating them into not even trying with the youth system? The only safeguard against Category One academies stockpiling is the limit on the number of players permitted at each age group – and these limits remain unchanged under EPPP. Thirty players in each age group are allowed at 9-14 gradually decreasing to fifteen in each age group by the team players are aged 17-21, but spread that over 5-6 top clubs, that could be every good youth player in the country.
Arguably, this could create a great England side. If the top 5-6 clubs who can take advantage of this system generate 2-3 first XI English players, that could be 18 top players. Add the players that get left behind at their parent club or blossom later after being released from the team that hoovered them up, and there could be a very good squad there.
But what is different from now except top clubs who have top academies anyway can steal the best player? What was a fantastic move to create very good young English/British players across the board of British football has turned into a way of securing the big boys' club at the top of the Premier League and very possibly shooting the national team in the foot.
Bravo to the FA.