By Paul Tomkins.
Whether or not you think Luis Suarez was Liverpool's best ever player, he was clearly up there. Uncontrovertibly, he was, without doubt, the club's most controversial. He could start fights in an empty press room.
Longevity – doing it for eight or nine years rather than three – was perhaps the one obstacle in becoming the Reds' greatest, but instead of hurdling it he jumped ship. As such, Kenny Dalglish, Steven Gerrard and Billy Liddell will remain untouched at the top, but his peak was surely every bit as good as theirs.
Indeed, John Barnes is regarded as one of the Reds' top-five based mostly on three unstoppable seasons, before serious injury forced a change of style; he was very good as a central midfielder from 1994 onwards (having struggled for a few seasons), but the years '87-'90 will always define him. So maybe Suarez did do enough between 2011 and 2014?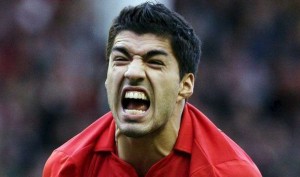 I've already written about the pros and cons of selling him. This, therefore, is a look back at his three and a half years on Merseyside; my assessment of just how good he really was. And really, he was really, really good.
Suarez is perhaps the first footballer to move in two opposite directions at once. Double-jointed knees, triple-jointed ankles, shoulders that dropped left and right as if dislocating before popping back into place as a bamboozled defender tackled fresh air.
More than anything, he is an animal, fierce and feral, fighting tooth and nail, using all his cunning.
His lungs are bovine; his balance feline; and, for good and bad, his instincts vulpine: a fox in the box who can also open the chicken pen and make off with its contents. He has the balls of an elephant, the hide of a rhino, the dive of a swan, the fangs of a viper and the bloodlust of a lion.
Suarez has many of the best assets from the animal kingdom, and also some of the worst. Still, he's no murderer, lest some people forget. His bark has always been worse than his bite.
Below, I reflect on what we, as Liverpool fans, will miss.
This post is for Subscribers only.
[ttt-subscribe-article]
The new TTT book, which appears to have really got under the skin of the United and Everton fans leaving catty reviews (ooh, sharp claws, boys!), can be bought in Kindle format. Click here to purchase from the UK Amazon store or search the one in your country. It's not available on iBooks but works fine on the free Kindle app for IoS.