By Chris Rowland.
It was confirmed today that Rickie Lambert, 32, has signed for Liverpool from Southampton for a fee of about £4m plus add-ons. So here's a quick look at the classic rags-to-riches story of our new striker.
After being released by Liverpool as a youngster – and then suffering the same fate at Blackpool (where manager and former Liverpool player Steve McMahon released him from his contract) – Rickie Lambert spent the summer of 2001 working in a beetroot factory, before Macclesfield offered him £50 a week in travel expenses.
13 years on and after spells at Rochdale, Stockport, Bristol Rovers and Southampton, the 32-year-old has four caps for England and was selected for England's World Cup squad for Brazil. After scoring 117 goals in 235 appearances for Southampton, now he has sealed a dream return to Anfield:
"I can't believe it. I've loved this club all my life. To be back here now is hard to describe.""I have always dreamt of playing for Liverpool, but I did kind of think the chance of playing for them had gone. I didn't think the chance would come.

"I know how big Liverpool are – and it means everything to me – but I know what is important; I know it's what I do on the pitch and the minutes I play. I know that's what matters, and that's what I'll be focused on."
Lambert's meteoric rise from football's lower leagues looked as though it had peaked when he received his first England call-up at the age of 31 – the same day his wife gave birth to his third child, Bella Rose. He scored the winner on his England debut against Scotland.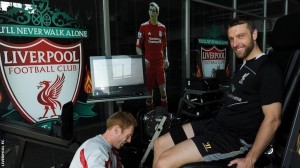 In his first interview with the official website, Lambert was asked:
What's been your greatest moment as a Liverpool supporter?
"It's easily Istanbul. I wasn't able to go, but I went to all of the home games. The Chelsea game still stands out for me. I was on holiday with my mates and we watched it [Istanbul] – it was one of the best nights of my life, without a doubt. I think every Liverpool fan would say the same.
We spoke to you ahead of the Southampton versus Liverpool game a few months back and you said you'd learnt to manage your emotions when facing Liverpool. How do you think you'll be feeling when you run out at Anfield as a Liverpool player?
"It's going to be hard to keep my emotions in check the first time I pull on the Liverpool shirt – I'm not going to lie! It's going to be very emotional, not just for me but also for my family. These kind of moments are driving me on. When I get these moments, I seem to produce my best performances and I'm able to use it to my advantage – any emotions, any nerves and any excitement I have. I am hoping that will continue in my Liverpool career.
Lambert has also written an open letter to everyone at Southampton after his move to Liverpool:
"What can I say…? Southampton has been my life for the past five years, in which we have achieved all of our dreams and more.

"When I grew up there was only one club I loved. I can honestly say now I have two clubs which will always be in my heart and that is thanks to the Saints fans.

"The people who support this club have been nothing short of amazing towards me and, when I look back in years to come, it will be the relationship I had with the fans here which will stand out the most."
So what does Brendan Rodgers think of Lambert – apart from being enough to want to sign him, obviously? Rodgers told the club's website:
"It's only late on in his career – at 29, 30, 31 – that people are really starting to focus on his qualities. He was probably seen as the traditional big No.9, a British striker that is good in the air.

"But he's one of the most accomplished footballers I've seen. It has been so refreshing that he's got his call into the England team and he certainly hasn't let anyone down – he has been outstanding.

"Look at his touch, look at the level of his goals, the different types of goals he has scored over his career, and he's a specialist on penalties as well. I think he is a terrific footballer and any team he plays against, he's always a handful."
Here's a YouTube video of Rickie Lambert goals and assists last season, posted variously by Vin, ACSGP and Krishaldo. Beez posted a table showing duels, aerial duels and passing accuracy to illustrate that any suggestion that Lambert may be a "bruising English centre forward, lethal in the air" etc may be wide of the mark, and another table showing Lambert's chance creation stats. And Paul Tomkins weighed in with some stats showing Lambert's footballing stats are more impressive than his heading ones. Yet more stats came from Dan Kennett and Beez, who concluded "There's a hell of a lot of ability in Lambert!"
Yet more career stats:
Blackpool: 3 games, 0 goals (1998-2000)
Macclesfield: 49 games, 10 goals (2001-2002)
Stockport: 110 games, 19 goals (2002-2005)
Rochdale: 68 games, 28 goals (2005-2006)
Bristol Rovers: 155 games, 59 goals (2006-2009)
Southampton: 235 games, 117 goals (2009-2014)
There's a comprehensive profile of Rickie Lambert by Chris Wood on the lfchistory.net website.