By Paul Tomkins.
The best thing about England losing both opening games of a World Cup for the first time since 1958 is that a large chunk of the Liverpool squad will be home early for a well-earned rest (even if that rest was earned in the Premier League, not Brazil).
The three lions looked like neutered tabbies at the World Cup. They went to sleep on a beautiful pea green pitch.
Part of my growing indifference towards the national team (aside from the master of mediocrity as manager) is the fact that pretty much every fan of a bigger club detests a fair proportion of any given squad. Fans may care about England to varying degrees, but pretty much everyone is prepared to moan and bitch about a rival club's players. (I've even seen Arsenal fans moaning about Mamadou Sakho starting for France ahead of Laurent Koscielny, as if they have as much a clue about Sakho's abilities as Didier Dechamps.)
You get little sane discourse, because of heavily loaded agendas. The person to blame always plays for the club you hate; United fans blame Gerrard for the wayward header, Liverpool fans blame Rooney for the glaring misses, and so on.
And, for having the cheek to score the goals that put England out, Luis Suarez is once again Public Enemy no.7. People are now saying that he can't play in England again because of it, using all the logic of a two-year-old toddler to justify their stance. It's no different from taking your ball home because the others are better than you.
Of course, I have my own agenda, and that is an anaphylactic reaction to Roy Hodgson's brand of football; an aversion dating back to his horrible tenure at Anfield, which squeezed the life and love out of football for many a Red. But let's be fair; other managers might have fared as badly in Brazil, and England did play quite well, up to a point, against Italy. The games weren't easy on paper, we know that. That said, in six tournament games since he took charge in 2012, Hodgson has only masterminded victories over Sweden and the Ukraine. Hard work was made of the 2014 qualifying group which comprised Ukraine, Montenegro, Poland, Moldova and San Marino.
And the more time he's had in charge, the worse results have got. Time is only the answer when it's the right man.
I can't say that England are out because of Roy Hodgson, but it was obvious to any Liverpool fan that he wouldn't get the same movement and incision from players like Raheem Sterling and Daniel Sturridge, because having spent six months watching his team on a weekly basis we knew that was not his style. Wayne Rooney and Danny Welbeck were also part of highly fluid sides for many years; up until the point where David Moyes and Roy Hodgson got hold of them. Or perhaps it's mere coincidence that they're more static under less-imaginative managers?
If people weren't so quick to exempt Hodgson from even the mildest hint of any fault – perhaps blaming the traffic in Rio instead – then I'd feel less inclined to weigh in with my twopenn'orth. Anyone who followed Liverpool in 2010/11 knows how awful the team played and how much intelligence-insulting guff the manager came out with, and yet Kopites were roundly slated by the media for not wanting to put up with a mediocre boss who went into games looking to not get beat 6-0 (his comment, honestly, before facing what was then a much less fearsome Manchester City side. With such rock-bottom aspirations, nothing is possible).
By all accounts Hodgson is great company as far as many journalists are concerned, and perhaps that's why the criticism is lacking. Managers they don't regularly lunch with, like Andre Villas-Boas, get a right proper shoeing.
Through years of mastering a certain kind of coaching, Hodgson will bring a poor side up to average, keep an average side average, and bring a good side down to average. He is a thermostat set to 'mild'.
The best managers in the game have win-percentages between 55% and 70%. Hodgson hasn't been over 51.4% upon completion of any job since 1989 (nineteen eighty-nine). That's 16 jobs without anything remarkable. That 16 jobs of jobbing; 16 jobs of just jogging along.
No-one has a right to expect him to win more than 50% of games with Fulham or West Brom, as it's not really possible; what he did there was more than good enough, given the budget and expectations. I thought he was a brilliant manager for Fulham, just as Sam Allardyce was perfect for Bolton. (Neither would be let within 100 miles of Real Madrid.)
But with Blackburn (when they were rich), Inter Milan, Udinese, Liverpool and England, it had to be possible for Hodgson to win more than 51% of his matches, yet he averages a meagre 40% at those clubs, and 50% with England. By contrast, Fabio Capello left England with a 67% win-rate, and hasn't been below 52% in any job since the 1990s (admittedly at bigger clubs/countries, but there's a reason people like him and Louis van Gaal get the big gigs). Capello may have been the wrong man for England in the long-run, and his best days may be behind him, but Hodgson's record is worse. Capello even has a better win percentage with Russia (57%), with their lack of big names, than Hodgson has with England.
With England Capello breezed two qualifying campaigns, and got out of the group at the 2010 World Cup, even if it was not a good tournament for the country. And yet only today Rio Ferdinand said that Capello "Fabio Capello lacked any warmth, and was too rigid", as if warmth when getting better results is worse than chumminess when getting beaten. In England we value press-friendly losers more highly than fully-focused winners too busy for the boozer, and there's one big problem the country faces right there. And don't get me wrong – this isn't a defence of Fabio Capello.
Some people on Twitter told me that Capello was far more disastrous at tournament football than Hodgson, and yet in his one (admittedly flawed) outing in 2010 they escaped the group and essentially equalised against Germany to give a genuine excuse, whereas this time Hodgson's side were out within days of the tournament kicking off. Capello, who inherited a side that hadn't even qualified for Euro 2008 (under an English manager with the exact same win% as Hodgson), wasn't justifying his ludicrous salary, but Hodgson is still the 2nd-best paid manager at the World Cup, on £3.5m a year. Capello topped qualifying with Russia ahead of Portugal, and Hodgson barely scraped through with England in a very weak group.
Age old nonsense
Then there's this guff about this being a young England side. The average age of the starting XI against Uruguay was 27, and after the three subs it was 28. As I noted on Twitter, no fewer than thirteen Premier League teams last season averaged a lower age over their 38 games. Barkley replaced Sterling against Uruguay, and even including Frank Lampard and James Milner, England's unused outfield players in Brazil have an average age of just 24.5. In other words, the exciting young team everyone talked about was sat on the bench, along with two old-timers. If Hodgson had played more of the 'kids' I'd have some sympathy with the excuse, but the facts show that the team was far from young.
In 2010 Roy Hodgson left a Fulham side with an average age of 30. During his time at Liverpool the average age of his purchases was 30, and he happily shipped out promising youngsters. He's an old manager who likes older players. Again, there's nothing necessarily wrong with that, as Jose Mourinho is another who rarely throws in a youngster, and likes buying old pros (shipping out Lukaku, bringing in Eto'o as just one example), and he's not done too bad over the years. But if Hodgson is getting a free pass because he fielded a young team, well, he didn't.
Raheem Sterling and Ross Barkley are unusually mature, intelligent footballers, but even then, the latter replaced the former against Uruguay. Sterling has been playing in the Premier League for two seasons now. He is no Theo Walcott, in on the back of a few games. Barkley is 20, not 17. They're still young players, granted, but not wet behind the ears.
Where Hodgson genuinely is exempt from blame is in the long-term failings of the English game; although at least kids now play on smaller-sided pitches, working on technique, and it seems to be paying dividends. Maybe there aren't hundreds of good English players in the Premier League, but the best will always find a way through. Players like Sterling, Oxlade-Chamberlain, Barkley and Shaw – and, I would add, Sturridge – would be labelled a golden generation were it not for the fate of the last England team to earn that tag. Hodgson was half-bold in selecting them, but bottled out of actually starting more than one at any given time. Perhaps the experience of travelling to Brazil will do them good, but the only playing time some will get will be in a dead rubber.
Players not good enough?
Daniel Sturridge outscored everyone bar Luis Suarez in last season's Premier League, and Wayne Rooney ranked 5th. Rooney has over 200 goals for United (and now 40 for England), and Sturridge's record since joining Liverpool is an astonishing 35 in 49 games (plus, on one of the only other occasions he wasn't consigned to the wing, he scored eight in 12 on loan at lowly Bolton).
Sturridge is a far better all-round striker than Michael Owen ever was, and in 2013/14 beat Owen's best league-tally with Liverpool (and that was without the aid of penalties). I can't help but think that a better manager would have got more out of Sturridge and Rooney, plus the prodigious Sterling. I actually think Sturridge is world-class, in that he's up there with the best dozen strikers in the game, but this was a team that didn't play to many of its best players' strengths.
Equally, Jordan Henderson wasn't given the role that saw him excel with Liverpool, and indeed, Steven Gerrard, who now really needs to be in a midfield three, was also in a role that was not ideal.
There was never any sense that Hodgson's England would play like Rodgers' Liverpool because he just doesn't set up that way. Hodgson seemed to pick the attacking players the 'country wanted', but didn't deploy them properly because he has no experience of balancing a side in that manner. (And anyway, why the hell is he bowing to popular demand? Would Alex Ferguson? No! Would Jose Mourino? No! Did David Moyes? Yes. Moyes claimed that he couldn't take Robin van Persie off in a game because the crowd would have got on his back.)
It is fair to Hodgson to say that England don't have the greatest depth in certain positions, particularly at centre-back. But then Phil Jagielka and Gary Cahill often repel world-class attackers for their clubs. They're not being plucked from Grimsby reserves, are they? And the defence, 'naively' caught out by an unfit-Suarez's late winner, were aged 29, 28, 31, 29, with the goalkeeper 27, with the deepest midfielder 34.
Top young English players are still coming through, as they always have, but of course, decades ago the 8th best English left-back used to play in the top-flight, whereas now he probably plays in Division One (or is on the bench in the Premier League). Consider this position, which is usually harder to fill, given the higher frequency of right-footed players.
Hodgson had to take two left-backs to Brazil, out of a realistic choice of three: Baines, Shaw and Ashley Cole. You could argue that 4th would have been Jon Flanagan, and some might say that's where the talent pool starts to run dry; but then even the 4th-best choice was a Liverpool regular last season. You don't need eight or nine left-backs to choose from; you just need the best three or four to be playing at a good level.
In the aftermath of the worst World Cup since the 1950s The Daily Mail's Neil Ashton wrote a piece about the players lacking passion (yawn), but when a lack of passion is perceived under a foreign coach he gets the blame (he's too cold, he doesn't get us, he doesn't jump in the jacuzzi with us, yada yada). And yet England have done poorly under its last three English managers, and fared far better under its only two continentals. If you don't believe me, see the graph below. Perhaps England just happened to have good players when the foreign managers were in charge and then not enough good players when the English were at the helm?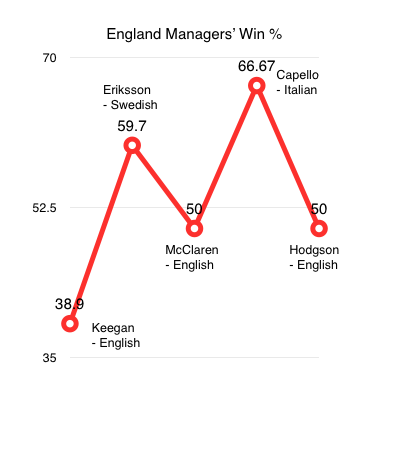 So, for me, it's not a case of Hodgson causing England's exit; more a case that an exit was always more likely under him than a higher-quality manager (likely to be foreign) used to winning 60% or 70% of his games, rather than getting men behind the ball at lower-mid-table to win 30/40/50% to get them to a creditable halfway.
At Fulham and West Brom Hodgson won roughly one-in-three games. At Liverpool, in the league, he did the same. With England in summer tournaments to date, he's won two of six, which is, of course, one in three.
No matter the quality of the players, Hodgson, like David Moyes and Sam Allardyce, clearly has his level. I can't help but think that someone like Roberto Martinez would do so much better with this group of players, but then I wouldn't expect Everton to let him go.