Attack
By Andrew Fanko (TTT Subscriber Arisesirrafa).
Admittedly, there probably isn't much room for debate in this final instalment. The team scored a remarkable 110 goals in 43 games – a rate of 2.56 goals per game. I'll do my usual analysis, but with the decisions on players probably open-and-shut cases, we should just take this opportunity to reflect on the astonishing achievements of the last 10 months and salivate at the prospect of another season of jaw-dropping, rapier-like attacking football.
NB: Remember I'm only featuring players who made at least five competitive starts (an appearance of 45 minutes or more) for the Reds' first team in 2013/2014. Also, I'm not including Moses as there is no chance of us retaining him; I think we can all agree that he is best sent packing. PPG = points per game when starts; Win% = win percentage when starts; PGDPG = personal goal difference per game – any figure above the team's average of 1.28 means Liverpool were effectively better balanced when that player was on the pitch, and vice versa.
Luis Suárez / Age on 1 September 2014: 27 / Contract expires: 2018
2012/13: Starts: 40 / Sub apps: 4 / PPG: 1.53 / Win%: 40% / PGDPG: 0.48 / Goals: 30 / Assists: 11
2013/14: Starts: 36 / Sub apps: 1 / PPG: 2.14 / Win%: 66.7% / PGDPG: 1.39 / Goals: 31 / Assists: 24
Reasons to keep: There can be no better reason to keep a player than him being one of the best in the world. In Luis Suárez, that's what we have, and we should enjoy every second of it. It's something of a cliché to say that someone is "worth the entrance fee alone", but that is genuinely how I feel whenever I watch the Uruguayan in the flesh. Every single time he gets the ball, I expect something to happen, and it usually does.
What sets the very best apart from mere mortals is often their ability to do something unique or to try things that others simply wouldn't contemplate. There are several things Suárez does that put him in that category: his obsession with nutmegs; his deliberately kicking the ball into an opponent's shins so it bounces back to him and he can go past them while they are still trying to recalibrate; the clever and seemingly unstoppable use of his body to win free-kicks; and my favourite of all, his ability to win penalties by so astutely inducing a handball from the defender. He does this by lifting the ball into the space by their side, leaving them with only three options: let him past to have a clear shot at goal, foul him and concede a penalty, or commit a handball (which will always be deliberate in that circumstance). Exhibit 1: Rafael at Old Trafford; Exhibit 2: James Tomkins at Upton Park.
That handball trick shows exactly the kind of cunning that is celebrated in Latin American and southern European football, but frowned upon too often in the English game, and Suárez has it in spades. It's one of the reasons that my personal assist count for the Uruguayan last season reached a scarcely believable 24, meaning he either scored or assisted every 59 minutes. Mind-blowing figures.
Just sit back for a second and remember some of the goals Suárez scored last season: the immaculately placed free-kick at Goodison; the strength and precise finish following the run from the halfway line against the same opponents at Anfield; the beautifully struck curler against Cardiff; the nutmeg and cool finish and bullet header from 18 yards against West Brom; the body swerve and calm left-footed strike and the lob at White Hart Lane. All that and I haven't even got round to his annual Canary demolition job. Five goals in the two league games, all of which were finished superbly. The hat-trick goal at Anfield was so special even the Uruguayan himself could barely believe it, celebrating by covering his face in a mixture of shock and quasi-embarrassment at how damn good it was. Oh, and I almost forgot the sensational effort against Arsenal when he was running back towards his own goal from a corner and smashed it against the post from about 30 yards – it would have been one of the best goals Anfield has ever seen. Oh, and then there's the impudent free-kick from out near the touchline against Newcastle on the final day. It may have been disallowed, but to even contemplate it – let alone execute it to perfection – was the mark of a genius.
While we regularly marvel at his technical excellence, it is Suárez's sheer bloody-mindedness, energy, passion and furious will to win that truly makes him the player he is. I don't recall any other player with such determination and drive. It's infectious, and it's something the club must do all they can to hold onto.
Reasons to offload: The main reason is of course financial. Were we to sell Suárez this summer, he would command well in excess of £70 million, and perhaps even a world-record amount. That would enable us to buy two or three genuinely world-class players for areas of the team that need considerable improvement.
With Lambert signed, Borini returning and Sturridge always happier to be the main man, the balance of the team may not be hugely upset by the departure of its most gifted individual. Indeed, in each of Suárez's three full seasons at the club, our win% and PPG have actually been higher in his absence; make of that what you will.
Luis Suarez
Keep (97%, 468 Votes)
Sell (2%, 12 Votes)
Loan (1%, 4 Votes)
Total Voters: 484

Loading ...
Verdict: Keep.
Rating: Suarez
10 (71%, 323 Votes)
9 (28%, 130 Votes)
8 (1%, 4 Votes)
1 (0%, 1 Votes)
5 (0%, 0 Votes)
4 (0%, 0 Votes)
7 (0%, 0 Votes)
3 (0%, 0 Votes)
2 (0%, 0 Votes)
6 (0%, 0 Votes)
Total Voters: 458

Loading ...
This was the season that Suárez unarguably became one of the top five players in world football. He now has the perfect stage on which to display his remarkable talent, and if we want to win major honours, our best chance is surely to retain his services. John W. Henry and Brendan Rodgers have already played a blinder in how they have dealt with the Uruguayan off and on the pitch, and I hope they are rewarded in the years to come.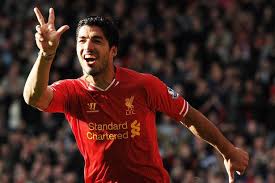 Raheem Sterling / Age on 1 September 2014: 19 / Contract expires: 2018 (new deal expected in the summer)
2012/13: Starts: 24 / Sub apps: 12 / PPG: 1.54 / Win%: 41.7% / PGDPG: 0.24 / Goals: 2 / Assists: 5
2013/14: Starts: 28 / Sub apps: 10 / PPG: 2.14 / Win%: 67.9% / PGDPG: 1.46 / Goals: 10 / Assists: 9
The rest of this article is for Subscribers only.
[ttt-subscribe-article]
I think that looks mouth-wateringly good. Who's to say we can't score even more goals in 2014/15?