By Paul Tomkins.
Well, that was heartbreaking, head-wrecking, soul-destroying.
In the aftermath of a late three-goal collapse, the Reds' weaknesses were brutally exposed. But it's easy to suggest that doing things differently was the right answer, because it's always the right answer when things go wrong.
Against Chelsea, Liverpool should have apparently played them at their own game. Late on at Selhurst Park, at 3-0, the Reds should have shut up shop (even though every single fan I saw on Twitter was talking of goal difference, and going for the jugular.) At 3-1 I saw little talk of defending, just getting a fourth to kill the game.
And did you really want Liverpool to sit back and try and defend the game out at 3-2? Do that and you invite pressure. And if you concede when you are inviting pressure, the wisdom, in hindsight, is that you should have attacked, as it's the best form of defence. As it was, Liverpool's defence backed away too much, as seen at Norwich, but it's a natural reaction in times of stress.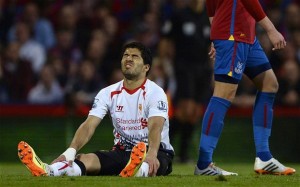 Liverpool have got to where they are by playing the way they have played. If they played a different way it might be better; but given that no-one predicted in August that Liverpool would be top with five days of the season left (even though City should now win the title), there's a good chance that playing a different way would have led to a worse season, not a better one. This is not a team set up to defend leads, and nor is it a team full of the experience of these kinds of pressures. It is what it is, not what it is not.
A few months ago I was uncomfortable with several aspects of the team, and noted that teams who don't keep clean sheets don't win the league. I wrote a piece in mid-February listing reasons that have come to be proven true – but it's important to note that at the time Liverpool were 4th, with everyone having played 25 games, and were six points off the top and a mere three points ahead of Spurs. (Talking of collapses, Spurs, how about a Vine of your end to the season? Or what about Chelsea, who were top at the time? Or Arsenal, who were top for ages?)
So, I was right three months ago: we couldn't defend well enough, didn't have the squad depth that £££ brings, didn't have the experience of previously going to the wire, losing it, and then understanding more a year later. I was right: teams don't jump from 7th to 1st.
And yet I was hopelessly wrong, as Liverpool won the next eleven games in a row. Were those games won by keeping clean sheets? No. So having won 11 of the past 13 games, can I claim to be a genius for predicting only part of the story, when I thought that four or five game winning streaks were the best this team could come up with? It seems churlish to moan about the way you play once it's taken you to such heights.
For me, the 2008/09 team, with its majestic spine, was the best-balanced Liverpool I've seen in the Premier League era, and the best overall since 1987/88. They had a great defence, and were top scorers that season, with 77 goals, had the best goal difference and won 25 and lost just two.
But for all that brilliant balance, people bemoaned the draws. Liverpool this season have more-or-less the same points tally, have also won 25 games, and despite a defence seen as shambolic, have a goal difference of +50.
With Benítez's best vintage – a team I thought was as close to perfect as you could get on the budget – the goal difference? +50.
I argued against those who said that Benítez just needed to be a bit more positive, just as I'll now argue against those who say Rodgers needs to be a bit more pragmatic. Everybody needs a bit more of something, when you put it like that.
Benítez's brilliance was in balance; Rodgers' is in forward movement. Liverpool were virtually impossible to beat five years ago, yet people bemoaned the draws, rather than focusing on just two defeats. This time the Reds have won the same number of games (with one game to spare), and people bemoan the fact that we don't defend like Chelsea did at Anfield, with 10 behind the ball, looking for a lucky break.
We did just that, and won 2-0, against Chelsea back in 2010, when Hodgson deployed a flat-back seven. The problem was Hodgson's approach was only suited to a handful of games. The rest of the time the Reds stank the place out.
Imagine the outcry if Liverpool put everyone behind the ball last night at 3-2 and Palace scored? Of course, maybe they wouldn't have scored, but equally, at 3-2 Liverpool were experiencing what AC Milan – a phenomenal side, with world-class defenders, midfielders and forwards – experienced in 2005. Once you start wobbling – and it's natural to wobble in those circumstances – you are going to make mistakes. You're on the ropes, your head's a mess. Mentally speaking, you just cannot approach it like it's 0-0 as you've already been breached.
People said after the Chelsea game that Rodgers should have been more like Mourinho, but Mourinho has a squad that costs over twice as much as Liverpool's, with a ton of incredible midfielders and some forwards who, in past times, scored a lot of goals; plus Lukaku, loaned out for no apparent footballing reason (along with 22 other players loaned out). He spent a ton of money this season, mostly on more midfielders when he didn't really need more midfielders. And for all the money, the much bigger wage bill, the far greater squad depth, they sit two points behind Liverpool, with an inferior goal difference. Yes, they've played all those extra Champions League games, but equally, Liverpool haven't got much depth beyond 14 players after four years out of the competition. Liverpool couldn't cope with two or three players out, as that left nothing on the bench.
If everything that possesses a flaw has that flaw eradicated it becomes perfect. And there's so much perfection everywhere, isn't there? We're all perfect. All football teams are perfect. All business only ever make money. Right?
In football, as I've always argued, eradicating your flaws can be difficult. In 1997, everyone said Liverpool just needed a warrior like Paul Ince, but then Paul Ince arrived and Liverpool had that extra steel, but lost John Barnes' composure. In football, adding almost always means simultaneously taking away.
People spoke about having kept Andy Carroll to bring on against Chelsea, as if Liverpool would have got the same number of points with Carroll in the squad (which seems laughable given the success of the front two), or as if he'd sit out 35 games then suddenly be brilliant in the 36th. Liverpool got to 80 points without needing that kind of Plan B.
If Plan A had been failing all season, I'd have said yes, that kind of Plan B is needed. But it hadn't been failing all season. The Reds scored goals for fun. The Reds won 25 games by the end of April.
There's only so much time to spend on the training ground, and only so many kinds of player you can buy with a sensible budget. If you're weak at defending set-pieces, then you can work on defending set-pieces. But then that's less time to work on the things you were working on, especially if they are leading to good results. You can practice defending more as a team, but that's less time to practice possession or attacking drills. There's only so much a team can work on, unless they train 16 hours a day, which means they never get to eat, and are knackered come match-day. You can't just bring specialist players in from the cold for specific games and hope that they click.
None of this is to say that Liverpool should be letting a 3-0 lead slip. But some crazy shit happens in football, as seen in Istanbul, and those Milan players had won everything. Pressure does funny things to players, and the pressure got to Liverpool once they – like most onlookers – thought the game was won and it was about goal difference. It was easy, until Palace scored, and then the doubts set in; as they did with Milan.
It's been a far better season than any of us dare wish for, and no single fan would have said 'No' to being in this position after 37 games, if offered it in August. If Manchester United fans want to laugh at us, let them; only one big club was a shambles this season. If they need to laugh at Liverpool to get over being so abject in 2013/14, so be it. We can always buy both clubs' season review DVDs and have a good laugh.
And yes, this may have been the Reds' best chance of the title, given the way events unfolded, but the side was never fully equipped at this stage. Look at the midfielders and strikers that Manchester City have in reserve – as part of the costliest wage bill in sport – and you see why they could always cope with injuries or off-form players better than Liverpool. They still missed their best players, of course, but if they'd had everyone fit all season they'd probably be on 100 points and we'd be having a different conversation. No Liverpool fan would then be unhappy with 81 points.
That said, City could of course suffer their own nightmares against Aston Villa or West Ham. It seems unlikely, but it's been a weekend in Spain and England where teams with nothing to play for have damaged teams with everything to lose.
But if City do hold on, then despite relying on their wage bill (which can't be much higher than Chelsea's, who've done far less this season), they'd be deserving champions.
They also have a manager with some class and dignity, much like Liverpool, but of course, unlike Chelsea. As much as I like Pellegrini, I naturally hope his team will slip up, but the reality is that it's most definitely theirs to lose.