By Chris Rowland.
There are many questions to be asked now the season's finished. So we asked our team of writers. Here are their answers to the first set. The second and third sets will be published next week.
Did we 'blow it' or 'bottle it'? Did we 'choke'?
Alexander Papas (TTT Subscriber Yiannis): That's it, start off with a question more loaded than a thousand Uzis why don't you?
I don't agree with this line of thinking. How often has it been said on here, especially by Paul, that title winning teams tend to have gone close the year before, giving them the experience of a title challenge and the unique pressures they bring? We found ourselves mounting a title challenge that nobody expected – not the fans, not the media, not the players and not the coaching staff – with zero preparation and zero experience, plus a paper-thin squad that has been devastated by injuries all season. To my mind, the knowledge that we can get this close with such depleted resources can only spur on the team further as an indication of what they are capable of achieving if they all pull together. Ultimately, you can only learn from your mistakes, not your triumphs.
Chris Rowland: I don't see how any team that wins 12 games and draws one out its last 14 can be said to have bottled it, though I've no doubt our vast array of bitter enemy snipers will be lining up to claim just that. The pressure of being in a title race didn't seem to bother us too much during those 11 straight victories did it? We lost at home to Chelsea – as the champions did – hardly a shock of seismic proportions. The last 12 minutes at Palace remain as hard to explain as quantum mechanics or string theory, but as someone on here said, if we'd got a late equaliser at Palace we'd have been celebrating a crucial point won. It was the manner of the capitulation that was so traumatic. But whether one point from six constitutes choking I would seriously question. The other five games we drew and five games we lost throughout the season cost us the same didn't they, no more, no less?
Alun Evans (TTT Subscriber FirePhoenix23): Not by any definition I know! We were never in contention for the title by any stretch of the imagination. It was only our unreal (and in the end unsustainable) form that gave us the chance. At the end of the day we go into the last game of the season with the chance to win the league ahead of the richest team in the world and that's worth a lot. If a completely unknown boxer was winning on points against Klitschko but gets knocked out in the last round, you don't say he choked, you'd say he fought brilliantly and lost gallantly. That's us!
Jon Rushton: No, we over-performed, scoring an incredible 35 points from the last 39 available (at the point of writing), taking us from a position of being fourth in the table to being second and the only team other than mega-bucks City with a shot of winning the league on the final day of the season. We did drop points of course at the point where we were top of the table, but to be in that place to begin with (as we were at Christmas) just shows what an incredible over-achievement this season has been from start to finish.
Shaul Mitelpunkt (TTT Subscriber Serpico): We choked, but did not blow it. There is a difference. What we did to a certain extent to ourselves against Chelsea and Palace must be counted as choking, unless you do away with the term altogether. We need to acknowledge we choked so to make sure we don't choke again next season. More on that later.
But – to distinguish – we far from blew it. Had we choked all the way back against Arsenal or Spurs, missing out on their respective crises and on CL qualification, than you could say we blew it. But in reality we blew these teams away.
Anthony Stanley (TTT Subscriber Dannyluke10): I don't think so; I think it was a combination of factors, rather than us 'seizing up' when the pressure hit, that contributed to us dropping the vital points in the run in.
The second half against both Norwich and Man City (at home) were the first time I thought to myself that we looked nervy. But this is entirely understandable and we got through these tests. For me, the biggest problem was the identity of who we then had to play. If there's one side in world football that you wouldn't want to play when there's whisperings of pressure around the club, it's Mourinho's Chelsea. Anyone else and we probably blitz them again in the first half before the nerves kick in – but it's hopefully over as a contest at that stage. Mourinho turning it into a war of attrition was one thing we struggled with but we'll learn from that.
Against Palace, we looked superb in the first seventy minutes but then we probably blew it. But this was an ill-advised attempt to pursue goals rather than choking. Again, there are lessons to be learned.
For me, the biggest contributing factor to our relative poor points return in the final few games was the loss of Henderson; his sending-off against City meant that, though we won the battle, we lost the war. There simply wasn't the required quality to step in (though what Jordan now offers the team is hard to replicate).
Russel Lunt (TTT Subscriber thundyr): We made mistakes, perhaps some rather too naïve, but we did not choke; the title was always perhaps a bridge too far, and we were rather too desperate to achieve it, thinking we could throw off both our title drought and the darker memories of Hillsborough in the same year. This season Liverpool lived and died by the sword; a thrilling ride that brought the club no few new fans and perhaps sent a tremor of fear out to the continent.
Dave Cronin: Yes, we most definitely blew it. We had the chance of winning the Premier League and we blew it. As did 18 other teams who also blew it at different points of the season. Of the 19 teams that blew it, we were the only one mathematically capable of winning the title on the 38th game of the season. So we did better than all the teams that blew it.
Should we be criticised for blowing it? Absolutely not. Why should we be criticised more for competing for the title until to the final day of the season than Man United whose pitiful defence of their title saw them out of contention before Christmas and finishing 7th? And what about Arsenal, who led the League after all contenders had played 22 games and who, at that time had an 8-point lead over us but ended up scraping their usual 4th place? And what about Chelsea, whose obnoxious manager had an expensively assembled squad playing like a team managed by Pulis or Allardyce and whose side led the League after 25 games and led us by six points. This same Chelsea side went seven points clear at the top of the table after their 29th game – albeit having played more games than their rivals. And how about Spurs and Everton who have consistently finished above Liverpool in the League table in recent seasons? You tell me, who blew it?
Our objective for the season was to finish in the top four. We exceeded that objective by a considerable distance giving great pride and pleasure to our supporters along the way. We are rightly proud of our team and they deserve to be praised to the hilt for being close runners up in a title race we were never expected to enter.
Did we 'choke'?  That's more difficult to answer. Having been in the position where we could win the League if we won our final three games, it feels like we lost it but can we honestly criticise a team for failing to win 14 consecutive League games?
I think from Cardiff away onwards, there were signs of this team being affected by the pressure. Only the Spurs game was comfortable from that point on. The Stevie G "We go to Norwich" speech in the aftermath of the Man City win was a romanticised moment that felt inspiring and encouraging at the time but in the cold light of day, this was our skipper and most experienced player evidencing signs of emotion and fear ahead of our final four games.
At Norwich we nearly did what we eventually did at Palace and in between we totally lost our composure after Gerrard's mistake gifted Chelsea a lead at Anfield.
Maybe more composure would have seen us win it but this team was what it was. Unlike City, it didn't have players who had been through this and emerged victorious two years earlier. It didn't have an abundance of players whose mettle has been tested in top European Leagues, international tournaments and the Champions League.
It's easy to gloss over Liverpool's 11 consecutive League wins that put them in position to potentially win the title. That was a remarkable achievement – our best Premier League winning run and it included a 5-1 win over Arsenal, a 3-0 away win over Man United, a 4-0 win over Spurs and a 3-2 win over eventual Champions City. At the start of that run, if you'd been told Liverpool would win 11 consecutive League games and find themselves in the driving seat of the title race, you wouldn't have believed it possible – especially with that fixture list. And here's what people need to remember when debating whether we choked or blew it, Liverpool needed to put together a run of 11 consecutive victories just to be in with a chance of the title having looked out of contention beforehand.
Si Steers: No, the league is decided over the course of 38 games. Even though we won 11 on the spin, it wasn't enough to pull as away from City who was always lurking with games in hand. That shows the strength of the league and the depth and strength of the City squad. We had a glimmer when we beat City, but we still had zero margin for error. City won the title by winning the last three games on the bounce, we didn't lose it, blow it, bottle it or choke.
Alex Tate (TTT Subscriber Tattva): Considering our expectations when we kicked off against Stoke last August, I think choke would be a mean way to assess the final weeks of a remarkable season. How can a team of relatively inexperienced title chasers be expected to beat the most expensive squad in world football?
There are other reasons we finished second and not as Champions, none of it to do with not holding our nerve.
Did Gerrard's slip cost us the title?
Jon Rushton: Or did Gerrard's leadership and mentality make it possible for us to be that position in the first place? The Chelsea game was poised on a knife-edge, one slip was always going to have the potential to change everything – I am sure Chelsea fans might be praising Ba's composure or Mourinho's game plan. The truth is, both teams are top class, either could have won it and we were unfortunate to be the team that had a slice of misfortune on that particular day.
Alun Evans: It didn't cost us the title, but it certainly put City in the driving seat. There was still plenty of football to be played after that (especially by City), and unfortunately they seem to have gone about their business in a professional way.
Chris Rowland: No, of course not. It cost us defeat in that one match. What cost us the title was securing three fewer points than we needed over the course of a season. Losing to Chelsea didn't cost us any more or less than losing to Southampton, or Hull, other than the 3 points put Chelsea back in contention for the title.
Shaul Mitelpunkt: The slip will be remembered as costing us the title because people need a protagonist and a narrative. But in truth any ol' miss in the box against Swansea or defensive failure to press conceding a goal against Soton 'cost us the title.' It is a marathon, not a sprint, and Gerrard was one of the four pillars (I'd say) that got us to this high position to begin with.
Anthony Stanley: No.  Consider this: in some parallel universe, Gerrard doesn't slip and we draw a dull and uninspiring game. We then go to Palace knowing we have to win. Would we have played as we did for the first seventy minutes with that pressure on our shoulders? Probably not. I'm slightly contradicting another answer, but I believe our performance at Selhurst Park was one that had been shorn of nerves; the pressure was off and we responded well.
There are so many vagaries, permutations and random events in any football match (let alone series of games) that identifying one moment – three games from the end – seems wrong to me. We could have still lost that game if Stevie didn't make that mistake. Equally we could have won it; it's impossible to say.  It's like my pet hate: people commenting that a team could be 3-0 up as they've hit the bar three times; nonsense, if the first goes in, it's a completely different game.
It wasn't the slip that cost us; it was the team's response. We still had forty-five minutes to get back into it and failed to do so.  Again, it's part of the learning curve. I will say though, that Stevie was more culpable than most in the second half as he understandably sought to atone for his mistake and this may have spread to the rest of the team.
Lack of experience in the absolute crunch games, married to Gerrard's unique passion and desire for a league title, cost us.
Alexander Papas: No. Gerrard's slip cost us a goal.
At least that's what should be said, but you just know that the "Gerrard slip" will be the general media (including social) narrative. It is always easy to focus too much on events in the last few games of the season, precisely because they are the final pieces of the puzzle and can often be decisive, but always remember that each match only represents 2.63% of the season. If you then take one "moment" in that match (call it one second), then based on an average match length of 94 minutes (average one minute of injury time for the first half, three for the second), that makes it a whopping 0.00047% of the season. The many statisticians on here will no doubt agree that 0.00047% is nowhere near a large enough sample size to judge the whole, regardless of context. After all, if we want to do that can't we just as easily say that the linesman at the Etihad cost us the title for flagging Sterling offside? How about Howard Webb costing us the point that would see City needing to win their last game by not giving the penalty for Etoo's foul at Stamford Bridge?
It's City that cost us the title, by being City and having more money than half the countries in Europe.
Dave Cronin: I don't believe you can pinpoint one moment in the season as the point where the League was won or lost. Why Gerrard's slip? Why not Toure's howler at West Brom or Skrtel's O.G. at Hull or defensive lapses at Swansea and Newcastle or our home defeat to Southampton or the refereeing at Stamford Bridge or Mignolet's error at the Etihad? Over a season, things happen that win you points and cost you points. Gerrard's slip-up against Chelsea was one of those.
In that particular game, I felt that our reaction to the mistake was more costly than the mistake itself. Gerrard reacted like he needed to personally make amends with an Olympiakos/2006 Cup Final-esque strike when what we needed to do was keep our composure and try to force an error from Chelsea's back 9. The rest of our players looked panicky and impatient. We stopped playing like the team that had won 11 games in succession and looked desperate.
Possibly that reaction was the difference between a defeat that handed City the initiative and a draw that would have kept the title in our hands. You could highlight Gerrard's mistake as the catalyst for that reaction but equally you could highlight Henderson's suspension or Sturridge's injury or previously dropped points or ineffective transfer windows or the mountain Hicks and Gillett left us needing to climb.
We won 84 points. That is our second best haul in 22 years of Premier League history. That is six more points than Man United won the League with three years ago. On this occasion it wasn't enough because Man City took more points. It was City's results that cost us the title. Nothing more.
Si Steers: Titles are not won or lost in individual moments; they are won and lost as a collective over the course of a season. Gerrard's slip was a key moment in the Chelsea game, but had the linesman not got the Sterling offside call wrong at City it wouldn't have mattered.
Alex Tate: Gerrard could have slipped against anyone, but against opposition so intent on not playing football with a forward motion it exposed our weaknesses on the day. Costing us the title cannot be placed on one instance of that nature. We had another 45 minutes to beat Chelsea that day, and 45 before then. Yet, if it was that Chelsea leapfrogged us to top the table and went on to lift the title in a two-horse race after that defeat, then perhaps.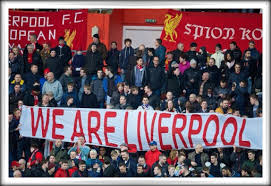 The rest of this Q&A, where we ask "What lessons can we learn from the Chelsea and Palace games?" and "Have we been very good, lucky or both?" is for Subscribers only.
[ttt-subscribe-article]