By Chris Rowland.
Welcome to today's daily digest, listing the day's Liverpool FC news, the latest LFC transfer news, other major football news and also providing links to the best posts on the site's debate section and the most active debate threads during the day.
This article is for Subscribers only.
[wcm_nonmember][ttt-subscribe-article][/wcm_nonmember][wcm_restrict]
LFC News:
Luis Suarez, 27, has committed himself to the club by enrolling his four-year-old daughter in a Merseyside school. Full story: Daily Express
Brendan Rodgers insists there will be ample opportunity for Martin Kelly to complete his road to recovery and feature for the first team when the 2014-15 campaign gets underway.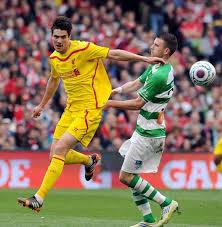 Luis Suarez will share the ESM European Golden Shoe with Cristiano Ronaldo after the La Liga season came to a conclusion at the weekend. The pair both scored 31 league goals in 2013-14 to jointly take the prestigious prize.
Interesting guest column on the official site by the Mirror's David Maddock:
Yet the Premier League is also a statistically predictable one. There is a simple fact in football. The more money you spend on player wages, the higher you finish. Liverpool's spending this season was fifth highest, almost identical with Spurs in sixth. So they should have finished fifth or sixth.

They finished second. Above Chelsea, on a different page to Manchester United, and within 10 mad minutes of Manchester City. How? Because they have got their best out of their squad.

Why? Because of their manager. Simple.

For a start, he has made Liverpool a true football force, a sheer attacking phenomenon that terrifies opponents. For evidence of that, you only need to look at Chelsea's Anfield tactics, a side worth hundreds of millions of pounds who were so scared of the first half threat their game-plan was – genuinely – to keep the ball off the pitch. It was laughable and depressing all at the same time.

Look at the Arsenal game too, when the visitors were 4-0 down and yet were too afraid to go forward, in case they conceded more. Liverpool have been the most exciting, adventurous, courageous side in English football this season, and for that fact alone, their fans should be proud.
Liverpool youngster Ryan McLaughlin has been called up by Northern Ireland for their forthcoming friendlies against Uruguay and Chile. Just don't hurt Luis, OK?
LFC Transfer News:
Liverpool are looking at a £10m deal for Bayer Leverkusen's German U-21 international midfielder Emre Can, 20. Full story: Daily Mail
Reports in Germany suggest that a deal to take Can to Liverpool is 'as good as done'. The 20-year-old is highly rated in the Bundesliga having impressed after breaking into the Leverkusen side this term.

Can came through the youth system at Bayern Munich but left for Leverkusen in search of first-team football. A powerful, left-footed player who is good on the ball, he can also play in defensive positions.
However the Liverpool Echo says that:
Reports linking the Reds with Bayer Leverkusen midfielder Emre Can, however, are premature. The versatile Turk has been watched, but a move is not imminent.

Liverpool believe the fact Bayern Munich have a buy-back option on the 20-year-old would make any potential deal difficult, though they remain admirers.
Other Football News:
Arsenal boss Arsene Wenger will sign a new three-year £7.5m-a-year contract and be given £100m transfer kitty. Full story: Daily Telegraph 
Now a major shock – Louis van Gaal will take over at the Big Top of Delusion on a three-year deal after the World Cup. Ryan Giggs is named as his assistant. Vice-chairman Ed Woodward said:
"In Louis van Gaal, we have secured the services of one of the outstanding managers in the game today. He has achieved many things in his career to date and Old Trafford provides him with a fitting stage on which to write new chapters in the Manchester United story."
Van Gaal himself said:
"It was always a wish for me to work in the Premier League. To work as a manager for Manchester United, the biggest club in the world, makes me very proud.

"I have managed in games at Old Trafford before and know what an incredible arena Old Trafford is and how passionate and knowledgeable the fans are. This club has big ambitions; I too have big ambitions. Together I'm sure we will make history."
Already there's a rising ball of bile inside me ….
Ryan Giggs then announced his retirement as a player in order to be assistant manager to Louis van Gaal.
Swansea are ready to make a bid to sign Reading goalkeeper Alex McCarthy, 24 as they prepare for Michel Vorm's departure. Full story: Daily Mirror. To Anfield?
Articles Published Today:
TTT Writers' Q&A Part 2 – Symposium, various TTT writers.
Threads Most Active Today:
Best/Most Interesting Posts Today:
Krishaldo posted 45 records from the season from the official site – though as Beez pointed out, he had already done so!
Beez posted Physioroom's end of season analysis of days lost through injury per club, showing that "that Rodgers masterminded a title challenge despite Liverpool losing more days to injury than both City and Chelsea."
Rafaisthebosphorus looked forward to next season:
Next season, I fully expect to enjoy the football, with much less of the stress and exhilaration of this season. I'm fine if it doesn't pan out this way, but I think 'steady improvement' and investment will be exactly what we need, and will get.
Jonrushton expects more unpredictability ahead:
The future really is unwritten at this moment – this season was completely unpredictable and it could easily be the same next year.

….

I'm not sure even as fans we quite understand what's happening at our club yet, but it can't be luck as its lasted 18 months – and I'm not sure any of our rivals can claim to be on an upward curve except perhaps Man City.

The evidence is right in front of our eyes. We genuinely shouldn't be scared of our rivals.

They should be scared of us.
Jeff put forward his thoughts on Man Utd's appointment of Louis van Gaal:
If Giggs thinks that he will have any say in what does or does not happen, he will be in for a shock. On this point, if van Gaal has no problems butting heads with Johan Cryuff, he will have no trouble butting heads with Giggs. I suspect that this conflict will not go down well in the world of Man U.

Man U brought van Gaal in to to fix the mess and when you bring in van Gaal you get the good and the bad. If they give him a couple or 3 three years, he will sort things out. In order to do so, he will on all the players he does not believe will play the way he wants and will insist on spending a fortune in the transfer market. By that time he will have offended anyone/everyone who matters with Man U and will be forced out. Sometimes he leaves nothing but wreckage and sometimes he does not.

This is an act of desperation and shows the mess that Man U are in. I suspect that they have made a pact with the devil and it will not turn out well for them which as a Livepool supporter is not a bad thing.
[/wcm_restrict]