By Samira Kumar. 
"I don't think it's just his (Luis Suarez) responsibility… To get into Champions League you need 70 odd goals…. To get into the top four you certainly need to score in the higher 60s into the 70s…. We've got a 40 goal striker (Suarez) and we still have to get 30 goals from somewhere else….maybe do that little bit more on set-pieces…"

Brendan Rodgers interview on 28th November 2012.
The 2013-14 season has seen Liverpool score a staggering 101 goals in the Premier League at a rate of 2.66 goals per game. This is quite a contrast to last season when Liverpool averaged 1.87 goals per game. While defending has been a concern all season, the attacking department has flourished and has been the main reason behind our surprise title challenge this season, considering our main aim was to get into Champions League. This article aims to analyse Liverpool's attacking performance over the course of 2013-14 season. The progress throughout the season has been remarkable. Rodgers has made few changes this season depending on the opposition and also tested out few different systems and formations depending on the players available to him. His decision to play Steven Gerrard in a deeper role in the latter part of the season has proved to be a masterstroke.
Early season clean sheets:
Liverpool started the 2013-14 league campaign with three straight 1-0 wins over Stoke City, Aston Villa and Manchester United. All three goals were scored by Daniel Sturridge. With Luis Suarez suspended, Iago Aspas partnered Daniel Sturridge but his overall effect on these games was minimal. Liverpool scored all three goals in the first half of each game and were vulnerable in the second half. The playing style of Brendan Rodgers was quite evident in these opening games and if the previous season was about implementing his philosophy, this season was about end product.
Brendan Rodgers' main enemy last season was inconsistency. Liverpool needed a solid start and the consistency had to be maintained over the course of the season. With Liverpool's rival for the Champions league spot, Tottenham Hotspur, spending €121.875.000 (via TransferMarkt) in the summer transfer window, the good start to the season was even more critical.
Liverpool's passing wasn't a problem in the opening games but the lack of pace upfront was key. Aspas isn't the quickest of forwards and filling the boots of Luis Suarez is tough.
Liverpool lacked natural width, with Sterling only making a few substitute appearances in the opening three games. The team as a whole couldn't get into a rhythm and there were very few glimpses of team work in these games. Too many of the passes were spread out to the wings rather than being played centrally. If Sturridge dropped into midfield, no one was present up top to collect the pass, with Aspas moving wider on many occasions.
With Liverpool opting to build up from back, too much time was spent in our own half and there was less penetration into the opponent's half.
Lucas was preferred in the defensive midfielder role, while Gerrard and Henderson anchored the midfield. Coutinho was preferred to play in the front 3 of the 4-3-3 rather than a more athletic Sterling.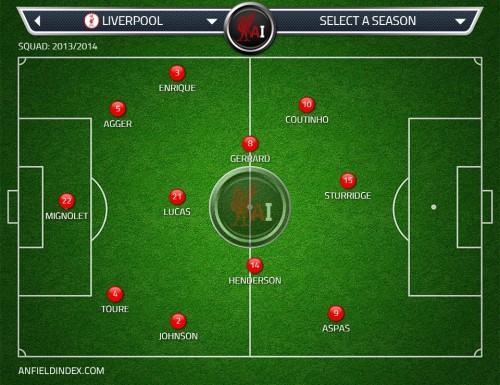 This was the set-up when Liverpool opted to play out from the back. The two centre-backs would spread out while the two wing-backs would push higher up. Brendan Rodgers stressed the importance of playing out from the back on numerous occasions, since his philosophy revolved around this.
"When we have the football everybody's a player. The difference with us is that when we have the ball we play with 11 men, other teams play with 10 and a goalkeeper." (Rodgers 2012)
Mignolet, fresh from a solid season with Sunderland, saved a penalty in the opening game against Stoke City. The role of goalkeeper in Brendan Rodgers' system is key as the build-up phase starts from him. Pepe Reina was perfect for this role but his poor form in his last two seasons at Anfield forced a loan move to Napoli. Mignolet needed time to settle into this system since his role at Sunderland was quite different. In Sunderland's 2012-13 campaign, he made a total of 620 passes at an average of 16.32 per game. But the total number of successful passes was 261 at an average of 6.87 per game, with a pass completion rate of 42%. On the contrary, this season, he has completed 425 of his 613 passes at a rate of 69%. His involvement in the build up phase and playing out from the back is vital to Liverpool's start to the season.
This particular move against Aston Villa had 36 passes, and lasted 1 minute and 35 seconds: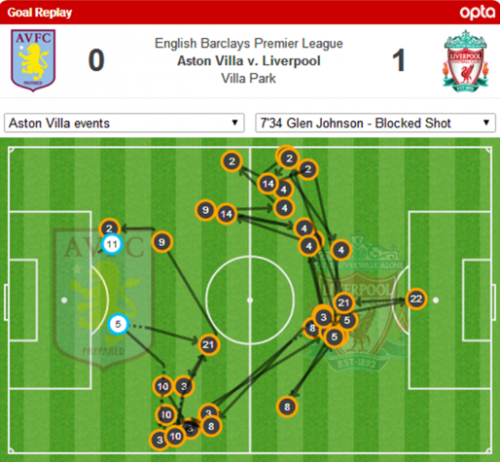 Building up from back and circulating the ball around the halfway line was part of Rodgers' philosophy, but runners in the middle were absent. Iago Apsas (9) in this instance should have dropped into the middle to receive a pass but he instead stayed wide. Sterling wasn't given much game time and Liverpool, on the whole, were still finding their rhythm in these opening fixtures.
The game against Notts County in the League Cup provided the opportunity to experiment with the new arrival Luis Alberto and also to play the likes of Wisdom and Ibe. Liverpool needed extra time to seal the victory, but there were a few signs of improvement in the team's play. Sturridge's first goal involved some clinical passing in Liverpool's midfield between Allen, Gerrard and Alberto.
Sunderland and Crystal Palace:
The rest of this analysis is for Subscribers only.
[ttt-subscribe-article]