By Neil Mundy (TTT Subscriber NeilM).
So it didn't quite happen after all. 7th to 1st in one season was just that bit too much of a stretch for the sporting scriptwriters. A mere two points (and 14 goals of goal difference) separated Brendan's nascent Reds from their oil-rich FFP flaunting sky blue counterparts. Still, Reds fans, to quote one of 2013's favourite memes, 'there is no need to be upset.'  Here are ten reasons to be very cheerful indeed about the epic opus of a season we've just enjoyed:
1 – Champions League Qualification
Amongst the earth-shattering, exuberant joy of the Reds' attacking play this season, and the shuddering disappointment of falling just short of a first league title in 24 years, it's easy to forget that the target Rodgers and FSG set at the beginning of the season was precisely this. In fact, it wasn't even that, rather to challenge for a Champions League position. In the previous four seasons, when aiming for this goal Liverpool have either floundered around the upper echelons of the table for a few months before falling away and drastically missing the target, or started poorly and left themselves with too much ground to make up. This time round, they started well. Then improved on that. They seemed to figure that rather than making 4th a target (*ahem* Arsenal) they would go for top spot, and falling just short would offer the luxury consolation of a guaranteed place at Europe's top table next season. Result? Champions League football assured with three games to go. If the Reds apply the same rationale in that very competition next season, Anfield is going to be a great place to be midweek.
2 – 101 goals
Can you remember them? There's just been so many great strikes this season. Suarez, Sturridge, Sterling, Skrtel, the captain showing deadly precision from the spot. That's 101 joyous cheers this season, 101 times the opposition fans have been silenced, forced to acknowledge the ever-growing truth: these Reds are really quite good at sticking the ball in the back of the net you know. As for next season, we've got more competitions to score ridiculous amounts of goals in. If we don't hit 150, I'll be a bit disappointed.
3 – The Rise of Raheem
I find it hard to remember seeing a player grow so substantially in such a short period of time. If Liverpool's 2013-14 season was a film, Sterling's story would be the main character arc. He was struggling at times during the first part of the season, and many (this observer included) felt he might benefit from going out on loan. The nadir was the ludicrous Hull defeat, in which he bounced off the home side's monstrous players so often it vaguely resembled a helium balloon thwacking repeatedly against multiple Easter Island statues. It could have killed lesser young players' careers stone dead. Raheem picked himself up, scored in the next game against Norwich, and never looked back. Suddenly, the little boy lost had acquired the strength of a Hulkbuster, the speed of a roadrunner, and the decision-making of a chess grandmaster. He was simply unstoppable in the second half of the season, tearing through defences at the top and bottom of the division alike, his meteoric rise summed up by a sublime bisection of the eventual league champions' defence. Not a dark word was muttered when Sterling's name was announced in the England squad, yet six months ago Portman Road would have seemed a more likely destination than Rio. Another incredible story of an incredible season.
4 – Suarez and Sturridge
No getting away from these lads this season, was there? They contributed 53 of those aforementioned goals (working out at, erm, 52%). What was impressive about both was the way they determinedly got on with the business of goalscoring; Suarez, out for six games at the beginning of the season, came back and scored two immediately, striking six times before the end of October. Similarly, Sturridge, coming back from injury in January, promptly netted for Liverpool in his next seven league matches. Yes, they both had off days, and Suarez looked tired towards the end of the season. But they struck goals at a rate no other Liverpool partnership could match since the sixties. What's more, both have, to various degrees, previously had question marks over their perceived 'characters'; yet they appeared to be delighted to be at Anfield this season. There really was nowhere else they'd rather be as the crazy red goal machine rolled on.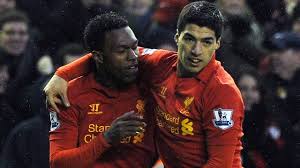 Reasons to be cheerful … Part 4.
5 – Rival Fans' Schadenfreude
Of course, it hurt that we ended up missing the title; that a slip by our totemic leader, a man who had carried us through so many fires, was seen as pivotal to Liverpool ending the season empty- handed. But the level of sheer gloating from fans of the likes of United, Chelsea and Everton reminded us of one thing; We're important again. Those fans feared our relentless march towards the title so much that when events took a different turn, relief was the one thing they had to fall back on. The fact that United fans paid to flay a plane over Anfield baiting our captain is simply hilarious [as if comparing a 100+ year old football club with a current playing individual is anything but completely pointless, as well as absurdly childish, like comparing apples with pencils. It was the organisers not the target who were made to look laughable and obsessive, not least because neither us nor the organisers were watching it – Ed]. Gerrard not winning a league title was the biggest thing that decorated club had to celebrate this year. This leads us nicely onto the next point…
6 – Our Schadenfreude
Admit it; whilst us doing well has definitely been the priority this excellent season, there's been a certain amount of satisfaction to be gained from others' misery. The travails of Manchester United and David Moyes (PL record against LFC this season: P2 W0 D0 L2 F0 A4) have been an absolute joy to watch, as Ferguson's evil empire was brought to its knees in a matter of months. Of course, we knew Moyes couldn't last, and they'll likely be back, but this just made the crowing all the sweeter, as we know we have to make the most of it. For many red Mancs,  Moyes' death stare, like Hodgson's face rubbing  when in charge of our own team, will serve as a reminder of a time best forgotten. Meanwhile, Everton got themselves a new playing style, a likeable manager, battled for the CL and still managed to get crushed at Anfield (more on that later). Chelsea, meanwhile, managed to double both sides who finished above them but their season was marred by ugly football, bizarre outbursts by their manager and a distinct lack of trophies. None of these sides can claim to have had a more enjoyable time or better season than Liverpool. And as for Spurs…well, this brings me aptly onto the next point.
7 – Thrashings
Two seasons ago, Kenny Dalglish's Reds lost 4-0 at White Hart Lane to a vastly superior Spurs side. This season, Brendan Rodgers' side recorded a comprehensive 5-0 victory at the same venue which precipitated the sacking of his opposite number. And, it turned out, they were far from finished sacking good sides. A 4-0 drubbing of Everton in the Anfield derby followed, and just in case you thought Liverpool were done with the goals, they went and stuffed Arsenal 5-1 in the next home game. Three goal wins against Southampton and United in March duly followed, before a 4-0 win against –who else? – Tottenham concluded the thrashings. Needless to say, this has been a bumper year for seeing Liverpool score lots of goals against very good opposition. Opposition that previously enjoyed a smug sense of superiority – 'we're better than these' – were suddenly looking at trips to L4 with a great deal of trepidation and this leads nicely onto…
8 – Fortress Anfield
The second best home record in the country. W16 D1 L2. Only Manchester City can claim to have done better at home this season. (Chelsea's record is slightly worse, with more draws). Again, two seasons ago Liverpool only won six Premier League games at Anfield. This year, they've won almost three times as many and only bogey side Villa, well organised Chelsea and Southampton have left the red half of Merseyside with anything. This has made for a very happy Kop, and of late, the away record has improved, too.
9 – Jordan Henderson
He's just great, isn't he? To put it in Scouse terms…Hendo is boss.
10- Brendan Rodgers
The manager has been superb this season. He always appeared to talk the talk of being Liverpool manager; now this season has shown that he walks the walk. He'll know there are still areas for improvement within his own performance, yet taking a side that finished a muddling 7th last season and hauling them to 2nd, a win away from the title, is an achievement almost without parallel in the Premier League era. He's done it without the money of City and Chelsea; he's done it whilst coaching and improving the young players, and teaching some of the older ones new tricks. Importantly, he's also come across as humble and dignified enough to be an ambassador for Liverpool, and a man that the players place a deep trust in. Under Rodgers, Liverpool evolved from a shaky tiki-taka lite side to a rapier-like Red machine which roared up the Premier League and announced its rebirth. The exciting part is that he gives the impression of a man who's only just begun on his mission to regenerate Liverpool. If he's able to fulfil his promise, these next few years could really be something.
Honourable mentions must go to: Jon Flanagan, the full-back who captured a Brazilian legend's heart; FSG and John Henry, for holding firm over Suarez and being steady in their support; Kolo Toure, for his enthusiasm (though possibly not his boots which appear to be the shape of Toblerones); Martin Skrtel, for adopting his Iron Man persona this season; Phil Coutinho, for wowing us with sumptuous through-balls on occasion;  Simon Mignolet for being great at one on ones, and lastly but certainly not leastly:
and 11 – Gerrard
OK, this is cheating; an eleventh reason – but hasn't Stevie looked happy this season? When was the last time he truly did? He's spent almost his entire career proving people (including me) wrong. We said he wasn't suited to the right. It worked. We didn't think he'd be deadly enough as an attacking midfielder. He scored a hatful. We predicted he'd struggle as a DM.  Right now, he's almost single-handedly reinventing the position. Yes, he slipped. But Steve Gerrard will deal with it. The way he dealt with all those penalty pressure moments. The way he whips in those glorious free-kicks and corners. The man is a force of nature, and as his career approaches its autumnal years, this season we saw that there's still plenty of fight and desire left in our captain. And with this side behind him, a couple more years yet to claim the one major trophy which has eluded him. To put it in the words of the man himself: after the season he's had, if you fancy standing in between Steven Gerrard and more glory, all the best.