by TTT Subscriber Mike Taylor.
With six games left of this astonishing season, with 57% of Match of the Day viewers making us title favourites, and with the very comprehensive Sports Club Stats site estimating a 34.5% chance of our winning the title, the pressure is on. "Liverpool have not yet smelt fear", Alan Hansen wrote in the Telegraph after the routine-seeming 4-0 win over Spurs. "The only certainty is that it will come sooner or later and how Rodgers' players deal with that will decide the outcome of the title race."
If you don't accept Hansen's assessment, here is our own Paul Tomkins, writing in these very pages a few days ago: "The hardest thing in football is to be brave, and to play your game, when the pressure is really on."
There's no denying that the pressure is real, that it's huge, and that it's mounting. What I'm not so sure about is that that's a bad thing. Because one of the things about great players – one of the things that makes them great players – is that they respond positively to pressure. Go back forty years, those of you who are able, and you'll remember that Kevin Keegan always seemed to save his best performances for the biggest occasions. More recently, Michael Owen had a knack of producing just when it mattered most – think about Roma away in 2001, or the FA Cup final in the same season when Arsenal so comprehensively outplayed us only to be sucker-punched. I know we don't like to talk about England here, but Owen did it for the national team, too: his goals were disproportionately scored against the big opponents. There are four teams that he scored three times against: two of them are Argentina and Germany – and he did it in matches that mattered.
And then we can look even closer to home, to our present captain. Has anyone ever put together a better sequence of cup-final performances that Gerrard's in the 2001 UEFA Cup, the 2005 Champions League and the 2006 FA Cup? As the need for mighty performances grew, so did Gerrard's stature. And as the climax of the present season draws closer, his control of games seems to grow even greater.
The penalties at the Old Trafford 3–0 are enlightening. For the first two, which mattered desperately, Gerrard was utterly focused, and hit superb shots that no goalkeeper could have stopped. (Aside: I've always said the best way to take a penalty is to ignore the goalie completely, ignore all the psychological nonsense, and kick the ball very hard into one of the corners. See also: Shearer, Alan.) It was only when the pressure was off, later in the game, that Gerrard's focus wavered for the relatively unimportant third penalty. Sure enough, that's when he hit the post.
The interesting thing about this is that Gerrard's personality is one where you'd expect the opposite. He's often admitted that he's driven not so much by the desire for success as by the fear of failure, both at club level and for his country. You'd think that fear would be crippling, crushing, claustrophobic. For you or for me, it would be: but it's part of Gerrard's glory that he somehow turns that fear into fuel. He can't shrug it off, but he can feed off it. The tougher the situation is, the tougher Gerrard gets.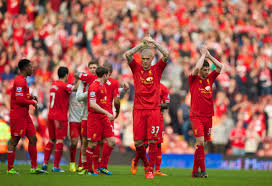 Pressure? What pressure?
What I didn't know until just a few days ago is that the same is true of our manager: "People say what's your success? The word for me is failure", he told the Guardian. "I suppose that fear of failure is what drives me on." Just like our captain, our manager uses his fear. That's why I don't see either of them crumbling as the tension ratchets up over the next six matches. They're warriors: not just in the easy, low-rent sense of shouting and running and making a noise like a Roy Keane would. But in the much deeper sense that they can use even their own nightmares as food for their dreams. Rodgers and Gerrard, our manager and captain, our Gandalf and Aragorn, are men who show their best when it matters most. They won't fall apart. They won't waver. They'll drive on right through to the end: when we're leading, when we're losing; when we're playing well, and when we're struggling.
And then to add to that potent mix, we have Dr. Steve Peters, a man who knows more about what it takes to win than maybe anyone else in the world. It may be snooker, it may be cycling or it may be football; here we have someone who not only knows how to focus, but how to teach others to do the same. Now, with Peters' aid, the rest of our team is shaping up have the same mental toughness as their captain.
Luis Suarez, who could so easily have let himself be hounded out of English football, stayed to make himself player of the year (if there is any justice at all at the PFA and the FWA). Sturridge, written off as a Chelsea reject, has already scored more league goals this season than any Chelsea striker of the last five years. Sterling, whose early promise seemed to have burned out in a classic too-much-too-young story, has come roaring back to make himself one of the best attackers in the league. Skrtel, who earlier this season looked like a slow-motion car-crash, has emerged in such imperious form (and with some goals thrown in). I could go on – through almost the whole squad. Henderson, written off but now remade. Coutinho, prematurely judged a half-season wonder but now back to his best. And the list goes on. All over the pitch, players who have been through tough times, fought through them, and returned stronger.
So, no, I'm not worried about the pressure. Bring it on. Our boys will thrive on it. One match at a time, one opponent at a time, Brendan and Stevie will lead them to crush what stands in their way. If and when they hit a setback – who could seriously expect to win fourteen consecutive games, after all? — they'll bounce straight back, even stronger.
Because this team isn't just fast, skilful and creative. It's tough.