By Chris Rowland.
This Premier League season has made fools of us all, and Liverpool have had a large part to play in that. All the received wisdom has been dashed. You can't go from 7th to – 1st? (or from 1st to 6th or 7th for that matter 🙂 ). You can't score 100 goals. You can't win 11 consecutive games. You can't go from 62 points to mid-80s in one season. Etc etc.
So we asked our Symposium panel the question: What have you as a fan got wrong this season, prediction-wise?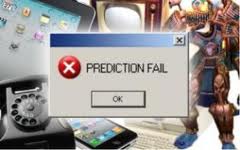 It could be a single match or the bigger picture, anything really. So here is TTT's first self-help group for the irredeemably wrong!
Dan Kennett: I've said since day 1 that the manager's greatest strength is coaching.  He's almost a "professional coach", having over ten years' experience working at various clubs all over Europe before he even started at Chelsea.
What I completely underestimated is just how much improvement a top coach could effect. It was almost inevitable that Liverpool would improve this season but I predicted an improvement from 61 points to the low 70s which is about 20% year on year. We're on course for a mid-high 80 point haul which is double that. If we finish 1st or 2nd I think it will be the best single season improvement in the history of the Premier League.
Rodgers has a long term strategy (philosophy) and a clear plan to get there. He's significantly improved nearly every player he's worked with and made the team far greater than the sum of its parts. Since the New Year we've seen the team move to an even higher level as Rodgers' coaching has enabled the team to use two or three tactical variations in the same game to beat an opponent. The team are so well-drilled and intelligent that they can almost self-optimise and make the best decisions themselves: 433? No problem. Diamond? You got it. Three at the back? If we need to! The players also know when to switch between going on the front foot or using the 'rope-a-dope' to hit on the counter. It's quite amazing to see this level of maturity so soon and it's a victory for coaching.
Joe Pepper: Obviously calling last year for Rodgers to be sacked seems, with hindsight, (and this is being very generous), earth-shatteringly moronic. But given that he has the chance to secure the most extraordinary achievement in all of modern football, it effectively goes without saying that I should be deeply ashamed. And I am.
But!
But!
The original reasoning for that call was that in my opinion we had effectively thrown away a season by not resting players for the Europa League matches, or for the League Cup. We lost our first game a little unluckily, then looked jaded at home to Arsenal, as Suarez, Gerrard and others tolied in a defeat that effectively lowered the stakes for the rest of the season.
Some of the key ingredients of the club's extraordinary success this season (in my opinion) have been:
a) No Europa League football
b) Getting United away in an early round of the League Cup
c) Getting Arsenal away in a (relatively) early round of the FA Cup.
One of the arguments always proffered by those who didn't want to sacrifice cup runs was "Why can't we finish top four and have a long cup run?". My reply at the time was always this… "If we're good enough to finish top 4 AND have long cup runs, then we are good enough to do better than just top four."
We have always known that we do not have the uber-squads of United, Chelsea, City etc. The answer has always been to "level the playing field" by just focusing on fewer games. This has happened by accident rather than design this season.
Our 11 game winning streak, and longer undefeated streak for the whole of 2014, has seen Rodgers rotating a mini squad of about 14 players. The core – Mignolet, Johnson, Skrtel, Flanno, Gerrard, Henderson, Sturridge, Suarez and then a small rotation in the most stamina-demanding positions between Coutinho, Allen, Sterling and to a much smaller degree, latterly Lucas. Sakho has obviously now come into the team, but the point remains that for 2014 it is effectively a small, 1988 sized mini-squad that has gone on this run.
The effects of this could be clearly seen over the Christmas period when we went to Chelsea after an energy sapping 2-1 defeat at Man City, and were outmuscled by a team that was able to make seven changes. Unthinkable for LFC, who ended up throwing Brad Smith on as a left winger late in the game.
I have bleated for five years about the need to rest players in cup competitions in order to secure Champions League football. The mistake I made, incredibly, was underestimating the scale of the effect. We have gone from 7th to being the best team in the country. That isn't just because of being able to rotate players. Rodgers is also a genius.
My point is that had we qualified for the Europa League, Rodgers' genius would very likely have been hidden behind an avalanche schedule of relatively meaningless games, sapping playing resources the club doesn't have, leaving us merely fighting for a place in the top four. Since we exited the last cup competition we were in, we haven't lost a game. Wait, we haven't *failed to win* a game.
I have a close friend whose baby daughter was born back in early February. Liverpool have not failed to win a league game in her entire lifetime. Forget Steve Peters. IT WAS THE CUPS ALL ALONG!
Dave Cronin: What have I got wrong this season?  And you're only giving me 500 words????
Starting with my lousy predictions before the season kicked off…
While I correctly predicted that Moyes would remove United from contention for the title, I expected them to finish 3rd comfortably behind City and Chelsea. For him to remove them from the Champions League altogether was way beyond my expectations.
I also predicted that Everton would find themselves in a relegation battle under Martinez!
I thought Spurs and Arsenal would be too strong for us in the race for fourth so predicted we would finish 6th with a total of around 70 points that would have seen us compete but ultimately fall short of landing 4th.
I predicted that Coutinho would be more of a key player for us than Suarez this campaign and that Moses and Cissokho would be good squad additions and integral members of our first team.
I had Crystal Palace as nailed on certainties to go down along with Fulham and Sunderland (2 out of 3?).
As the season has progressed, the main things I've got wrong were how good Rodgers and his Liverpool side would be and how bad Moyes and his United side would be. Around the halfway point, I still feared we hadn't done enough to take advantage of United's lousy start to give us the edge in the top four battle. I couldn't have comprehended that we would accelerate away at such a pace that we seal a top 4 place comfortably, let alone lead the League with 3 games to go.
With 14 games to play, I did a results prediction for all of the top 7 and had us finishing 4th with 72 points, 1 ahead of United in 5th with Spurs ending 6th on 69 and Everton 7th with 68. The first of those 14 games was the Arsenal home game and the start of our incredible run of wins.
Other things I've got wrong over the course of the season:
·         Liverpool needed a defensive midfielder to cover/compete with Lucas
·         Flanagan had no future at LFC
·         Sterling was a flash in the pan
·         Our away record under Rodgers would see us fall short of top four
·         Our approach would see us regularly whip the whipping boys but was easy to counter for tactically savvy/superior opponents
·         Pascoe would wear long trousers in December/January
·         Gerrard was not suitable to be used as a defensive 'holding' midfielder
So there you have it. I officially don't have a clue what I'm talking about. I know next to nothing about football though even I predicted Arsenal would fall well short in their so-called title challenge.
The rest of this article is for Subscribers only.
[ttt-subscribe-article]