By Paul Tomkins.
Expecting to win a 12th game in a row is perhaps the new definition of insanity. We had to wake up sooner or later, eh? Still, it's quite nice to wake up and find ourselves still top of the table. Man City may now be favourites, but they have to win their game in hand, and that's not a foregone conclusion in a season of twists and turns.
It's fair to say that Chelsea had every right to play the way they did; although Jose Mourinho presumably can't accuse anyone else of playing like it's the 19th century or parking the bus.
Everyone has a right to play the way they want, as long as it's within the rules; and if it isn't, it's up to the referee to pull them into line. Liverpool didn't look like scoring even with 15 minutes of added time, although how only four got added was a mystery; ironically, the visitors' goals came only after the full 45 minutes of each stop-start half had passed. Chelsea tried every trick in the book, to time-waste their way to victory, and they got away with it. Liverpool didn't keep their composure when it mattered.
As I hinted at last week, after the Norwich victory Liverpool found themselves in much the same position as West Ham 29 minutes into the 2006 FA Cup Final; a situation they had no right to expect to be in when the competition began months earlier. West Ham were great that day, until it was theirs to lose. Then they started to think "shit, this is ours!".
A game feels "won" at 2-0 up, just as a title feels won when five points clear, even if a rival has a game in hand. That's when a team, like an autoimmune disease, attacks itself. Pressure causes nerves, and nerves cause mistakes. That's why Jose Mourinho talks of his team as if they're a bunch of Sunday League kids, as he tries to distract from the monumental transfer fees and enormous wage bill.
Liverpool fans had no right to expect to be title favourites with three games to go. A few months ago my hunch was that the Reds, to stand a chance of the title, had to hit the front as late as possible. So when they hit the front several weeks back, it felt too early; the mind starts playing tricks, the legs get heavy, as pressure affects the body. But then, at the same time, that cushion looked rather handy. For me, the problem was always going to be the time in between games.
There's no doubt that Chelsea defended brilliantly, albeit against a panicky Liverpool. Perhaps the greatest damage done by Steven Gerrard's slip was not the goal that resulted, but his eight long-range shots in the next 45 minutes. He's been a brilliant leader this season, but at times he tries too hard; not a bad fault to have – better than not being arsed – and it's taken him to some great heights in the past, to make him a bona fide club legend. But gone are the days when he scored frequently from long range; these days, 12 yards is about right. The game is full of players atoning for errors or own goals with a strike at the other end, but we forget the thousands of times when they don't rescue the day.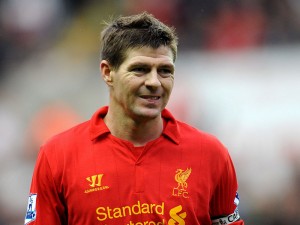 Gerrard was drawn into being Superman, when his success this season has been freeing up others; although in fairness, Suarez was also trying too hard, as was Coutinho, with all three of them forcing the issue when some calmness was required. Still, it seems churlish to single them out after their efforts got Liverpool into this position to start with. Any criticism comes with the caveat that they're massively in credit this campaign.
There's also little doubt that Jose Mourinho will be remembered as a great manager. But he won't be remembered fondly as a great manager. He'll be remembered as a capricious, creepy, eye-poking narcissist who won a lot of football matches. Pep Guardiola will be remembered fondly, as will Arsene Wenger, Johan Cruyff, Bob Paisley and (outside of Liverpool) Alex Ferguson, amongst many others.
Ultimately, Mourinho isn't quite good enough to win hearts and minds – just football matches. He's brilliant at taking expensive squads and defending in numbers, and I don't think that gets you remembered with any warmth; particularly when you are also rude, arrogant and belligerent. Neutrals don't talk of him as being special anymore; talented, yes, and without doubt a winner. But special? That spell has been broken.
I think it galls him that his football isn't admired by the neutrals, but he's not brave enough to try anything different; at heart, he's a kind of coward. There's probably no-one better at what he does, but what he does isn't thrilling or heart-warming, and it takes more balls to try and win with style. If it's good enough for Chelsea, that's fine; I certainly wouldn't be unhappy if I were them at the silverware he's brought to that club. But he's running out of super-rich clubs to manage, having won or lost, then left, the richest without dignity. For me, Carlo Ancelotti was far braver as Chelsea boss.
Of course, it's not much good winning the hearts and minds but nothing else. Then again, I always think back to the Holland of the '70s. Czechoslovakia won more than the flying Dutchmen, but who, aside from Antonín Panenka (for a special penalty), does history remember? The Czechs have every right to cherish that memory, as do the Greeks for beating the odds in 2004, but outside of such countries we remember the beautiful dreams, not merely the victors.
Perhaps it says a lot about how far Liverpool have come that Chelsea visited Anfield as if the Reds were Barcelona or Bayern Munich, full of record buys, title-winning experience and world-class talents. Chelsea fielded the more expensive side, which was also quite a bit older. Mourinho has been able to talk his team down as if they are plucky underdogs, and they certainly defended like plucky underdogs today; albeit ones with international pedigree, and therefore, you assume, the capability of doing so better than, say, Northampton Town.
Mourinho has been able to talk about having no strikers, when he loaned out a brilliant youngster (who is ready for the here and now) and brought in the ageing Eto'o. Suddenly he discovers that Demba Ba is at the club, when the big striker has always had an excellent strike rate in the Premier League. (Mourinho is presumably a genius to find him in his bloated squad.)
If Chelsea win the title, then they will "deserve" it. If you get the most points, it's hard to argue. But no-one will remember them fondly; in stark contrast to Rodgers' Liverpool or Pellegrini's City, if they were to finish top. Chelsea would get their prize, but not eternal glory.