By Mikey Foley (TTT Subscriber ConradHart).
The sun is starting to dip below the rooftops of the long rows of terraced houses and the shadows are stretching across the road and up onto the garden wall of the neighbours' house. It's been one of those glorious, sunny summer days that seem etched into my childhood memories. The ones that seem to go on forever. Where it's ten o'clock before the sunlight finally fades away and I've been out kicking a football since early morning. My Dad has called me to come inside so many times now I know my kickabout is almost up. Just one last chance then.
It's the FA Cup final and the crowd are cheering me on. The ball breaks to me in acres of space. All I need to do is smash it back across goal and it'll nestle in the far corner. But the real trick is catching it just as it bounces up off the ground and making sure it slams straight into that camera behind the net. Bang, arms in the air, the camera is flipping backwards and for a glorious moment I am Rushie and it's the wonderful double year of 1986. Then I'm back in the real world chasing my ball down the street after Rushie's angled shot has bounced back off the neighbours wall. Bulging nets and broken cameras were the stuff of dreams. Rush, Dalglish and co made those dreams come true.
The strikers get all the glory when you're a kid. They're the ones who wheel away in triumph with their arms in the air after another scorcher goes in. It all started with Dalglish for me. I loved trying to do that little lift over the keeper like he did in the European Cup Final at Wembley in 1978. I never saw that one live but I wore out My History of Liverpool FC video watching it and all of the other cup winning goals over and over again. I even tried to jump over something, anything, usually the pavement step, just like he did with the advertising hoardings.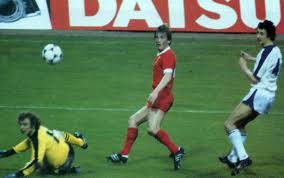 The King starts something in Mikey …
This article is for Subscribers only.
[ttt-subscribe-article]