By Anthony Stanley (TTT Subscriber Dannyluke10):
Part 6: Daniel Sturridge
"You need to look in the player's eyes and see if they have that hunger, and he is coming off the back of being at a big club but one where he hasn't played.  He is coming here with everything to prove.  As a manager that is what you want in your group" – Brendan Rodgers, January 2013.
We love our strikers, we Liverpool fans.  Perhaps only that shower up the road can rival us in how we attach a talismanic and monarchical religiosity to our centre forwards.  They had the Holy Trinity, we had God.  They had the ascension of their false prophet in Cantona (well, he did fuck all in Europe), we had St. Michael.  They could call Van Nistlerooy their prince of the penalty box; pah, we had King Kenny.  The list goes on.  Liverpool currently have in their possession a centre-forward who can be mentioned in the same breath as those of our halcyon days and yet…well, he hasn't quite entered our affections in the way that, say, Fernando Torres did after his debut season.  My twelve year old son, only recently introduced to the heavenly torture that is supporting Liverpool, is the only person I know that lists Sturridge as his favourite player.  Compare that with El Nino who, after less time plundering goals at Anfield, was instantly hailed as a legend in the making (the departing hero syndrome does explain some of this but not all).
Daniel Sturridge arrived at Anfield in the same season that Manchester United acquired the services of a player who would shoot them to the title.  It's probably fair to say, and certainly in comparison to the furore that greeted the arrival of Van Persie at Old Trafford, that the signing of Sturridge was met with a collective, underwhelming shrug from the football world.  The judgements and dubious blandishments were as summary as they were facile: he's failed at two different major clubs, he's arrogant and not a team player, he gives up too easily, he's too inconsistent.  Though the majority of Liverpool supporters did not jump on this bandwagon of suspicion and mistrust, there were certainly reservations.  There was a perception of superciliousness in his demeanour, a nagging doubt that he would not fit in with the ethos of the team that Rodgers was trying to build.  We also asked ourselves why he had failed at City and Chelsea and some fans even had a misplaced indignation at the idea of taking on board a cast off from the London club. After all, some mused, it hadn't exactly gone well for Joe Cole.  But, like most things, once we stripped away the veneer of the superficial and examined the facts it became very clear that there were mitigating circumstances in Sturridge's apparent issues. How wrong that everyone was, including ourselves for our less than ecstatic embrace of the Englishman, can be summed up by this observation: if Sturridge was part of Mourinho's cohorts, they'd win the league at a canter.  And not, to borrow his absurd analogy, a pony-like trot either.
Now, before going any further, I'm going to be very honest here: I don't like the dance.  I really don't.  That's not to say I haven't been deliriously happy to see it this season as it obviously followed a goal but there's something about it that seems…smug.  Almost preconceived, when you'd expect a player to be hardly aware of what they're doing.  It's a personal thing but I've heard it echoed by other Reds' fans – it's just not really, you know, the Liverpool way. When Daniel scored on his full debut for Liverpool, Neil Mellor noted, with barely disguised disapproval which bordered on disdain, "(he) celebrates doing his dance; I thought he'd left that at Chelsea to be honest".  It just doesn't sit right with me and, more than all the bullshit that has followed him around, to me, is one reason why he's not adored in the way Torres was. Very harsh, I know but there it is – had to be said, I would have thought.  Now that's the nasty business out of the way so let's move on (although, recently it has become very apparent that the dance is becoming less so. Many a goal this season has been followed by an elated acknowledgement of a team mate or simply a natural wholesome grin. Possibly this campaign is just, like the rest of us, sweeping Sturridge away.  Or it may be, like so much of his general game, maturity).
Just for a moment, in the interests of comparison, consider the following.  Let's reflect on some of the goals that Daniel Sturridge has scored this season. In October, a chip of bewildering precision that would have made Eder of Brazil in 1982 blush with the sheer audacity of it; it was executed to perfection and was impudent in its imagination.  In January a little flip from his chest to his head followed by a juggle on his forehead and a finish at the goalkeepers near post, that's right – a juggle on his forehead before smashing it home.  And lest we forget, this was at Stoke and finally quenched their spirited, if Reds' assisted, fightback.  Away to Aston Villa and a show of perfect control in a packed box as three defenders were taken out of the game before a superb, improvised finish high into the net.  Against our neighbours at Anfield, he conjured a lob that from the moment it left his boot was destined only for one place. And it was the only thing he could do as he swivelled at a high punt and sent it goal bound past the onrushing Tim Howard. These are sumptuous pieces of skill, sublime passages of play and adroit finishes. As will be explored later, Sturridge's record when wearing the red of Liverpool can stand in comparison with any footballer on the planet. But his is not merely a finisher's portfolio; he is a great goal scorer as well as being a scorer of great goals.  Compared to say, John Aldridge, a poacher supreme but who looked almost comically awkward outside the penalty box, it is very obvious that Sturridge is a supremely gifted footballer in general.  That his stats are simply mind-blowing will also be discussed further on but, for now, let us ask ourselves has he suffered to a degree simply because of the company he keeps?
Daniel Sturridge's striking partner is one of the finest (and certainly the most unique) footballer to ever ply their trade in the Premier League. Suarez is the conjurer and magician, impossible to stop when he's in the mood, like Robocop in a Liverpool kit. Sturridge is mortal. Sure, he has the potential to be absolutely world class (and it could be argued he's got there already), but when a burning star casts its shadow, all those around it don't seem as bright. The feats of pure goal scoring inspiration that the young Englishman has produced have been stymied, to a degree, by the genius of the Uruguayan.  Moreover, even the way the team play, the phantasmagoria of the magnificent that has been this season, has also dulled the impact that Sturridge has had on us and the wider public. Any other season, he's the main man; his goals are talked about in hushed tones and he's lauded as the new heir to the pantheon of great Anfield strikers. But though we are recognising his brilliant input, it has been a slow burner. As we humbled Spurs away and Norwich at home there were some who thought we may have stumbled upon a Reds team that could deliver the perfect brand of Rodgers' football; one sans Sturridge (and Stevie for that matter). His spell on the side-lines with injury, though initially greeted with some trepidation, wasn't a deathly vigil as we hoped he'd make a speedy recovery; it coincided with Suarez producing some of the most breath-taking football Kopites had ever witnessed.  His return therefore was not unlike his initial arrival: underwhelming.  Until, that was, he came on as a substitute, and in an inspired cameo, scored and set up a goal.
But Sturridge is a difficult sort, was the received wisdom, he'll just sulk if he's not the centre of the universe, he'll devour himself in a huff of solipsistic outrage and that will be him finished as a top striker.  The apparent baggage that had followed him throughout his career pointed to a footballer who may struggle to play second fiddle; the whispers from sources (fucking sources – give me a name!!) were grim. There were of course, no public utterances of any wrongdoing; rather it was the sibilant and sinister murmurings in the background of his previous clubs. Whispers that could be every bit as damaging and dangerous as actual misconduct. "Too interested in fame and money" was one charge laid at his door which emanated from Manchester City; "a nightmare behind the scenes" was another which came from the paragon of virtue that is Chelsea. (Just as an aside, it should be noted that the perceived problems that lay in Daniel's wake as a youth have to be taken on board with this nugget: his father and uncle – both former professionals – intervened when they weren't impressed by the level of training. As he himself divulged in an interview with Sky recently, there was a six-month period where he trained alone in a park with only his father and some cones for company). So we'd expect this type of character to wallow in self-pity and regret that his gifts weren't being made the centre piece for this new Liverpool team. The reality could not have been more different.  He has embraced his role and is eager to perform for a manager who now trusts him implicitly. Though there has been brief instances of self-indulgence and selfishness (and what striker has not had these?), they have almost always be followed by a self-effacing apology.
Despite playing for two genuine heavyweights as his embryonic profession formed, Sturridge was unfortunate in his early career. Bought from Manchester City by Chelsea just after the Sheik's billions were pumped into the former, he may have been forgiven for thinking it was a good chance to play football matches. Then Roman Abramovich, in his never-ending quest for highbrow footballing aesthetics, sanctioned the £50 million move for one Fernando Torres. Given that Didier Drogba was already at the club (Sturridge actually thought he was being signed as a long-term replacement for the Ivorian), the young Englishman was always going to struggle – no matter how he performed he would never be picked ahead of the Russian despot's baby.  As he said himself:
"Maybe because I played for City and Chelsea, people think, 'oh, he has played for big clubs' but I have always chased to play…It is difficult for young players who are involved at a club with a lot of money.  If they can buy the world's best striker who has scored 30 goals a season two years in a row, why are they going to give an 18-year-old English player who's not experienced first team football a chance? Young players should seek first team football. That's what I wanted to do."
It was this quest for a regular start on a football field that would lead him, via a loan spell at Bolton Wanderers and a European Champion's League winner's medal, to Anfield for £8.5 million in January 2013.
Brendan Rodgers announced, immediately after the signing that: "if he wants to stay at this level, this is probably his last chance." But really, the Liverpool manager never had to worry as Daniel, it would appear, had found his spiritual home. He had found a club that was a perfect fit. Throughout this series, I have used the term 'symbiosis' and really that is what this new Liverpool are. A model of young players who can offer this team something that may have been missed at former clubs and have this reciprocated. Straight from the off, goal scoring records started to tumble; he became the first player to score in every one of his first three competitive games (none of which he started) since Ray Kennedy in 1974. His link-up play with Suarez was a joy to behold as the two seemed to inhabit the same astral plane of existence, befuddling seasoned pros with telepathic joy.  He scored a variety of goals: lobs, close range finishes, headers, bullets from outside the box. Selfish and unaware of those around him? Check out the absolutely breathtaking dummy for Luis Suarez against Norwich (obviously) or his assist for Jose Enrique against Swansea.  We were sitting up and asking ourselves, have we got a bargain on our hands? This season, well things have gotten a little surreal; the first Liverpool player to ever score in seven consecutive games, the second player in Premier League history to score in eight consecutive games; (at the time of writing) twenty goals in twenty- two appearances, seven assists, two player of the month awards, thirty-eight of his seventy-four shots have been on target, a goal every 96.3 minutes … stats that only two players (up until this season) could live with: Ronaldo and Messi.  Indeed, up until February he had outscored (goals per 90 minutes) the two best players in the world (arguably, now?) as well as Ibrahimovic and his striking partner, Suarez.  If these figures were to be extrapolated over, say, five years, and assuming Sturridge could even keep his scoring rate at 75% of what it has been (which given the way this team plays is probably a tad conservative), then records would really fall.  Fowler, Owen, Keegan, Hunt even Rush would all have to look on and applaud.  Typically though, Suarez will probably get there quicker.  Talk about first world problems.
Daniel Sturridge, from the moment he arrived at Anfield, has been a revelation and has metamorphosed into something approaching the complete modern striker.  He always had the tools but, apart from brief spells such as a loan at Bolton and an extended run (out of position) under Andre Villas-Boas at Chelsea, these were hidden (to those who hadn't seen him in youth matches anyway).  But in a red shirt these gifts have sprang to the surface, seemingly fully formed and battle- hardened, like Athena from the head of Zeus. Owen Coyle, the former Bolton manager who had Sturridge on loan (and who the Liverpool striker attributes with 'changing my life'), said this of him:
"It was fantastic to have someone so driven, so eager to learn and so determined to succeed.  He's a really humble kid…I can't speak highly enough of him and I believe he can go on to become a truly world class player…he will only get better"
Strikers thrive on confidence, and in Brendan Rodgers, Sturridge has a manager who believes in him.  There can be little doubt that the young forward has responded to the Ulsterman's man-management and it was following Brendan's gentle prompting that Daniel discovered one Dr Steve Peters (I won't go into their relationship; Si Steers and others have already explored what Dr Peters potentially brings to the table) which has, according to the player himself, had a massive influence on his development.  This was discussed during an interview with Sky in which he came across as warm, affable, self-deprecating and, well, fun. The devout Christian and devoted family man also talked to The Anfield Wrap and it was, to many, one of the most enjoyable interviews that they'd read.  The lad is growing up and has certainly cast off the skin of Man City and Chelsea; he is revelling in the red of Liverpool and his public are moving from admiration to adulation. Daniel's record eclipses almost every Liverpool striker in the history of the club and there's more to come.  But there's also more to Sturridge; did Fowler tackle much or with this much (relative) success?  Did Owen create that many chances for his colleagues?  The answer is no, so all together now and in the absence (right now) of a proper song that he deserves: "Who the fuck is Torres?"
Because Daniel Sturridge is a better finisher and certainly a much more assured footballer than the Spaniard ever was. He's weeks away from potentially entering Anfield folklore, so let me leave you with this quote from the man himself:
"Would it feel different to win the league at Liverpool?  Definitely.  The camaraderie is something I have not been part of for a long time"
A Liverpool legend in the making?
Believe.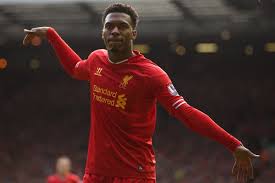 Sturridge deliberately riles Dannyluke10 …