By Paul Tomkins.
Yesterday I wrote a calm, rational piece for this site, ready to publish in victory, defeat or stalemate at Upton Park. But as happy as I am with the article, my emotions are far too frazzled for it to feel relevant. It is not, in seems, for the aftermath of an emotional bloodbath.
I wasn't especially nervous before today's game, although yesterday's results made it feel like a must-win; but I comforted myself with the knowledge that there was still room for manoeuvre even after a draw – it's not like it would signal the end of the race, just a shift in odds. But the way the match unfolded left me feeling as jellied as an East-end eel at the final whistle.
I don't know if anyone else feels like this, but I cannot watch any penalty shootout without getting nervous; even a youth team match affects me. And with so much at stake in recent weeks, multiple penalties during games have had the same effect. The tension dies a little when it's scored, but there's still an enduring echo, that stays with you for the rest of the game (and beyond). Hours later, I'm still not relaxed.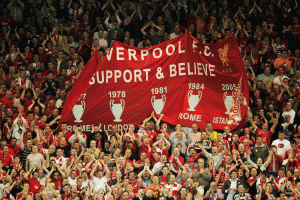 With Liverpool on course to smash in 100 league goals, and for what seems the 100th year running chalking up by far the most strikes of the woodwork, you'd expect this team to win a lot of penalties. It's no accident, clearly; although when Jon Flanagan is winning them it's perhaps time to justifiably start questioning reality.
Suarez, Sturridge, Coutinho and Sterling all have incredibly quick feet, as well as being razor-sharp off the mark. And this speed – allied to speed of thought – draws fouls. I'm pretty sure that Brendan Rodgers asks them to go at defenders to entice the lazy leg, the dangled boot. But Suarez, with his street smarts, takes it even further. He knows that if he pops a ball past a defender at a certain height they will have the instinctive reaction to wave a hand (he's been there, done that). It leads to blatant handballs, and the Uruguayan stops playing to claim the penalty, knowing that if he continues the ref may wave play-on in order to fudge the issue.
But what really set the nerves smarting was the allowing of West Ham's goal, despite the linesman furiously flagging away.
It's one thing if a referee doesn't see the incident, but quite another when his assistant does, and draws his attention to it. It's always harder for a referee to disallow a goal when the home fans are already celebrating, but they're paid to have the bottle to make big calls; especially when the offence is not even debatable. Andy Carroll's hand smashes into Mignolet's face. The assistant on the far side saw it, yet the goal was allowed to stand.
It was clear that Anthony Taylor wanted to even things up, and he probably didn't have a clue what happened in the incident where he awarded the Reds a second penalty. That said, Flanagan was past the keeper, who barely touched the ball but got all of the young full-back's shin. As the ball was still within playing distance of the youngster if he'd still been on his feet, a penalty makes sense, although it's one of those that you'd normally expect the ref to bottle.
I can't think of many soft penalties the Reds have been awarded this season; even Gary Neville said that the Vidic one on Sturridge was a dumb challenge, and that forwards are entitled to go over in that situation. Where the Reds perhaps rode their luck was in the early-season shirt-pulls by Skrtel, although it's worth noting that all teams defending corners will be committing these kinds of holding offences; until these are all stamped down upon, it'd be daft to just focus on the ones Liverpool should be conceding.
If anything, the Reds could have had twice as many legitimate penalties in 2013/14, although I expect other teams' fans will say the same about their perceived hard luck. Even if the officials aren't helping, Liverpool are finding a way to get the result.
A run of nine wins in a row seemed unthinkable a few months ago, with four having been the best the club had mustered for a handful of years. Just as we all picked a pretty good time to stop sniffing glue, the Reds have picked a pretty good time to peak.
Whether or not momentum actually exists in sport, Liverpool have something right now. A suited Dr Peters sat on the bench for this game, proof that his impact on the minds of the players is taken very seriously indeed. We can all debate the impact he is having, but I tend to think people have special skills, rather than relying on luck or voodoo, if they're successful wherever they go. And success tends to follow Peters like lost puppy.
The one key component of the wobbles is the inner voice – the chimp, in his parlance – that tells you you're gonna fuck it up again. Take away that voice and it's a different story.
You can motivate all you want, train for every eventuality, but in a heartbeat the human capacity to doubt itself can undo the best laid plans. Falling apart at some point of the season is what Liverpool are about in the Premier League era, right? And yet, rather than choking, or getting the yips, the Reds are piling win upon win, to form an enormous EU win-mountain.
Steven Gerrard is proving the epitome of mental fortitude, with his calmness from the spot sending out a billion messages of belief. He's now like a supreme darts player, coolly facing the double-eighteen for the nine-arrow finish, albeit without a dozen pints of lager to steady his nerve after a pre-match curry.
In the back of my mind I can hear my overdeveloped chimp screaming its lungs out, telling me that something has to go wrong before too long. And perhaps the chimp is right – to end the season with a run of 14 wins is unprecedented; you have to admit that he has a very good point, for a primate. In truth, I'm just a fan used to the rug being pulled at times of real belief.
And yet every now and then something totally unexpected happens in sport – something that has no precedent – and so it is the case that with every passing win the Reds need fewer victories to achieve the 'impossible'. A run of five wins on the spin, in isolation, seems doable, even against good opposition; it just looks absolutely mental when you add those nine games to the front. To end the season with 14 wins in a row would be beyond bonkers.
Right now, everything Rodgers is touching is turning to gold. He's making the right calls at the right time, and doing whatever it takes to get the three points. The players are focused, full of belief and determination. The team spirit seems outstanding, and everyone has their own head in order.
Whatever happens now, this feels right, doesn't it?