By Alex Tate (Tattva).
I'm on the lookout for full time work. I've managed two football teams in the past. Both were small time, one suffered relegation and then came straight back up, the other started at the bottom and stayed there until after two seasons I felt I couldn't take the assorted rag bag of drunks any lower or any longer.
If I polish up my resume, perhaps I'll get through the first round by mistake and who knows where it may lead? I'll have to relocate from Brisbane to the north west of England but I'm sure I can manage, at least for 10 months, to live in a rented gaff.
I wouldn't want to maliciously ruin Man Utd should I get the job, too many people would hate me and I'm not generally that vindictive. [I think we'd forgive you, just this once – Ed]
I feel though, after Moyes, those choosing his successor will be more cautious in who they appoint, much to our chagrin. But also, the cream of the management world could be equally hesitant. Manager of Manchester United may not be as an attractive prospect as it used to be, but if you want to rebuild a fallen kingdom, then set your sights on Salford.
For one applicant, getting the news he was the chosen one for that kingdom must have been seen as the finest opportunity to show what he could do with some star players on the wane, a wallet packed full of crisp notes and the pulling power of a world famous club.
Moyes – for it was he -could clearly not contain his joy at sitting in the hot seat in the Manager's Office. Almost akin to Ferguson living in a distillery, being served single malts by beautiful hand maidens as they polished his purple nose. Not just happy days, but happy days forever more!
This look, though, transformed from beholding joy to one of wide-eyed panic, as if he'd put his finger through his last piece of toilet paper after a terrible bout of Monty Zoomer's in the only public toilet for miles.
I don't consider Moyes a bad manager, just I as I didn't consider Hodgson a bad one. Both only had moderate success at clubs with moderate expectations, and not enough silverware between them to melt down into a child's cutlery set.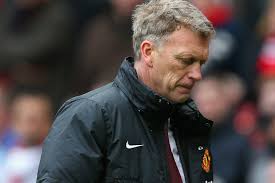 But over on Merseyside, having already been down the ship-steadying path, though also hindered by appalling and crooked owners, Liverpool, under the forward-thinking FSG, spoke with two young managers with equal silverware in their cabinet but who also possessed bright new thinking.
'Young' is not an open invitation to dust down an open top bus; AVB and Laudrup are examples of this.
The older and wiser Houllier, and his French counterpart Wenger, brought these sort of ideas to our shores and reaped rewards. Although both ran out of steam, their initial presence and peak seasons were the best in recent times.
Rodgers had been sacked from Reading and Martinez was in charge of Wigan when they made the move into the Championship. But they obviously brought something of influence with them when interviewed by chairmen pushing for success.
What did the mediocre Moyesiah bring with him, apart from some sandwiches and a piece of paper with 4 4 2 written on it?
Hard to say.
Yet, Martinez and Rodgers have improved their teams, enlightened the football intelligentsia, excited fans and worked in the most important currency: three points. And both still have improvements to make. Liverpool have shipped far too many goals while Everton could do with someone else who doesn't belong to another club to put them in the back of the net.
Having been handed the keys to the kingdom by the abdicating one, Moyes simply couldn't open the door. Rio and Vidic creaked, the midfield fell asleep through boredom and therefore starved their strikers, leaving Moyes with serious work to undertake.
Ferguson solved an ageing defence through the purchase of Van Persie's goals, the leaky defence wasn't addressed at the second time of asking and is now one of many components the new manager will have to deal with.
It is now a full-on restructuring job at Old Trafford. One which may appeal more to some managers, but there's no guarantee of success. The past couple of season have seen shifting sands across many deserts like never before, making this brief a very hard one to successfully complete.
Will managers be more cautious than Moyes away to Everton when considering a move to Man Utd? Klopp has ruled himself out, but so did Brendan from the Liverpool job initially. Klopp currently has a great place of employment, he may consider the grass sown in Teutonic soil is greener.
There are no guarantees in life, never mind football. But Moyes landed a six year contract, only to serve 10 months of it. The Glazers must really doubt his ability to alter the team's fortunes quickly.
Was there doubt to start with? So many people couldn't believe he got the job, could the Glazers have been so blinded by Ferguson's authority that Moyes was the right man?
I am not going into conspiracy theories about this choice, we'll be here all day, but bad business decisions are made all the time. Moyes, though, had his resume for all the world to see. It isn't the same as employing a candidate you know nothing of until their application is delivered to an inbox.
Rodgers has spent a lot of time learning, Moyes spent most of his past 11 years treading water, being untried and untested against the very best in European football. Still some 24 years less than Hodgson though. Even old school English bulldog managers move with the times for some of their manifesto, even if they don't fully embrace it.
But all football managers and players can be seen regularly earning a living for millions to see with ease. Can the Glazers have got it so wrong? Was it such a vainglorious Ferguson decision to foist upon the Old Trafford faithful his own choice of heir to further heighten his own standing?
As with Rodgers, FSG and Liverpool, many choices can become a roaring success, therefore there's no reason why many poor choices can be made simultaneously and create havoc.
From this Mancunian muddle, it is clear to see Liverpool, headed by John Henry, are going on an upwards trajectory. If we reach our peak this year, then subsequent years may be deemed disappointing. Battling at the top is better than hoping to stay ahead of the dreary mid table positions.
Man Utd have their owners in place, so there's no overhaul for them to conduct, and are therefore better placed than Liverpool were in that respect. But the latest farce could be an albatross.
As FSG did, the Glazers will have to tread very carefully with this appointment, and then back their man. Otherwise the wilderness will welcome those from Old Trafford.