By Paul Tomkins.
Followers of my Twitter feed will be well aware of my new-found obsession with toilet humour. This is partly due to the way the Reds have engendered a bond between man and porcelain.
After the numbing years of Hodgson, the anticlimax of Dalglish MKII and the mixed-bagness of last season, I just naturally assumed that, now middle-aged, I had grown out of caring enough to feel physically affected by football. The last few weeks, as a barely credible outside chance of the title flipped to heavily odds-on favouritism, I have been literally shaking at the final whistle, and for many minutes after.
I don't think I'm alone. After 24 years, to be within touching distance of something I'd stopped thinking possible is a very emotional experience. As Paul Heaton sang in the mid-'80s, apathy was happy that it won without a fight.
Well, those days are gone.
A title run-in was never going to be easy, of course, and that's why I expected Liverpool's inexperience to be their ultimate undoing. You tend to expect a lot of 1-0s, but perhaps even worse than that on the nervous system, Liverpool are winning by the odd goal in three or five. But for the generosity of Spurs, who took four for no reply, it's been a heightened version of grinding out results: 2-1 against Sunderland, 2-1 against West Ham, 3-2 against City and 3-2 against Norwich; each with its own period of terror. People think the hard part is going 2-0 up, but the challenge for players (and fans) is to cope with the pressure as the game becomes yours to lose.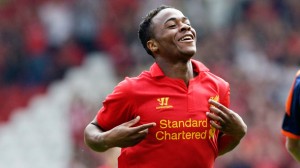 It may be empirical evidence, but the pattern I almost always see in football is the improvement of a side with nothing left to lose, and increasing nerves in the one aware that throwing it away is always the worst kind of defeat. You can never leave the field as valiant losers if you had a good lead.
Don't believe me? Go and watch the Istanbul DVD again, the last time being a Liverpool fan felt this good. Players like Seedorf, Maldini, Kaka, Cafu, Nesta, Pirlo, Gattuso and Shevchenko had won everything in the game, and were part of a team as confident as any I've ever seen in that first 45 minutes. Once Gerrard scored to make it 3-1 they perhaps felt a little uneasy, but they still had control of the match. However, once Smicer scored they looked like abandoned children, wondering where their parents had gone. At 3-2 they felt the maximum fear. They knew what was closing in. Whereas at half-time we were contemplating a 7-0 humiliation, they suddenly faced the prospect of the ultimate choke.
And yet, once the worst did happen, and it got back to 3-3, Milan could relax again. Because at that stage, even though it was level, it was now Liverpool's to lose. The Reds then tensed up, suddenly aware that they now had something very precious in their hands; as things stood, they were taking a far better side (who'd led 3-0) to extra-time. Imagine clawing it back and then throwing it away? Milan were suddenly the far better side again, albeit with Liverpool fighting with an awe-inspiring spirit.
Somehow Jerzy Dudek kept Milan at bay, but then, once it went to penalties, the far more experienced Milan side again seized up. They had time to dwell on what had happened: they'd thrown away a three-goal lead against a team with barely five good players, and probably only one or two, at best, who'd make their XI. They knew, deep down, that the team who'd have been happiest with the outcome of penalties at the start would be in better shape after 120 minutes ending in stalemate. Milan were almost literally crushed by the pressure of letting that lead slip. They visibly wilted.
If anything, the Reds' next cup final was an even better example. West Ham had no nerves, until they went 2-0 up. Massive underdogs 20 minutes earlier, they were suddenly favourites. They bottled it, allowing the Reds back in, and then they in turn also bottled it. It was a game of spinning bottle.
The key difference ahead of this penalty shootout was that West Ham had the cup as good as won with the last kick of the game looming, 40 yards from their goal. Once Gerrard drew back his foot and unleashed the equivalent of goalkeeping hell, West Ham were crestfallen. They were in no fit state to take penalties. Seconds earlier they were surely planning how they'd celebrate, where their relatives were to wave to, and so on.
I would also bet that, more often than not, a team with a 1-0 first-leg lead in a big European tie will play worse in the second leg than if they approached it with a 1-0 deficit. Just as there's clear danger in going in at half-time thinking that a game is won, there's even more time to reflect across six, seven or eight days. It's far easier to throw the kitchen sink at it if you're behind, because that's just how it works. Norwich were always going to throw caution to the wind.
Sometimes narrow leads are just too confusing. After 140 years, no-one has quite worked out if attack or defence is the best form of defence. As a fan it almost always feels like your team has chosen the wrong option. If they attack you want them to get back. If they stay back you want them to push out. If they run it to the corner and lose it, you wished they'd gone for goal. If they go for goal and miss, you wish they'd taken it to the corner. Anything, bar scoring again, feels wrong.
So when people ask why Liverpool aren't closing out games as the pressure ramps up, it's worth reminding them that top-rate psychiatry and Rodgers' bright-white positivity can only get you so far; because if AC Milan with almost eleven world-class starters can wobble, anyone can.
These are human beings, not machines. And while you wouldn't expect highly-trained athletes to be physically shaking in the manner that fans do, they will suffer from nerves, particularly if there's a lull and they have time to think about what they have to lose. That's why goalkeeping is so tough; they have time to think. That's why taking a penalty is tough in very tight situations: there's time to think.
This may seem obvious and all very logical, and yet I always see Liverpool fans wondering why the team are suddenly defending deep late on, and panicking like a bunch of amateurs, as the manager implores his troops to move up ten yards. Well, that's football. Look at the pictures of Shevchenko's face in Istanbul as he walked up to take his penalty; if he, at the peak of his powers, can lose his ability to kick a ball properly from 12 yards, then Martin Skrtel and Mamadou Sakho can certainly shank a few clearances.
Disbelief
The main theme of my writing this season has been 'disbelief'; not in a negative way – I believed in many aspects of this team – but in terms of looking at the league table, and pinching myself (which makes a pleasant change from looking at the league table and punching myself). This team had potential, but not, it seemed, enough to be five points clear with three games to play.
Every single regular in a thin squad has turned this season into one of the best in living memory. Sterling has come of age, Gerrard mellowed with age. It's not a squad that could have coped with 60 games, and Rodgers has been "fortunate" in that sense; but equally, he's got every last inch of quality out of those at his disposal in the 35 games to date, particularly so in this eleven-game winning sequence. Just when you think today will be the day it finally unravels, it only gets stronger.
Last weekend the second half was getting away from the Reds like an entire stable of bolted horses; and yet out of nothing Coutinho struck gold. But then – and this is where it gets freaky – Sunderland went and drew at City (who needed a late, late goal to equalise), then went and broke Mourinho's unbeaten home record a few days later. What's more, it was Fabio Borini who sealed Chelsea's defeat, after Liverpool fan and former transfer target Connor Wickham grabbed three vital goals in just a few days.
I don't believe in fate, or destiny; just working as hard as you can and taking the breaks when they come your way, and riding out the rough times. But this season has me questioning providence. Aside from previous winners, no-one's name is ever on the cup (or league trophy), just as the superstitious rituals of players are largely meaningless. However, if the players feel that their name is on the cup, or that putting their pants on after their shorts brings them good luck, then that can make a difference. They will look back on pivotal moments – like Coutinho's goal against City, or Shevchenko's double-miss in extra-time – and gain hope. They will infuse these often random moments with great meaning, and use them for strength.
These men are, after all, in a position to turn these signs into self-fulfilling prophecies; which is in sharp contrast to the power in my choice of match-day underpants.
After the final whistle last week, Steven Gerrard looked like a man who believed it is finally his year; and he is doing his best to drag that to reality. If you think fate is on your side, and react by not trying as hard – because it's fate, right? – then that's a different matter. Equally, if you believe that fate is against you, as City seemed to towards the end of their visit to Anfield (and as Chelsea's bench clearly thought yesterday), it can drag you under.
After decades of disbelief, a sense of belief has sprouted up around Liverpool. Fans began to turn up earlier, with thousands rather than dozens greeting the team coach. The crowd began to inspire the players again, instead of entering into a Mexican standoff: in contrast to that country's infamous Wave, the fans wait for the team to rouse them, and the players feel inhibited by the silence and mild groans, which completes the vicious cycle.
No-one wins.
Right now with Liverpool, however, everyone is winning.
(Note: I'm continuing to make my post-match articles free during this incredible winning run, but it's nice if people still subscribe by way of a thank you, providing they can afford to do so. There will always be subscriber-only content, but this is not a mere hobby for me or my staff, but our only form of income. Alternatively, if you can afford it, please continue to enjoy the free content.)