With Sturridge only fit enough for a place on the bench, Rodgers logically kept the same side that faced Norwich. But instead of continuing with the 4-3-2-1 formation, Liverpool started this game with a 4-1-2-3.
Mourinho lived up to his promise and started with a hugely rotated side. Only three players – Ivanovic, Azpilicueta and Matic – could be said to be genuine first teamers. The rest, although some were bought for big money, were clearly back-up players who rarely make a start in the PL and CL games. Surprisingly though, David Luiz and Oscar were left out of the match squad and clearly saved for the Atletico game. Both of them are fresher players, rarely starting and/or completing games in the past month, so therefore could have been used here.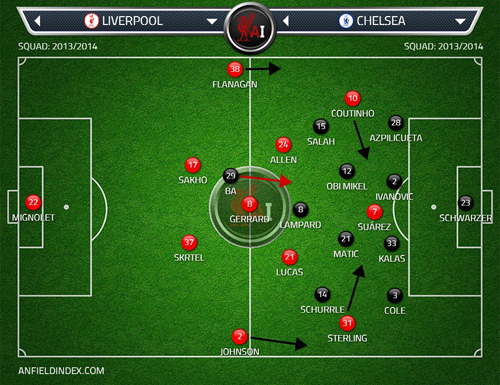 As expected, this was a simple game with Chelsea defending and Liverpool attacking. There was little tactical progression, with Gerrard's mistake for the opening goal ensuring the second half was even more of that extreme. In such games there would be always two points of view. One gives credit to the defensive team for their brilliant defending and keeping the opposition at bay all the time; the other is criticising the attacking team for how poor their attempts to find the breakthrough were. As ever, the truth is somewhere in-between. Neither Chelsea defended faultlessly, nor were Liverpool completely hopeless in attack. But it's undeniable that the Blues defended better than the Reds attacked, which basically decided the clash in their favour.
Mourinho's strategy
Although the game was more important for Liverpool in that a win here would pretty much guarantee them the title, it was all about what Chelsea were going to do. Theoretically, Mourinho's team needed to win this game to stay in the title hunt, but the Portuguese spent the whole week claiming he had given up that particular battle and is now focussing on winning the CL. This could be said was yet another PR spin from him, trying to get whatever advantage he could by luring Liverpool and Rodgers into a false sense of security and that this game is practically over before it even begun. But it's true that Chelsea hold a bigger chance to win the CL than the PL. To land the PL title, Chelsea would have needed to win their three remaining games (including here) and hope for Liverpool and Man City to slip up at least once. Although this isn't impossible, it's highly unlikely, with so few games left to be played. To triumph in the CL, they simply need to win the remaining two games, without needing to hope for some of their rivals to make a mistake. Practically, Chelsea has the luxury to hold their own fate in the CL, something they don't have domestically.
Going with such a hugely rotated side also suggested this game for Mourinho is all about bragging rights and doing his best to hurt Liverpool and put a dent in their title bid, rather being a game of life and death for his own team. With all this in mind it was clear Chelsea would be playing reactively, bordering on purely negative football to try and nullify the opposition and hope to nick a goal or two on the break and through set-plays.
The rest of this article is for subscribers only. 
[ttt-subscribe-article]