by Chris Rowland.
After a little hibernation, Symposium is back, and with the burning question du jour – what does the esteemed repository of football knowledge aka the TTT Symposium panel think is going to happen in our remaining six games?
Perhaps unsurprisingly given the rising tide of euphoria surrounding the Reds, plenty climbed into this one:
Jon Rushton: West Ham (A): Its these games that make me the most nervous. We're so superior to West Ham, and there will be no expectation even from Hammers fans that they will get anything out of the game. But we're on such a good run, but – as Chelsea proved against Palace – there's no such thing as a sure thing. I'll have to go for a win of course, but I don't expect us to win all six games and I am nervous about dropping points in one of the 'easier' away games.
Man City (H): I think we'll win comfortably. City have a deep and talented squad, but they can only put eleven players on the pitch – and their best eleven won't score as many as ours. Anfield will be absolutely buzzing, and it just seems fated that we will win this game.
Norwich (A): Norwich will be dreading this. Quite right too. I think we'll win.
Chelsea (H): This is tougher than the City game, because Mourinho will already have a plan in place to come away from the game with something. And he'll approach looking for a draw. Tough game this.
Palace (A): Win to the reds!
Newcastle (H): If we go into this game with a realistic possibility of winning the league, then this game will be the one that will test the players nerves. I don't care how composed they are, this will be a nerve-tingling, shit-a-brick moment for every reds player, and for the fans too. If City win the title, its expected. If Liverpool win it – its historic. Game-changing. Games against Newcastle can be bonkers too.
But – that said – if we go into the final day of the season with a realistic shot of winning it – a) Brendan Rodgers is the best Liverpool manager of the Premier League era; b) we'll win the league. I've no doubt.
Honest expectations of how many points we'll get from the remaining 18? I think we'll score 16, dropping points only against Chelsea – and I think we'll win the league too. We're that good, and I defy anyone reading this to deny that there isn't a feeling in their bones that we're going to finish the job this season. It just feels…. Right.
I'm officially allowing myself to get my hopes up, regardless of the possible disappointment that could follow. And it feels good, a complete reversal of the last few years. This team has reminded me of why I follow sports, and why I support Liverpool.
Andrew Beasley (Beez): As it stands, Liverpool are better than every team they have to play, because on current form they're better than every team in the Premier League. In terms of winning runs, the Reds are also better than every team in Europe's big five leagues, and in terms of six game form, they're better than every single team in Europe at the moment. Brendan's boys are on the march, and no mistake.
I'm very confident that Liverpool can win every single game, if viewed in isolation, but football is rarely that simple; no team in the Premier League era has ever won their last fourteen games, after all. In my mind, for the purposes of assessing how Liverpool might perform, the six fixtures break down into three pairs.
Norwich and Newcastle are six points written blind. Suárez lives on Canary meat, and Newcastle have given up for the season already so the last day should be a breeze. No worries there.
Crystal Pulis and West Ham will provide the kind of alehouse rubbish they always do, and it's certainly true to say that we have often struggled with physical teams in recent times. However, neither team is likely to be relegated, so don't have quite so much to play for, and there may even be a party atmosphere at Selhurst Park when we roll into town for their final home game. I therefore think our greater will and determination (plus of course, pure footballing quality) will see us home in these two.
At the time of writing this, I'm going to assume that all three title challengers will win their games this weekend. City would therefore come to Anfield four points behind but with two games in hand; will they be happy with a draw that would wrestle the title from being in Liverpool's hands to within their own? I don't think they'll set out their stall for a point, as quite simply they're too good a team to think like that, but if it's tight, the longer the game goes on the more they'll think a draw is a good result.  Hopefully this leads to a little indecision on their part, and Liverpool will win.
Which leaves one match, against the king-of-the-parked-bus-when-necessity-dictates: Jose Mourinho.
Aside from their trip to Anfield, Chelsea play nobody who is currently higher than tenth in the Premier League table. The Blues have recently shown they're capable of losing at Villa and Palace, but at the same time their remaining fixtures are ones that you would expect them to win. I thoroughly expect them to travel to Merseyside with the primary aim of dogging out a draw, with the hope of pinching a 1-0.
Unfortunately for Liverpool, I think that poor, underfunded and Champions League-laden Chelsea will return to West London with a point. Even so, I make that five wins, one draw, eighty-seven points, and, if the Sports Club Stats website is to be believed, a 94% chance of winning the league. I'll take that.
Chris Rowland: With all the focus now on winning the damned thing, we shouldn't overlook the significance of the 7 point gap over 4th placed Arsenal, which would not only secure CL football next season but would see us avoid that potentially tricky play-off in midsummer during a World Cup season.
But I digress. Those six games. I don't expect us to win them all. We can draw one, maybe even two, and still win the league (provided neither Chelsea nor City is a draw). Palace could be tricky if they're still in relegation trouble, but perhaps less so if they're safe by then? West Ham and Norwich will not be safe when we visit them, and a draw at either of those is quite possible and less than disastrous. It wouldn't surprise me if Mourinho's lot ground out a draw either. So here goes: West Ham (A) – draw. City (H) -win. Norwich (A) – win. Chelsea (H) – draw. Palace (A) – win. Newcastle (H) – win. Four wins, two draws, 14 more points, total 85. Enough? Probably not, City will end on 86 points if they draw one as well as losing at Anfield. So that would leave us two points short, as they have a better goal difference (just). But it's very fine margins now. Convert that West Ham draw into a victory and that's it, job's a good 'un!
Alex Tate (Tattva): I'm anxious. It's a natural state for me. But with relation to Liverpool this season, I'm anxious because it's so unexpected, I don't know how to cope. Will a fall now affect how we view the season? Or after 32 games why would we fail with six to go?
Even if we don't win the title, I don't want our form to take a dip. Another team can win through being better, not because we choked. We have a varied run in against a spread of teams; some fighting for titles, some the right to visit Anfield next season and some teams playing because, well, you need to play 38 before you go on holiday.
It's West Ham this week, and they have eased themselves with a win against Sunderland, a good result for us. There may be less for them to play for now. I expect our skill and guile to out-manoeuvre their hustle and bustle. Not by much but I feel three points will be added to our tally.
It won't be easy as the Hammers have a tough run in and aren't totally safe, but if they chase they will be exposed, which plays in to our hands.
A brilliant game for all concerned, when the Citizens visit. Great playing sides, both chasing the title and two sets of fans with little, if any, bad blood. The neutrals will see it as a battle of the two most likely.
Hard to predict. We are playing very well, but could our run falter? If the silky Man City turn up and play against the adventurous LFC, expect samba soccer, expressive football and a large dose of goals. Any high scoring result is possible. Perhaps 3-3.
Norwich offer so little resistance in all quarters, it's three points in the bag. They have easier fixtures before they face us and will hope to get something there. Then they face the Gooners and Chelsea after. The Canaries are scared witless and will be lucky to survive.
Chelsea will be tough. They will want to beat us, it's more than three points to them. As they have easier fixtures, the gamble will be to take a draw for them. Can they soak up our pressure? This will be a decisive weekend. Edging towards a draw, just, over a home win.
Palace have a varied run in, and if they are to stay up it is likely to be achieved before we pop down to south London. Pulis has improved them, so they're a better bet to stay up than many others in the struggle at the bottom. But still, three points.
If it comes down to this game? I'm backing us for a win. I always enjoy us playing the Toon, having lived there I have an interest, even if it isn't a desire to see them do well. But they are playing for nothing, the Toon are mid-table, and most will already be thinking of a beach somewhere watching the World Cup.
This leaves us with 14 points from 18, and a total of 85. Which will leave us second, just behind Man City. I'm unsure how the number of games will affect them, but I think they'll take it by one or two points.
The rest of this article is for Subscribers only.
[wcm_nonmember][ttt-subscribe-article][/wcm_nonmember][wcm_restrict]
Jonny Christopher (Jonny C): I only have one concern from the remaining fixtures. It's not Chelsea nor is it Sheik City.
It's that other power house from London. West Ham United. The only thing in our favour is that we don't have rafa in the dug out. Otherwise I'd say this metaphorical red rag to fat Sam would be a stone wall three points for them.
There are a few other things that concern me though. Upton Park. I spent many of my uni days watching the reds when they came to visit West Ham. And it was always a very tough place to go. They are like the proverbial yappy dog. Tiny, pointless but still like to square up to the big boys.
And fat Sam. He'll want to yap. Lots. Straight down the phone to Sir Alex. And collect his doggy biscuit at the same time.
Apart from that it'll be fine. Oh. Wait. I forgot. Andrew 'point to prove' Carroll.
I suspect like Jonjo Shelvey before him, he has a point to prove. And remember Jonjo was rated by Brendan. Poor Andy was treated a bit like an outcast. He'll have a point to prove and no amount of boyzone concert love from Kenny is going to help.
I suspect fat Sam's teamtalk will consist of three words. Long. Ball. Andy.
In my mind if we win at West Ham we win the title. The icing on the cake would be a Chelsea spanking.
Whatever happens it's been fun. I haven't felt this tall, this proud for years…..since Rafa really.
And for that Brendan Rodgers, for that Sir, I say thank you. It won't be long till your portrait sits proudly next to Bill, Bob, Kenny, and Rafa on *that flag*.
Success has many fathers you see. And you Brendan are next.
Gary Wilson (Garythespud):  West Ham – Crash bang wallop. Allardyce hammered on the counter. 2-0.Man City – Biggest game of past 20 years bar Istanbul? 3-1 win but will be proverbial rollercoaster. Last minute third after 20 mins of City pressure to send crowd into wild ecstacy.
Norwich – Luis turns up and scores three. 4-0.
Chelsea – Mourinho turns up, sulks. They're out of it. 1-1.
Palace – Torn to the ground like the original and its replacement. 4-0.
Newcastle – Party time. Never going to stop the red hordes, are they? 3-0.Title is ours as Man City and Chelsea drop too many points. Liverpool 87. Man City 86. Chelsea 83.Cue: fevered celebrations like VE day turned up to 11. Much kissing to be done (I am up for this!) and much alcohol/juice/whatever is the fancy to be imbibed.
Alexander Papas (Yiannis): A tough one to answer here, as I'm basically damning myself with hope no matter what. If it's what I want to happen, we win all six. If it's what I hope will happen, we win all six. If I base it on current form, we win all six. If I base it on some sort of team comparison, we win all six (with home advantage giving us the edge in the closer matches). However I slice it up, I have to say that we will win all six games, and we all know that can't possibly happen…
… can it?
It would be far easier to predict (or at least predict comfortably) if we didn't all know what was riding on these results, and also far easier if we weren't already on an eight-game winning run (because we all know those get ended sooner or later). However, I'm going to go for broke here, as I'd rather (metaphorically) die in hope than live in fear, so I'm saying six wins and the title for us, broken down as below:
West Ham (A): 1-4 – A goal for Andy Carroll, assisted by Downing, will get the pundits saying "maybe Liverpool shouldn't have let them go", before everybody realises that no Sam Allardyce team could ever contain the SASAS. Suarez to break the 30 goal barrier.
Man City (H): 3-2 – A nervy, mistake-filled match, with at least one own goal and maybe even a sending off (hopefully not one of ours), where the lead will probably change at least twice. Gerrard to get either the winning goal or winning assist with around five minutes remaining.
Norwich (A): 2-3 plus Suarez (at least 2-6) – Just as the previous win might heap seemingly-unbearable pressure on the Liverpool players, we come up against our favourite team. The other players will get three goals between them and Suarez will get however many he feels like, breaking the PL era goalscorer record in the process. Norwich's goals come late and make no difference.
Chelsea (H): 1-0 – With the focus pre-match all on "another Mourinho masterplan", Rodgers delivers one of his own, nullifying the Chelsea attack and grabbing a goal from a set piece, either Suarez direct or a defender from Gerrard's delivery.
Crystal Palace (A): 1-3 – Rinse and repeat from the Anfield encounter (early goals win the game before half time, Palace get a consolation after the break)
Newcastle (H): 6-0 – A home game for the title against a team that historically switch off at the ends of seasons if they have nothing to play for? Halle-fucking-lujah! Suarez to get achingly close to Roger Hunt's 41 goal "true" Liverpool season record (with all due respect to God), before being subbed off at the death to the biggest round of applause at Anfield in decades. Gerrard to have "something in his eye" as the game winds down (everybody in the stadium to follow shortly afterwards).
Russel Lunt (Thundyr): Win the last six games of the season, lift the title. Simple. It might get simpler – draw with Chelsea and City, while City don't win at, say, Goodison. That would do it too, as long as we keep racking up the goal difference. Just for the record, W4 D2 will be enough to finish ahead of Chelsea, regardless of any permutations.
I do however feel that winning the title will require beating Man City at Anfield. An achievable goal, certainly, but hard to predict at this point. Besides, I'm not sure when last any club won 14 in a row in this league, maybe never, so I'd have to play it safe and say we won't do it either especially since we still have to play both remaining title rivals.
Let's look at this backwards. Can anyone see Liverpool folding and not beating Newcastle at Anfield if we're top on the last day? A team led by someone who doesn't know when the game is lost? Mr. Never Say Die himself, Luis Suarez. You thought I'd say Steven Gerrard? My point exactly. Win.
And let's get Norwich out the way – Suarez scored a hat-trick on each of his last two visits to Carrow Road. Win.
The rest are a bit more awkward. West Ham and Palace have exactly the kind of managers we struggle against; park the bus, hit it long, and hope for a lucky break or a 0-0. Both are also away games, which make it harder. These two games for me will define our title qualities.  If we don't have the stomach for the fight we won't win both; could even finish D1 L1. But I think we should have the fight for the first, and Palace might be playing only for pride come May (or will already be safe). However, this is a different Liverpool side than the flakes from recent history, so I'm tipping us to win both in scrappy, nervy affairs. Win Win.
Mourinho's plan of having no quality strikers and playing for 0-0 at half-time has backfired spectacularly over the last month. But the meanest defence in the league vs the strongest attack suggests a likely stalemate unless we score early. I think the result depends entirely on whom Mourinho wants to crown king. Draw.
City. I have a feeling Gerrard will pick up the tenth yellow in the blood-and-guts encounter at West Ham. And then the future players of this club will take the field vs City and try to win the title by playing our best formation with our best combinations on the park despite lacking the vision Gerrard brings to our play. I'd back our youthful midfield diamond and the Red Cafu. Otherwise Gerrard plays in a kind of "Merseyside Derby" that City's dandies won't like. Win!
Liverpool are always up for the big games. All six are big games, as long as we don't relax against Norwich and avoid Howard Webb. YNWA.
Krishen Bhautoo (Krishaldo): West Ham (A) – Big Fat Sam will play a 4-5-1 or 5-4-1 and hope to contain us. I spoke to a West Ham fan who said this is all he will do, hoping to hit us on the break. And you know how we struggle against big forwards? And you know how players always score against their former clubs? Just saying…… But I'll take a heart attack-inducing 1-0. Unless we score early, then it could be party time.
Man City (H) – After our 2-1 defeat at their place a few City fans said that, apart from Bayern, we were the best team they had played by miles. I think we will have more desire than they will and the Anfield roar will see us through. 3-1.
Norwich (A) – Norwich + Suarez = Goal Fest. Anything from 1 to 100-0.
Chelsea (H) – Maureen will be hurting. His forwards don't score and goals from the middle have dried up. He will motivate them for this one as, even though BR is his 'friend', he still hates us. I can see him going for it as opposed to sitting back as he has done before (trying to out-think BR)and we will pick them off, plus we will have more rest as they will have CL semis either side of us (assuming they progress past PSG). 2-0
Palace (A) – See West Ham.
Newcastle (H) – Will they be up for it? They're already mentally on their holidays. They almost certainly won't finish in the bottom half or get into Europe.
I think I've just put six wins! Whilst it is completely plausible that we will win all six, it is highly unlikely. But luckily it is likely that our rivals won't either. We just need to make sure we get more points than they do, and City have a few tough games too (Southampton, Everton away and Palace away).
We have to be completely motivated and up for it for every minute of every game. These players have the opportunity to become legends. I BELIEVE we can win this. We must win this.
I'm off for a lie down.
Jamie Mclaughlin: With six games to go and the Reds sitting top of the league, it certainly is 'squeaky bum time'.
Our next fixture away to West Ham sees us square up to former players Stewart Downing and Andy Carroll but I don't see them posing a threat and I forecast a 3-1 win for Liverpool with our attacking threat proving too much.
The following week Liverpool face title challengers Manchester City and I think this fixture will decide where the Premiership trophy goes. I believe the Reds' support will create an atmosphere similar to the famous European nights and Brendan Rodgers' men will edge it 2-1.
Liverpool will then travel to Norwich which is a fixture that Luis Suarez enjoys with a tremendous scoring record against the Canaries, and I can't see Liverpool slipping up and I'll go for a 3-0 win.
Liverpool then return home to play Chelsea in another key clash but with the run of adrenalin that the Reds are on I can't see Mourinho's men stopping Rodgers' men either, and I'll go for a 3-1 win and a step closer to the title.
The second last game of the season is away to Crystal Palace and I fear Liverpool dropping points here with Tony Pullis' men providing our toughest test in the title run-in and I think we will only manage a 1-1 draw.
This leaves us with our last game of the season at home to Newcastle and I think we will 4-0 in an emphatic win to win our first title in 24 years and I hope I am right with my prediction.
James Keen: West Ham, away – potentially very tricky. We have traditionally struggled against rough direct teams and Allardyce has been a thorn in our side for a while now. But, Stoke away gives me hope that we can now bulldozer that sort of side. We will score. How will they get the ball? Although logically I can see why West Ham will be a tricky game I just don't think they are good enough to beat us. 3-1 to the Reds.
Manchester City, home – should be the hardest team to play in the league. And yet. They look disjointed to me; they look like a very expensive collection of players who play very professionally together. Not a cohesive collective as we have recently. They can be got at especially away from home and some of their defenders can look creaky under pressure. They'll score, we'll score more. 3-2 to Liverpool.
Norwich, away. I suspect Suarez has had this one felt-tipped on the kitchen calendar since the fixtures were announced. They are a side that have no way of dealing with us, I cannot see any way that they get anything from the game. They also tend to capitulate if you get too far ahead too early. I expect us to batter them. 5-0 to us.
Chelsea, home. This is the one. This is the tricky bastard. Mourinho will come to contain, to frustrate and to walk away with a one-nil win. I'm not sure he realises quite yet how good we are. He is still stuck in a Machiavellian feedback loop; everything is conspiracy. His constant harping on about the fact we're not in the Champions League as an advantage is starting to sound like he thinks we did it on purpose. I really want us to beat this lot. I would like to think that we could batter them. It would be right this season if we did. Head says 2-1 to Liverpool. Heart 6-0.
Crystal Palace, away. Hopefully by this stage Palace won't need any more points to stay up and it can be a routine victory against a safe team. They pose similar problems to Allardyce but have even less footballing intelligence. We should be better than them. And I expect to pass round them and win well. 3-0 to Liverpool.
And so finally…
Newcastle, home. They'll have nothing to play for, have sold their best players and never do well at Anfield. We will have the title in our sights and are considerably better than them any way so. 6-0 to Liverpool.
Which would leave us on 89 points. With a goal difference of +62 and goals scored of 110.
Daniel Rhodes: I'm unable to use the logical part of my brain anymore. It went after the Fulham match, seeing Gerrard's face after he scored the penalty. Depending on when you ask, we might lose all six, draw all six, or, runaway with the title, managing a quite frankly ridiculous, record-breaking, masturbating, football-shaking, all-conquering 14 wins on the bounce.
To crank up the comparative achievement award, if Liverpool complete such a feat, win the lot, and win the league, it would be the single greatest human achievement in the history of humanity – just pipping Darwin, Newton, Einstein, Luis Suarez's Mum, and the ancient Egyptians who built the Pyramids. Better than the four minute mile, the fastest sprint of all-time, the longest leap and the highest jump. Told you, no logic whatsoever.
The solution? Numbers. The stats. I've got a spreadsheet with all the figures, from all our games this season. Then split the league into four sections of five teams (apart from the top five, because we cannot play ourselves, so it is the top six), and taken all the results from each game, and come up with an average.
To get the number of goals for each match, the equation is quite simple (but it could take into account many more variables): total shots (13.6, West Ham) x chance conversion (0.132) = 1.79 (or two goals). As much as we'd enjoy beating Allardyce 2.81 – 1.79, it needs rounding up or down. (0.49 = no goals; 0.5-1.49 = one goal, and so on.)
Here's the six games, predicted.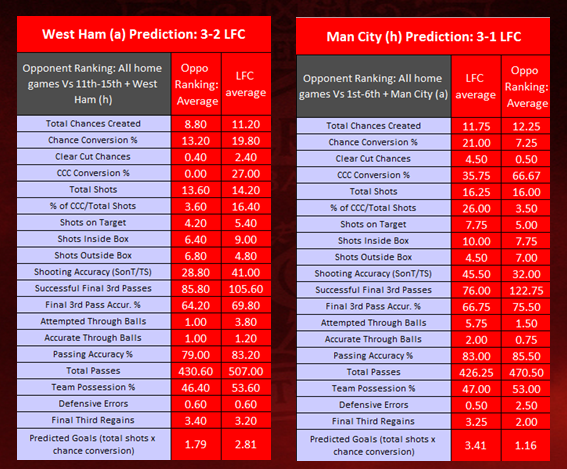 (Ignore the fact it says 'all home games' on the West Ham one, I just forget to change it, but I did use the figures from all the away games against teams of relative strength.)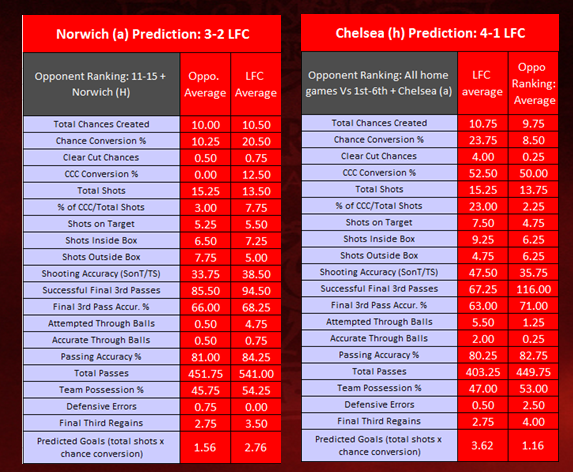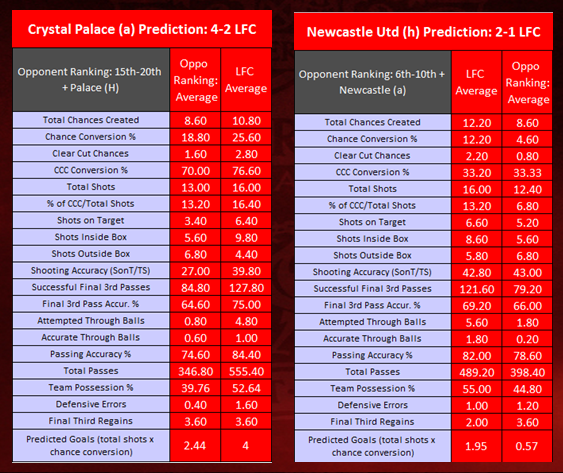 The stats suggest we will struggle more when we travel to the sides towards the bottom of the league. Different tactics, the need to be patient, break them down, rather than attacking on the counter, which is the reason for more goals/chances/points, when we face the better teams at Anfield. Look at the quality of chances (potentially) in the Norwich and Palace games, and difference in Clear Cut Chances.
The stats also suggest:
(WWWWWWWW) WWWWWW
Which requires very little interpretation, context or analysis.
It is official, Liverpool will be crowned champions. I need a lie down.
Shaul Mitelpunkt (Serpico): West Ham (A): Andy Carroll scores against us on the 5th minute with a bullet header. A Suarez free kick and a Sturridge break away make it 1-2 to Liverpool.
Man City (H): Yaya Toure hits the bar with a free kick, but seconds after that Zabaleta is sent off for tackling Sterling from behind while on a break. We score from a Henderson run on the 60th minute and win the game.
Norwich (A): Suarez shows up, the Norwich players refuse to play, technical win Liverpool.
Chelsea (H): Hazard and Oscar score one each even though Liverpool are the dominate side, and we go off 0-2 in the break. We smash through them in the second half to win it 3-2, with the winning goal being a Stevie bullet like the days of the old. Mourinho says Liverpool enjoyed unfair advantage due to not having as much money and hence not as much pressure, and Rodgers just stands there smiling at this comment.
Palace (A): Tackles are flying all over the place as Palace fight relegation. They are fighting for their lives and it seems we will not break them. Webb is supposed to give us three penalties and to send two Palace players off, but he just smirks there standing with his constable pose as we protest. Then in the 92th minute Skrtel scores from a tussle in the Palace 6-yard box after a corner. We win.
Newcastle (H): Newcastle are playing for nothing, we must win to claim title. The game goes on in frantic pace and it is 3-3 by the 70th minute due to a Remy hat-trick (Agger is having a 'mare) and it is Sturridge who kept us in the game by winning us two penalties with smart movement. We are second best most of the game. Then in the 87th minute Suarez shimmies past four players, lobbing it over Krul. 4-3. Liverpool hang on with Lucas clearing from the line in the 91st minute. Final Whistle, Liverpool won the game and the title.
My that was fun!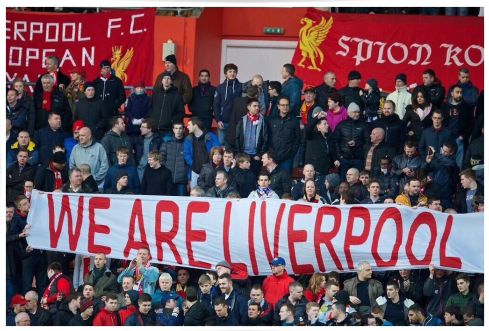 [/wcm_restrict]