By Paul Tomkins. Sunday, March 16th.
"Twenty times" sang United fans at the end, perhaps referring to how much better Liverpool were than their team, on a day when even Gary Neville felt the visitors should have had five penalties. (While we're at it United fans, that's five times.)
United fans are sticking by their manager, and I do respect that, but it's like they're trying to show how good they are as fans, rather than face the reality of a decent – but at this top level, distinctly mediocre – manager taking a successful bunch of players (plus £70m spent) and turning them into his own image. Maybe Moyes will come good, but to be honest, with every passing week he just looks worse. He looks archaic; not so much out of his depth as out of his time. It's not 1993 anymore.
We all make mistakes on early judgements, and it took me a while to think Brendan Rodgers had what it took; he wasn't helped by Being:Liverpool, in which he also made what seemed to be an accurate assessment at the time (of Jon Flanagan) that was later proved wrong. Liverpool are beyond purring under the newly-toothy Ulsterman, and Flanagan, despite still being reckless in the tackle, has started dribbling the ball upfield, his shoulders relaxed, head up, enjoying himself as if he's Franz Beckenbauer.
Going back a few weeks I didn't think the Reds could win the title, but there is absolutely no denying now that they are in the hunt.  It's a race, and it's on.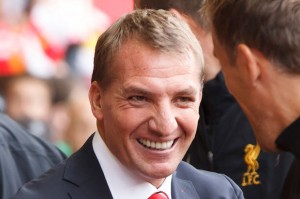 The pressure of expectation was on Liverpool, for once in a big game at Old Trafford, with the cowardly David Moyes saying that Rodgers' men were favourites – at their ground, when taking to the field as defending champions. And yet Liverpool tore through United like they were a non-league side. 'Make admitments', it was an embarrassment.
This was every bit as remarkable as the 4-1 under Rafa Benítez five years ago, although there are differences; that was a Liverpool side five years in the making, facing a United side at its peak, with a legendary manager who put fear into everyone. That was when Old Trafford was a fortress, but even though it is now more like a house that a medium-sized, not-very-bad wolf could blow down, it was like a force-five tornado ripped right through it. They'll be finding pieces of Old Trafford in Bolton.
Have United ever been more shellshocked? I said in the summer that Moyes would be their Roy Hodgson, in that he was good at two banks of four but hopeless at the expansive, imaginative football needed in the top four. Any time they get the ball in a dangerous central area they look to push it wide, to cross, rather than play the killer pass. A pre-match stat was that Phillipe Coutinho had attempted more through-balls this season than Manchester United.
As bad as United were, Liverpool took full advantage. The movement of the front players is jaw-dropping. Meanwhile, Moyes sticks Mata out wide, and takes a Coutinho-like through-passer and turns him into a crossing machine. Mata, the great assister, pissing in the wind.
Rodgers started his reign with some great possession play, but no wins in his first five; then things went stale. I noted that there was no cutting edge, no through-passing. In came Coutinho and Sturridge, and things began to build. Neither was just lobbed on the wing, never to wander. Liverpool became more of a counter-attacking side, rather than tiki-takking, but if the other team wants to sit back, Suarez can even unlock Fort Knox. At home against Arsenal, and away today at United, Liverpool controlled the game and created chance after chance, whether enjoying spells of possession or not.
Despite my fragile nerves feeling unable to handle a title-tilt, this has to be considered one. The Reds seem to have peaked at the right time, although it could still be too early; it's only March. But injured players like Sakho and Lucas are fit again, helping the bench to look strong. Rodgers even had the time to rub salt into United's wound by bringing on Iago Aspas. Have that!
Liverpool can score goals for fun, but this was also a better defensive display; my stipulation to believe in a chance of no.19, made a few weeks back, was clean sheets, and 3-0 wins at Southampton and United show a side approaching perfection as the spring arrives. I'm the kind of person who would have taken a draw at either venue, such is our record at those places.
First things first, though – it's a huge step towards cementing a place in the top four. Top players will still want to play for Man United (before even getting onto the £300,000 a week), but in recent summers Liverpool have had a credibility problem, with a rookie manager and no Champions League to offer.
Even though Rafa Benítez never had the money to buy players beyond £20m, at a time when others spent £30m+, he had a stellar reputation across Europe, and Liverpool were in the top four between 2004 and 2009. In particular, Spanish players, at a time when they were the best in the world, wanted to play for our club.
Rodgers never had that cachet, but he might be gaining it; everyone in the world will have been alerted by the 5-0 lead taken against Arsenal, and a 3-0 victory (and a missed penalty) at United.
This Liverpool team don't have the experience of being champions, and many of them haven't even been in a race, but with Rodgers bringing in Dr Steve Peters, such mental shortcomings can be addressed. Peters is so good – according to those he has turned into winners – that he can help athlete's overcome incredible odds. Indeed, he might even help England get out the group stage in Brazil under Roy Hodgson.
It's still got to be City and Chelsea's title to lose, given their mega-squads, but if Liverpool hit the front at the right time – i.e. in May – they won't have to handle the pressure that comes with the sound of a chasing pack. It could be like Arsenal in 1998, when they were nowhere in February but then went on an incredible run, playing great football.
We don't really believe in momentum on TTT (it's not an official policy, mind!). It may play a small role, but winning runs are achieved by good teams playing good football. Great teams go on great runs, and right now, Liverpool are winning games because they look like a great team.
Momentum may not last, but class does. And that's the best thing to take from this season. Liverpool are becoming a very classy side indeed.