by Anthony Stanley (TTT Subscriber Dannyluke10).
Part 5: Luis Suarez.
"Listen, the best players work the hardest, there is no secret about that.  In particular, at a place like this, you have got to work your socks off from the off.  That is how we play" – Brendan Rodgers, February, 2014.
It has become one of the recurring images of the season; dazed, shell-shocked faces of beleaguered defenders as they stand, hands on hips and demeanours of grim resignation, as Anfield erupts and Suarez jogs away, grinning delightedly.  A goalkeeper lying spread-eagled and staring mournfully at the heavens. You can almost see it written on their faces: 'For fuck sake, that's not even fair'. And really, the way Luis has played at times this season, it's almost been unfair.  The word 'unplayable' gets bandied around far too often in the modern game, but our Uruguayan genius has been just that for vast swathes of the season. He is sometimes like a PlayStation footballer; press 'x' to nutmeg, the 'A' button to launch an improbable, swerving, unerringly accurate volley on goal, press the 'B' button to conjure up an impossible assist, the 'y' button to reduce the opposition to gibbering wrecks of nerves. Suarez absolutely terrorises defences; he is non-stop motion, frightening and relentless pressure, impossible touch, control and vision. He is a whirling demon, a devilish djinn, a marauding wielder of chaos, a tornado of despair for Liverpool's rivals. And he leaves some wreckage behind him.  That our affections were almost in the rubble of his destructive prowess will never be forgotten but he has all but been forgiven; a direct result of his phenomenal footballing ability – you simply have to love Suarez, you have to embrace the madness.
I wrote an article some weeks back on Luis Suarez and asked whether he was the hero we needed in our quest for Champions' League football and so I thought long and hard about even including him in this series. But when you discuss players that have defined the tenure of Brendan Rodgers, Suarez has to be considered. It could even be argued that more than any other player the Uruguayan has completely defined the Ulsterman's regime. The highly entertaining mode of football, the passing and pressing, the rich imagination of our play are all embodied in the form of Luis Suarez.  And this team has been demonstrably bonkers this season, absolutely stark raving mad at times. Just like our genius; when Luis steps onto a football pitch he turns into a raving bag of sewer rats. I genuinely don't think there is a player like him on the planet; one who marries sublime ability with never -ending madness and constant running. Furthermore, his story since Rodgers took over at Anfield has seen the Liverpool manager faced with some of his greatest challenges and Luis has also been hugely responsible for some of Brendan's greatest victories.
In August of 2013, I wanted Suarez gone.  I was sick of the whole lot of it. I was tired of the bad publicity, weary of our rivals being handed the moral high ground, exhausted to the point of distraction with saga after saga. Like many, I convinced myself that we were better off without him, his antics were proving themselves to be an unwelcome distraction and that, even from a footballing perspective, we accrued more points without him in the side.  I told myself that Rodgers' style of football was not conducive to the chaos that Suarez laid in his wake, that his very unpredictability was proving to be halting our potential strides on a football pitch. I looked at the stats and nodded sagely to myself and decided I would be quite happy if Real Madrid or PSG came in with a decent offer that could be reinvested. But the stance that the Liverpool manager – and FSG – took with the whole situation was incredibly admirable. Imagine, just imagine, that Liverpool had had to sell to Arsenal. The Gunners would probably be cantering away with the league right now.  Rodgers' response was one that was directly opposite to when Wenger was practically forced to sell his own talisman, Robin Van Persie. It was clear and rival clubs were told, in no uncertain terms, that they were wasting their time. But we have seen the result of how shockingly mediocre an unhappy Van Persie can be; the Liverpool manager and owners knew that this wouldn't be the case with Suarez – he bleeds football and is incapable of not producing 100% of scintillating madness when he takes to the pitch. It was a calculated risk – and one with the odds stocked in the manager's favour (particularly in a World Cup year). Rodgers' words were telling:
"We're quite calm…the club's in control…Luis (has) got three years in his contract and is a player we don't want to sell…we made a conscious effort last season to build a team around…so we've got no inclination to sell and we've been very strong on that point and will continue to be, especially to a team that are a rival to us."
The Liverpool manager then quantified this by highlighting prophetically what was his trump card in this whole saga: Suarez's utter inability not to play to his full footballing potential.
"It's dependent on the player really…Luis' the type – since I've known him – he's fought for his life for Liverpool…it's been a difficult situation for him…there'll come a time when he realises that the club aren't going to sell and what I know about Luis Suarez is that once that time comes and he's gotten his head around that then the minute he goes onto the training field and the pitch, he gives nothing less than 100%…but that's why it's difficult, that commitment isn't there…but once he stays beyond the window, and once he's fit and available, once he plays – he'll be giving everything."
Evidently they could smoke whatever they wished at the Emirates; Suarez, even if he had to be banished to train with the reserves, would be going nowhere. It was an admirable show of strength from the Liverpool manager, he was calm and assured in the face of a barrage of questions from the media and his message was clear: we are not a selling club anymore.
Of course, Suarez would not be available for the first six games of the new season, the result of another indiscretion – biting Branislav Ivanovic. On this particular occasion, the capering, mad little imp that resides within the Uruguayan (on the playing pitch at least) came to the surface. It was bizarre, and unlike the allegations of racist remarks that had sullied his name a year earlier (which were essentially unproven), there was more than a hint of justification when the media spilled forth in righteous indignation. But that's the essence of Suarez; he's such a street fighter and so competitive that sometimes the inexplicable becomes a reality.  Dr Steve Peters has obviously done some sterling work with the Uruguayan – while Luis' steely competitive edge is still in residence, he appears to be able to channel it better.  Our rivals find it easy to hate Suarez – he seeks every possible chance for an advantage on the football field and undoubtedly oversteps the mark at times. But football isn't a popularity contest and Luis is a winner – pure and simple. Are Real Madrid fans bothered that Cristiano Ronaldo is almost universally loathed? Were Manchester United fans in 2008-09 for that matter? Absolutely not because it's all about results and Suarez – despite my earlier musings – makes the chances of winning a football match infinitely higher. He will never be able to shed the legacy of poor decisions and almost frenzied recklessness that he has displayed – it is a massive stick that other clubs' supporters can beat him with. But Suarez, almost literally, takes the stick and uses it on his tormentors; he thrives on the adversity, shrugs his shoulders and, grinning, lashes the ball into the net.
Decisions, decisions. That's what it's all about really. Or to be more specific, decision-making.  The improvement in the choices that Suarez makes has not been confined to behavioural ones. Is this down to coaching? Luis obviously has to take credit for the player he's become and perhaps he would have evolved into this beast regardless of management.  But I think Rodgers has to take massive acclaim for the evolution of the South American; in many ways his development to genuine world class talent has been laid in the foundations of better decision-making. We can look at the stats and it looks like his finishing is improving, and this is the case to a degree. But what the stats don't tell us is that Suarez rarely takes the ridiculous punt nowadays; where before it often seemed like he was trying to do it all himself (and there was more than a whiff of playing for a potential suitor), now he is content to seek aid when its available. He still attempts efforts that mere mortals wouldn't even imagine trying but that are part of his magic and he has given us some glorious moments this season; flashes of inspiration and genius that we will never forget. Last year, Daniel Rhodes wrote the following in regards to the issues in the Uruguayan's play (and echoing most of our sentiments): "You can have as many individual world-class talents as you want, but if they make the team worse, there's no point.  Either Suarez adapts his game, plays for the team and stops trying to do it all himself … or sell him, at the potential peak of his value".
Well Luis certainly has adapted his game, it's probably a combination of better decision-making and trusting his team-mates more but Liverpool have coalesced around the Uruguayan and the evolution of both Suarez and the Reds has been a thrillingly synergetic and umbilical one. Perhaps Liverpool's second goal at home to Cardiff City encapsulates the new, improved Suarez, the player who's ready to step up to the mantle of one of the world's best players. Put through by a brilliant Jordan Henderson pass, Suarez, one on one with the goalkeeper, elected to square it to Raheem Sterling for a simple tap in. He weighed up the options, and though it would have been a relatively straightforward finish for Luis, giving it to Raheem was the right thing to do (with curious symmetry, in the dying seconds of the reverse fixture last week, almost an identical pattern of play arose. This time Suarez took the shot and scored. But, not only was he on a hat trick, but it took him level with Robbie Fowler's record haul – and anyway, watch it again, I think he seriously thought about passing). But anyway, that assist for Sterling showed the massive development in Suarez, now embracing the role of a senior member of the squad and a source of inspiration. He has played an immense part in the evolution of our youngsters and the trust he displays in them – and his leadership qualities – has massively helped in their development.  It's like a little bit of his stardust has splashed over the rest of the squad this season.
Those with an aversion to John Bradley's particular brand of hyperbole might want to look away now. To illustrate the impact of Suarez and his virtuosity this season, here are some of Bradley's sound bites as the ball hits the net (try and guess the goal):
"…and does brilliantly, oh wonderful goal by Luis Suarez, all about balance and power and commitment inside the penalty area; that's from distance, oh my word, absolutely…astonishing, Luis Suarez is a footballer of the highest calibre; oh brilliant, what a goal – simply irresistible; oh my word, if the first was good, the second is ridiculous; the man is just…brilliant, astonishing…a footballing phenomenon at work at Anfield; Suarez…him again, it's him every week at the moment; oh dear, dear, dear, that is just absolutely miraculous; well sometimes you make your own luck, Luis Suarez will never give up; game over, it's that man again; he's got a long way to go on his own…(he's) going all the way on his own…how on Earth did he do that?"
But, of course, these ecstatic exclamations don't give the most beguiling picture: his face splitting in that wonderful, infectious, toothy grin. Remember the hat trick goal against Norwich City? His reaction has also added to our affection for him, from the look on his face it was like he could scarcely believe what he had done. To go back to the PlayStation analogy, it reminded me of someone's reaction when his digital counterpart has just scored a goal of stunning beauty. But Suarez is not made up of pixels and binary code (though he would sometimes appear to be on a pitch). His joy when he scores (and, indeed, when his colleagues do) is infectious and irrepressible; to witness him sauntering away lifting his right hand to his mouth, face practically cracking with that smile, is an unaffected thrill. And it is genuine joy, without a hint of contrivance. As are his interviews, a relatively new phenomena and one that has also aided in Liverpool fans' mushrooming fondness. He softly and tentatively speaks in halting English as his eyes dance around the room in a nervous tango and he self-deprecatingly espouses the importance of the team. He is calm and considered; the Dr Jekyll to his on-field Mr Hyde and it adds further credence to the notion that he is only a mad man once he crosses that white line. He is our lunatic and he has, touch bloody wood, managed to channel this apparent insanity to inflict maximum damage on the opposition – rather than himself and his team.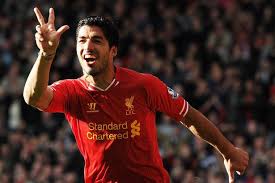 Luis Suarez has personified this season for me. We didn't expect much back in August and 'to be in the conversation' for fourth would have been seen as progress. Similarly, as summer gave way to autumn, we didn't even expect Suarez to be a Liverpool player for much longer and, crazy as it sounds now, we weren't that devastated about it. But since his return from suspension, we've gloried in the building of the twin pillars of optimism and joy; he encapsulates our special of way of playing football and he has bewitched us with his performances. When he signed his new contract it was almost synonymous of where this club is going – a massive statement of intent and I still remember the feverish speculation as what was seen as a coup. Not anymore though; Liverpool suits Suarez and Luis suits our wonderful club. The best Liverpool number seven of all time is no longer a straight forward argument. More than any other footballer I can remember seeing, Suarez is involved in every single facet of attacking play. Sometimes that makes it appear like he's having an off day as his flicks and tricks aren't coming off. Then he goes and scores four goals. Most strikers are judged on goals but Luis is measured on so much more than that; he is the entire fulcrum of the team and is rapidly becoming something approaching a father figure to our young players; a figure of awe, inspiration and splendour. The fact that his footballing abilities aren't far removed from something from the realms of the paranormal doesn't stop him working like a fire ant on speed. And this has rubbed off on the rest of the team.
The Rodgers way of playing has found its perfect advocate.