By Paul Grech.
For all that is written about the subject every time a transfer window rolls by, very little is known on how Liverpool's scouting network is set up.  Occasionally we get glimpses from interviews but in truth a lot of fans' knowledge about the men who recommend players to Brendan Rodgers is very much based on assumptions and hearsay.
Given that lack of knowledge, it is interesting to see how other clubs set up their own system. Particularly documents such as this one that go into the detail of how Juventus do their scouting work.
Juventus may have failed to progress in the Champions League this season and their success is coming in a league that is a mere shadow to the dominant force that it was back in the 1990s, yet it is remarkable for the way that this team has been built.
Indeed, Juventus have managed to identify talent in other countries – Arturo Vidal and Paul Pogba being prime examples – before the value of these had really blown up. The core of their success, however, comes from being able to attract the best talent in Italy. There are very few Italian players who can say no to Juventus whilst their relative financial strength is often enough to convince other clubs to part with their players.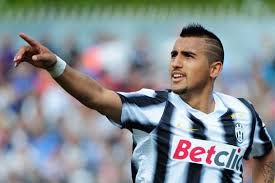 Chile's Arturo Vidal – signed from Bayer Leverkusen for 10.5m euros in July 2011
As a result, Juventus try to leverage their strength with the bulk of their operations being focused on Italy where they operate a two pronged approach: buy players who can immediately add to the quality of their first team and buy the most promising players in the country.
As an example of  the latter, Domenico Berardi, the talented young striker who earlier in the season hit the headlines for scoring four goals against AC Milan, was signed last September (or, at least, 50% of his ownership) before he had started showing what he could do at the highest stage.
Berardi is one of many players who are either on loan or of whose contract Juventus at least own a part. It is why they have a team whose sole focus is to monitor these players, seeing how they're doing and reporting on how they're developing.
In Italy, the loan system has been around far longer than it has in England meaning that its operation is at a more mature stage.  Juventus are probably more adept at operating it than anyone else, carefully plotting where to move players not only to give them the experience that they require but also making tactical moves; giving players to clubs in order to gain access to anyone they want to sign.
Only a fraction of the players that they do actually buy ever get to wear the Juventus shirt but very rarely has a player whom they've let go come back to give them problems.  Often, when there is the slightest doubt they retain a share for as long as possible.
That latter aspect isn't something that Liverpool can replicate but Juventus' masterful use of the loan system – and their monitoring of it – is certainly something that has to be looked at.
In other areas, it seems that Liverpool are already in sync. For instance, Juventus largely look at "youngest players already playing in the first teams" of clubs in those termed as second level leagues (Denmark, Norway, Sweden, Switzerland, Paraguay, Mexico and Chile). The implication is that Juventus will focus mainly on those precocious talents; those boys who are already playing men's football in these leagues. If an older player is still playing in these leagues, then he probably isn't good enough to move to Juventus regardless of how well he is currently doing.
It is arguably the same for Liverpool. Long gone are the days when Scandinavian leagues would be mined for 'talent' – Torben Piechnik, Stig Inge Bjornebye and Bjorn Tore Kvarme – to go into the first team and these days the only players who do make it to Liverpool tend to go into the youth sides.  The only exception to that rule in recent years has been Daniel Agger, someone who at nineteen was a regular in a Championship winning side with Brondby, and he is precisely the sort of talented individual who would fit into the profile set up by Juventus (and, presumably, Liverpool).
There are other similarities. When Liverpool lost out on Mohamed Salah they quickly moved to Yevhen Konoplyanka and, although that deal also failed to materialise, it does show that contrary to what might appear, there isn't just one target.
In fact, it is safe to assume that Liverpool have in place a structure similar to Juventus who at all times have forty four top targets: four players for every position with each one fitting the characteristics that the coach looks for in that particular role. Whether a move is made ultimately depends on a wide range of factors, not least that player's availability and the willingness of his club to sell.
In other words, Liverpool showed a greater interest in Salah not because he was considered a better player than Konoplyanka but because of the (justified) assumption that Basle were more willing to sell than Dnipro.
Given that they are listed as one of their clients, it is fair to claim that, like Juventus, Liverpool make use of the Wyscout platform. Basically this is a database that monitors and provides details – including videos – on players from all over the world.  Interestingly, Juventus use them as the first screen in the Top Level and First Level Leagues, identifying those players on whom they should be focusing at which point they send in their own people to have a closer look.
So what does all this show? The major takeaway is that it would appear that Liverpool's system is in-line with what happens at other big European clubs meaning that the presence of a Director of Football does not necessarily imply a different structure.
Ultimately, the value of a scouting network lies in the players that are recommended and how well these fit into the coach's vision. Juventus have done this brilliantly and, judging by what can be ascertained so far, it looks as if that is happening at Liverpool as well.
Paul Grech edits Blueprint for Football, a site dedicated at looking at the various aspects that lead to a club in being successful at developing players and which has just published 'Blueprint According To…Volume 1".
He is also working on an e-book that will tell the stories of fifteen popular and not so popular characters that have lit up Italian football. For a taster, check out this piece about Bari's starlet Hugo Enyinnaya.