by Martin McLaughlin.
NB. This is a direct follow on from the article Football and Finance, Liverpool and the Top 6 from September 2012. There is an explanation of much of the terminology at the beginning of that article and a familiarity with many of the themes raised in that article would be useful.
At the start of the month the Liverpool accounts covering the year ending on May 31 2013 were released. This was supposed to be the year when all was well, FSG had slashed the wage bill, we'd break even and financial normality would finally return to Liverpool Football Club. Ahem, not exactly.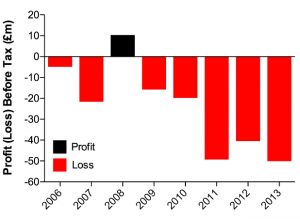 Part 1 – No Longer Exceptional
A loss of FIFTY MILLION, but how? Two and a half years of FSG-rule have led to cumulative losses of (deep breath) £140m. We've heard that the wage bill was slashed and Ian Ayre opens negotiations on transfers at £10 and a packet of crisps. It must be something else, something exceptional. Who did we fire this time? Please let it be Ian Ayre. No, no, he's still here. It's the stadium again isn't it?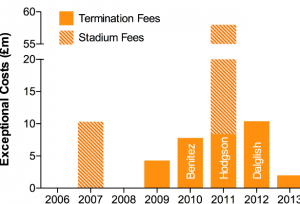 Based on the above graph we can all rejoice. We've stopped sacking managers, we've stopped spending £60m on ghost stadium designs. We're normal again. The annus horribilis that was 2010-2011 is clearly visible in the nearly £60m of exceptional costs which requires its own special stratospheric part of the cost scale. A tidy £10m was required for the Dalglish to Rodgers transition in 2011-2012, but we're down to a virtually negligible £2m now. If it's not something exceptional then what is it?
Let's get other costs (ie maintaining Anfield, offices, transport, hotels etc) out of the way first. I have previously mentioned that they tend to scale up in line with revenue and that continues to be the case. The 2012-2013 figure is 26% of revenue which is close to the 24% average. Nothing to see here.
The rest of this analysis is for Subscribers only.
[ttt-subscribe-article]