By Paul Tomkins.
Seventy-one points, and top of the league in March? You're kidding, right?
A month or so ago, once I threw off the mental shackles that told me this kind of thing doesn't happen, I felt Liverpool had to hit the front late in the season to win the title. April is a bit early for comfort, but I'm sure we'll all take it. There's always more pressure when leading, but of course, if you manage to increase your lead – either by luck or with skill – then that pressure can abate. It can get worse, but it doesn't have to.
So I ask this: can Liverpool get Dr Steve Peters in every day a week from now on? (And does he do house calls to fans?) Maybe this is our beloved club's best chance of success with his conjuring of mental fortitude, given that he'll be reduced to rubble this summer once he's worked with Roy Hodgson. (Come August, Peters will be quivering in the corner, rocking back and forth and drooling.)
Perhaps the false dawns had got to me, but I thought the Reds would have fallen away by now; instead they are getting stronger, winning an 8th game on the bounce. Fair play to Neil Atkinson of The Anfield Wrap for his positive post-match pieces, which have been both intelligent and passionate, and provide a fine document of the season's climax. My rational mind told me that this kind of thing doesn't happen anymore, since the mega-rich moved in; that teams don't jump from 4th to first, let alone 7th to 1st; and yet it seems to be happening.
It's good to be proud of your team again, to love how it's feared by opponents, to see Anfield as a fortress.
Vision
It feels like the good times are back, whether the title arrives or not. A handful of years ago Liverpool had lost their way largely because of terrible owners with no vision or intelligence, just greed. It struck me after this match that it's fair to say that FSG have helped to change that. Even if you don't like them, they're better than the last lot; that's the worst thing anyone can say about them. They helped get them out, and set about changing things.
When FSG pitched up in Boston just over a decade ago, they took over a club that hadn't been champions since the conclusion of World War I (that's World War One). They swiftly ended that wait, and have landed another two titles since. Two years ago it all seemed to have gone pear-shaped, as the Red Sox became a bit of a shambles, but they made radical changes, and within a year they'd become the best again. I don't know enough about baseball to know precisely how they did it, but you'd expect all this success to be more than mere coincidence.
Now, it's not credible to say that FSG are the reason the Reds are top with six games to play; and some fans won't have anything to do with any American owners after the last lot. But it's not a bad habit to have, to go places and things fall into place soon after. As I noted on here in 2010, thanks to the tireless updates on American sports by TTT's elder statesman Jeff Reed, it's not something that happened with Gillett and Hicks, who tended to go places and screw things up.
It struck me after the Spurs game how many big calls FSG have actually made, and how things have tended to work out in the long run (whilst acknowledging that the 'long run' is still running). Of course they've made mistakes, as does everyone in life. And things can quickly change in football. But this revival started with their arrival.
Personally speaking, I'd have gone for someone more experienced than Rodgers two years ago, and definitely not had the bottle to replace the 'unsackable' Kenny Dalglish, whose inspiration I felt was needed after the dire days of Hodgson, and who probably deserved more time (there's that deserving more time refrain again).
While FSG didn't handle the firing at all well, coming at a time of the Being:Liverpool fluff, you have to say (without knowing for sure how things would have panned out) that it looks an inspired move. Thankfully Kenny is now back in the fold, beaming from ear to ear, and everything feels right in the world again. On merit, Liverpool are top of the league, and although City have the better points-per-game, they still have to visit Anfield.
Remember, FSG were also seen to have cocked up over appointing Damien Comolli as Director of Football, but along with Dalglish he bought Suarez and Henderson, two standout performers within the Reds' best XI this season; players who now look like bargains.
I suspect that in January 2010, most of us would rather have kept Fernando Torres. Indeed, I also thought Brendan Rodgers was hasty in offloading Andy Carroll and leaving himself short of strikers last season, but again, it seems to have worked out for the best, so you have to say it was the right move. As with Dalglish playing Henderson out wide, rather than leaving him on the bench, sometimes the experience is valuable, even if you're not getting results at the time.
In a litany of mistakes I would have made, I'd have also sold Luis Suarez last summer, given that he wanted away, and hadn't really been as prolific as he should have been. I envisaged an unhappy player sulking on the sidelines, his value dropping by £5m a month as, with a toothpick, he dislodged bits of Branislav Ivanovic's arm from between his second and third molars.
But no, John Henry personally warned off Arsenal (laughed off Arsenal?), and Brendan Rodgers rehabilitated the player, stoking the Uruguayan's incredible desire to run around and do crazy things with a football.
More than any incoming transfer in the last ten years, this "bit of business" from owner and manager has ended up defining Liverpool's season, and from there, perhaps its future. It could yet land the title, it was that good. (Of course, Suarez deserves a lot of credit for knuckling down, and just being so bloody good at what he does.)
In 2012 FSG wanted either Rodgers or Roberto Martinez, the two star managers of this season. It's worth remembering how brave that was, because it certainly made me nervous. Maybe they got lucky in that they didn't get the more experienced elder head as a Director of Football, with Louis van Gaal – a great mind, but also a ticking time-bomb – linked with the role, but instead, a transfer committee was put in place, and overall, it's been money well spent, with no big-money flops since the Andy Carroll debacle that preceded it.
It's true that FSG haven't bankrolled this revival in the ways that richer owners have done at Chelsea and City, but they have all the same invested in the club and tried to safeguard its future. Quick-fixes like Clint Dempsey were eschewed in favour of much younger internationals like Philippe Coutinho and Daniel Sturridge; hungry players, out in the cold elsewhere, brought into the warmth.
Turns out these players also fixed things pretty quickly, too.
No obvious corners have been cut, and yet, despite a side that costs half of those at City and Chelsea, and with a far lower wage bill, the Reds have risen to the top of the pile. The worst we can now surely expect in 2014, bar some horrific collapse, is guaranteed Champions League qualification. (All those extra games may pose a new problem, but let's not cross that bridge just yet.)
None of this is to say that anything has been achieved just yet, or that FSG don't have issues they need to address, but I believe in giving credit where it's due. I find it hard to believe that Liverpool are top of the league in spite of the owners or the manager. It's hard to say something positive about owners and not get a backlash, but we've seen how toxic bad ones can be.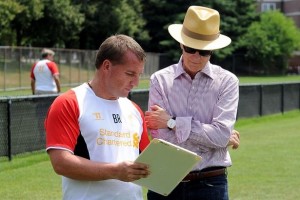 Rodgers' success this season may have surprised FSG; hell, it probably surprised Rodgers, who admits that his side are a year ahead of schedule. I certainly didn't expect to see a side that would break post-war goalscoring records, or even get close. (The following is a tweet by Miguel Delaney, relating to league goals-per-game since 1945: Liverpool 13-14 2.75; Spurs 60-61 2.73; Chelsea 09-10 2.71; City 13-14 2.67; Spurs 62-63 2.64; Wolves 58-59 2.62; United 99-00 2.55.) Who saw that coming?
Even though the Reds won the first three games back in the autumn, they weren't playing too well; but in 2014, it's been an almost constant stream of joyous, inventive, quicksilver football. And when the mojo was absent, as seen in midweek against Sunderland, the result was ground out. That's how it's done, this winning business. One thing I did suggest was that the defence tighten up, otherwise it'd be hard to prevail. Since then we've seen a return to racking up a few clean sheets here and there, much to Linda Pizzuti's delight.
For all the excuses at Chelsea, where they have Eto'o, Torres, Ba and Lukaku on their books, it's worth noting that just 14 months ago Sturridge was seen as a Stamford Bridge reject and Suarez a frustrating finisher. It's easy now to label them as obvious greats, just as Liverpool were the only team to make a serious move for Fernando Torres back in 2007. Mourinho has an attacking midfield pool containing Hazard, Oscar, Lampard, Willian and Salah, plus £18m André Schürrle, who plays in either a forward or wide position, yet they keep dropping points. What's your excuse again, Jose?
For all his famed motivational powers – and he does know how to gee a team up – Mourinho hasn't fashioned anything near as exciting or stylish as this Liverpool side, with far greater experience and resources. The one thing you usually get with Mourinho is a fight, and I didn't foresee his side meekly surrendering at Villa and Palace, to open up a race in which they should have been over the horizon. Rodgers still doesn't have Mourinho's cachet, but the apprentice is getting closer to eclipsing the master. The Ulsterman is adopting some of that swagger, and the swagger fits.
Rodgers is now in a positive feedback loop, where players who heard him talk a good game, which got them semi-believing, will now know that it wasn't just talk. Their belief in him will only increase as he gives them the tools, and the freedom, to play their best football and bathe in the warm glow of a blissful Kop. Unless something breaks that belief, this young team, with its young manager, should get even better in the long-term. The surprise is just how well they're doing now.
If Liverpool do win the league, the team will be spoken of in the same terms as the revered, flamboyant 1987/88 vintage, the achievement ranked alongside Istanbul. It would be that big.