By Anthony Stanley (TTT Subscriber Dannyluke10).
The hope doesn't just kill you; it slowly crushes you in its deathly coils; it caresses you in deliberate, velvety torture.  It kisses you with poison-coated lips, hugs you with manacles of iron. It seduces you and then, like some dark incubus, snuffs out your life as you dream. It whispers promises of glory into your ear as you lie prostrate; it is Smith in Orwell's room 101; it is knowledge of the rat ready to pounce. You live with this hope every minute, every day; it's so much larger than you are and encompasses your whole being. You're enveloped in fatal wonder, suffocating doubt, lingering thoughts of what might be. We tell ourselves that we cannot allow ourselves to hope and we try to contain it, wary of everything that could burst forth in its wake, like Pandora's Box in reverse.  So we fight the hope, we try to shut it away, we attempt to smother it.  But the reality is that you may as well try to extinguish a forest fire with a water gun.  The capering, mad little voice within all of us will not be suppressed.  Hope may be what keeps the donkey lumbering after the carrot but it is also what keeps the planet spinning on its axis; this is the price we pay for, in a footballing sense, feeling so alive as we do this season. The hope may kill you but it's worth it. As David Gray sang:
"Shining till its walls come tumbling down

We were born with our eyes wide open

So alive with wild hope now

Can you tell me why…"
When's the last time you felt so alive in supporting Liverpool, with hope and the grim reality of likely despair juxtaposing so effortlessly? Probably the madness of Istanbul in 2005. But that, for all its ecstatic torture and heavenly denouement, was two hours. The build-up may have been weeks and you may have wrestled with similar feelings to those occurring now, but ultimately it paled in comparison. This has been a slow burner, a wilful refusal to accept that we're in a title challenge until we have no choice. This hope has crept up on us despite our refusal to entertain it and for many of us has resulted in slight madness; behaviour, that in any other walk of life might be considered obsessional. No, scratch that – let's not kid ourselves here; it is pure obsession. We've been carried away on the wings of this crazy season and exponentially our behaviour has gotten madder as the hope keeps the wings beating. Just watch out for that sun.
This is what we do:
We put the kids in the car to bring to school and suddenly, out of nowhere, that hope rears up. We feel a crazy flip in our stomach as we contemplate the seemingly impossible. We put it away for now, knowing that it will come back; that which, at the start of the season, was an ephemeral notion – shooting through our minds and quenched with giddy good sense – has now taken on a life of its own and is self-aware; it will haunt you. We ride the train on the way home from work, feverishly scrolling through reading lists on our phone and nodding in satisfaction or metaphorically wailing in fury as a pundit gives an opinion that we either agree or disagree with.  We curse football pundits and journalists whom we have admired and really they cannot win – whether they say we are in the title race or shouldn't be considered contenders, we can find reason for our righteous ire. We feel a glow of admiration as those we have dismissed as moronic before, or who have rankled over the years, claim Liverpool are great to watch or that Rodgers is doing a great job; we feel fleeting kinship with these fools and have to fight it. We pause the never-ending loop that is Sky Sports News to tend to a wailing child because there has been a mention of Liverpool. We're reduced to near tears of anguish and frustration as a dodgy stream of the match stutters and lags, just as Suarez receives the ball. Or even if the opposition have the ball – every second, every minute of every game is now vital. Every match brings trepidation and near palpitations, we're drinking too much in the build-up to the game as we oscillate between calm and panic. Even if we watch the match in the comfort of our own home, sitting has now become a luxury that we ignore.  5-0 up and we're still pacing the floor, veering between pride and frustration. During the week we go through every fixture for the forthcoming weekend and every match that our rivals are involved in is an exercise in torture; not quite as keen as our own matches but there's bountiful anxiety there, no doubt about it. Our adversaries now are legion; compared to the last title push, City, Spurs and Everton have joined the party and so we can, quite literally, spend the entire weekend with our hands covering our face.  We wake during the night and can hear our breathing and the ticking of this hope. It is the dark night of the soul and we are helpless in its grip. We've even begun to feel soiled as we do something that was previously anathema; scouring opponent's websites for some indication of how they view us. We feel like crying when our captain asks "why not" and feel genuine affection for our manager when he utters 'like I say'. That's what this Liverpool team have done to us. And it is glorious.
False dawn; a phrase that has become synonymous with Liverpool since 1991. It's why we fight the hope and indulge in a laissez faire attitude. We remember the team of Roy Evans, the glorious aesthetic of their passing game and their ultimately soft underbelly. We remember Collymore lashing home against Newcastle to put us 4-3 ahead as Keegan floundered in his seat. We then cast our minds back to Coventry City beating us in the following game. We think of Liverpool destroying Manchester United in two league games in 1996, Robbie Fowler all swaggering goal scoring genius and then we remember the FA Cup final that year when Cantona (and our own self-indulgence) destroyed our hopes.  We recall Houllier and 'ten games from greatness' as we pursued a relentless Arsenal side.  Then there was the following season when we looked like contenders, when our rivals were sitting up and taking notice, and we imploded in a bloody mess of poor signings. We remember Benitez and his magnificent team who reached their zenith in the glory of 4-1 in Old Trafford as we chased the Mancs all the way to the summit. And then we foundered the following season and before long the club's very existence was in doubt. Yep, we've been indoctrinated to fight against hope; it's what Liverpool fans do.
But hope is what supporting a football team is all about and, no matter what the more pragmatic voice inside us insists upon, miracles are possible.  As Liverpool supporters we know this more than most.  Sometimes, just sometimes, it is written in the stars, it is destiny and we can feel its shallow and whimsical grip on our souls.  This feels like one of those times doesn't it?  The impossible can be done as Istanbul taught us. But that was just one game, or to be more accurate, one crazy second half period when the gods of football beamed down on us as if to make up for all our previous heartache. What about the treble season? There's a reason that no other club have collected three cups in one year and that's because it's very difficult to do and bloody unlikely. And we didn't defeat some vague, little known Eastern European teams on the way to the (still creditable) Uefa Cup. No, Barcelona, Roma and Porto were put to the sword. In the FA Cup, Leeds and Arsenal had to be overcome and the latter, in the final, was slightly miraculous in itself and reeked of the magic that Liverpool do so well. Even with all this going on, we were still marching towards our Champions League debut and battled to finish third. That season had the hallmarks of destiny alright and was full of those unforgettable moments that characterise us when we're in the middle of something special. Don't believe me? Exhibit A: Gary McAllister's forty-five yard free kick to win a pulsating Merseyside derby in the final minute. Exhibit B: Steven Gerrard's Anfield missile against the Mancs and Danny Murphy's free kick in the reverse game as we chased down third.  Exhibit C: the final league game after the exertions of the FA cup final and the momentous Alaves final in Dortmund.  Away to Charlton Athletic in a must-win game and, after getting pounded in the first half, Robbie, Houllier's pariah, the square peg in a round hole, improvises with an overhead kick and the game finishes 4-0.  Magic moments in a season that, just like this one and right from the start, felt like we were on the cusp of something truly special.
So yes, sometimes the hope will kill you but also the odd time the unlikely and downright impossible becomes a reality. As Liverpool fans we have intimate knowledge of the strange workings of fate. I try to fight this rising feeling, I try to tell myself that we should be delighted if we can actually secure fourth spot this season but I can't. I can't let go of that obstinate hope. Because it feels right. Twelve years ago Houllier said we were ten games from glory and that's where we find ourselves now. Who's to say this crazy Liverpool team can't do it? We shouldn't have beaten Spurs by five goals, we shouldn't have put four past Arsenal in twenty surreal minutes, we shouldn't have utterly destroyed a resurgent Everton with what looked a frail midfield, we shouldn't have gone to Stoke – Stoke! – and scored five goals. We shouldn't have conceded three to Swansea and still emerged victorious. We shouldn't even have Suarez now, if you believe the dark noises as Arsenal fans whisper conspiratorially to each other. We shouldn't be fourteen points ahead of Manchester United as they prepare to face us at Old Trafford; for the first time in a generation afraid of our attacking threat which is more potent than theirs. We shouldn't have won the league.
The hope may kill you but, before you die, you'll never have felt so alive. After years of being anaesthetised, that's not a bad trade off.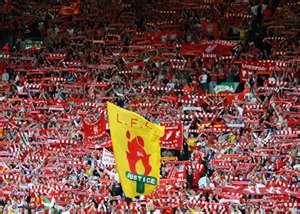 With hope in your heart …