By Mihail Vladimirov.
Both managers made only one change from their previous league games. Solskjaer replaced Noone with Bellamy, which morphed Cardiff's formation from the 5-4-1 diamond seen against Everton to a 3-1-4-2. For Liverpool Sterling was replaced by Coutinho at the tip of the midfield quartet.
Formations
Apart the goal-scoring fiesta, what this game provided was not so much an interesting  as a clearly unusual tactical battle. The main reason behind this was the strange (for the English league) formations both managers deployed. When we talk about a team playing 3-1-4-2 facing an opponent with a 4-3-1-2, it's easy to assume the game is from either from the Italian Calcio or some of the South American domestic leagues.
What was more peculiar was that this wasn't the first time Cardiff and Liverpool have used such formations – it just goes to show the ever increasing tactical flexibility seen in England. Previously the main diversity came from the wide range of styles deployed by the different type of teams. But recently, we are seeing that more and more Premier League teams are trying to find a further edge in using different formations to account for the opponent's strength and weaknesses. In addition, some managers showed they are keen to use unorthodox formations to just emphasis on their side's best tactical aspects, as well as fielding the majority of their best or currently in-form players in their natural positions. Clearly one of these managers is Rodgers, who throughout the current campaign has varied his formation to either compensate for the loss of certain players or try to fit in as many as possible of his best players on the pitch. Another such manager is Martinez, specifically during his time at Wigan. Back then the Spaniard introduced the 3-4-3 (and its different incarnations, including 3-1-4-2, 3-4-1-2 and 3-5-1-1) out of necessity. One of his prime reasons was to bolster his side's attack by often fielding a genuine front pair without upsetting the team's ball retention due to always keeping a midfield three. In addition, providing a third man at the back helped solidify the shaky defence.
Based on the selected formations and starting XIs here, it was easy to set out certain main aspects that were expected to form the framework of how tactically this game would pan out. There was Liverpool's 4-v-3 midfield advantage and the curiosity of seeing how the visitors would exploit that to compensate for Cardiff having a spare man at the back against Suarez and Sturridge. Then there was the expectancy of seeing Bellamy and Campbell run 2-v-2 at Agger and Skrtel, therefore the question whether and how exactly Gerrard would offer any defensive assistance to prevent that danger.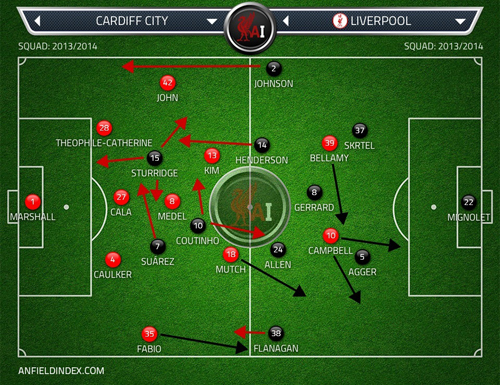 Cardiff's attacks
As expected, Cardiff approached the game with a reactive strategy, opting to sit back in 5-3-2 formation and look for ways to involve their front two on the break. The opening period of the game saw that plan working nicely. But instead of this being a result of how brightly the hosts started the game, it was more to do with Liverpool's sloppiness in possession and their poor positional play when defending. Every time the visitors made a poor pass, Cardiff would be quick to regain the ball with a quick pass towards Bellamy or Campbell following.
The rest of Mihail's analysis is for Subscribers only.
[ttt-subscribe-article]