By Ben Feltham.
I'm writing for only one thing these days; the league title. Frankly anything else seems too prosaic. So this is an exercise to explore at once a whimsical and profound question – can I help? And you, dear reader, can you?
Can I, can we, with words and deeds, affect the destiny of Liverpool Football Club? Maybe it's misplaced ego, or the lament of a frustrated footballer, but I want to be more than a consumer of this title push. I want to help, but can I, can we?
Let me point to a watershed game where we indisputably affected the outcome. Tuesday 3rd May 2005, Liverpool vs Chelsea, Champions League semi-final second leg. It was the third minute when Garcia broke the net ;-), the other 90- odd was largely on us – more on that later. What price for the repeating of history a week short of nine years on, and the chance of another watershed game?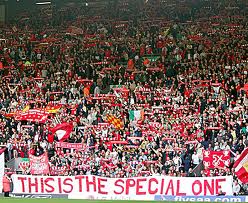 I'm calling this now. This season, this period maybe, is going to be about Liverpool and Chelsea – for a myriad of reasons, some of which I'll try and illuminate here. And there is extra satisfaction in that surely; yes our hatred for United will always be as deep as an ocean, but it's the hatred of cousins, swimming in a bitterness than only comes from an amputated family. This thing with Chelsea, it's the hatred of the Other, and even sweeter for the making of your spurned sibling jealous for not even being in the conversation. Worry not United, we've been there, been there for most of the last quarter century in fact. You sit in now, enjoy it. City? Forget it, we can't find it in ourselves to hate them, despite everything, and there is more empathy than enmity with Everton these days for a titanic rival. No, it's a big call but I think it's going to be the rivalry with Chelsea that will come to define this next period for us, and maybe, if we're lucky, the Premier League.
It begins with Mourinho and Benitez of course, both men embodying their warring cities which stood behind them, Benitez the outsider, the non-conformist, Mourinho with all the swagger of a Malcolm McLaren boutique on the Kings Road, as comfortable in his setting as the warm and cushioned seat of the moped that Paul Weller has just disembarked. We, living vicariously through their savage rivalry. The Gerrard woo, the Carling Cup final, the OG, the Shush, the CL semi-final and the next one and the next, Torres, the FA Cup Final, Rodgers, Sturridge and on it went; and so to this season ….
Harmony
Back in August I remember John Barnes had a three-minute slot on TalkSport, and dropped a message so pure in its depth, it prompted me to write. I paraphrase, but he said that there is one ingredient that is overlooked when judging a football club – harmony. He said it's amazing what can be achieved when everyone pulls together, the players, the management, the fans, the ownership; he talked about the umbrella that Ferguson (and to a lesser extent Gill) provided for everyone to gather under and walk with unity. He contrasted that with the frankly astonishing job Benitez did in getting Chelsea the Europa League Cup (their first ever) and a third place finish in the Premier league amidst an atmosphere of hostility and in some cases outright hatred. You contrast that Chelsea with the one that stepped out onto the Bridge for the opening match of the season; The power, the energy, the love emanating from Stamford Bridge that day seemed to make the result and the performance a foregone conclusion. Hull were practically an irrelevance, like a self- fulfilling prophecy, if everybody, I mean every single body wills it, not passively, but loudly, proudly, joyously, then this thing that they are expecting to happen, will happen.
Apparently, through the discipline of Quantum Physics, they have proved that the simple act of observing something, atoms and the infinitely small; just by watching them, we change the way they behave. Paulo Coelho wrote, 'Once you decide to follow your dreams, the universe conspires to help you' (The Alchemist), Does then one thing lead to another? Should we aspire to be the agent in the prophecy that fulfils itself? Anyway, we know about harmony, we're the Zen fucking masters of it; we've seen this Mourinho before, that same swagger, that same following, that 33 points better team, but Chelsea, you were stepping into our world now, and we're channelling the echoes of a time gone by. The muscle memory of the Kop twitched and pumped and you got blown away. That's the power of the mob, well our mob anyway, and like the saying goes, those things that you dream of we have already achieved.
Mourinho has lessened and then strengthened again his grip on the Chelsea mob through the course of the season. The thing we can't get away from is that, despite any protestations, Rodgers is a Mourinho protégé, which we see particularly in his use – or lack thereof – of his squad. Mourinho has talked many times about his preference for a small, 'tight' squad, two players per position, and when finding his team, changing it sparsely; Benitez is much more a practitioner conscious of the wear and tear of games, and the advantage gained through physical freshness. I defer to Rafa on this one, the act of loaded physical work is an act of damaging muscle tissue, if then the nutrition and rest is correct, the tissue grows back stronger/bigger/faster, depending on the mode of training. So it's judging the rest that's key, and Rodgers has sometimes taken a mis-step here with games in quick succession.
To 'Perch' or not to 'Perch'
Yes Brendan is a Mourinho protégé, it is though thankfully in the Luke and Anakin mode. Ferguson created a powerful Demanding Purpose in his proclamation that he was going to 'Knock us of our fucking perch', Mourinho announced himself as the Special One. There has been no such statement from Rodgers. I have in the past urged for one, knowing the man cedes no ground to the aforementioned in ambition. But no, as time goes by, I'm glad he has taken the more conciliatory route, this is his nature. He's a collaborator, aiming to under promise and over-deliver. Ferguson and in particular Mourinho's pronouncements were more about themselves. Rodgers on the other hand talks exclusively of the Group. He's not passive in his PR though; note his latest catchphrase any time he talks about a home fixture 'well we have an excellent record here, 9 wins and 1 draw etc.'. He repeats this ad nauseam. It's for effect though, it's a branding exercise – establish the fact that we are dominant at home, you come to this ground and know your place. He is slowly becoming supreme on the mic. He has poetry, but his appeal is intense because he deals in truths.
Mourinho at times has seemed to want to be Rodgers, talking early in the season about hatching eggs, and his bold young team, yet he plays full established internationals and big money signings. He has already set his sights on us, talking about the advantage accrued by our lack of European football (and the media lap it up like the tail that's been wagged by the dog); Rodgers' retort? (over-reliant as it was on that outdated rational, logic)– 'show me an example of a team that wasn't in Europe that has won the league'. Brilliant. At some point though, Rodgers is going to have to play this battle out more directly, maybe not yet, but soon. We'll be there Brendan, our bond is fast becoming unconditional, this is where we live, we like it on the outside.
Youth Movement
Rivalry creates momentum, like Benitez vs Mourinho, which in turn brought Wenger and Ferguson to new heights, resulting in the English top flight dominating Europe for five years. We have a nice little internal rivalry, Coutinho and Sturridge shooting off against Suarez and Sterling, mirroring the Barnes, Beardsley vs Aldo, Houghton 'rivalry' of the late 80s. One key difference of course is age; the 1987 signings were between 24 (Barnes) and 29 (Aldo) when they signed, where our latter-day heroes are between 19 and 26 and in contrast to Mourinho's fantasies, we actually do have a team full of young warriors who have been bronzed not burned by the fire, and a manager whose platform is built on making players better. Take a look at the below.
Flanagan – Sakho – Illori – Robinson
Henderson – Allen
Sterling – Coutinho – Ibe
Sturridge
Kelly – Wisdom – Coates – Smith
Coady – Alberto
Assaidi –   Suso –   Teixeira
Borini
That's an under-25 squad. I don't need to write words here, the sheer gloriousness of that latent power acts as a massive one-finger salute to other teams in the country that don't have a young group as good as this. That's all of them. We're standing at the top of the pile, the missing ingredients are just time and harmony. Oh, and belief.
Malcom Gladwell in his 2000 book defines the Tipping Point as the moment of critical mass, inch by kinaesthetic inch a movement is created, and at a certain point, a watershed. The inertia becomes irreversible and things change. This feels like that, like something is changing, has changed. I think it's as much to do with us as the team. We now believe, don't we? And as we believe, like a contagion, they believe. That talk that the Kop used to suck the ball in, that wasn't just talk, it's the fulfilment of the loud and joyous will of 45,000 souls thinking as one in an act of alchemy; turning steel into gold.