By Paul Tomkins.
One thing is inarguable right now: Liverpool look like a team on the up. Despite losing to Arsenal in the cup, it was the second time the Reds had outplayed the Gunners in just over a week. The score over the two games was 6-3. However, a week ago I outlined the reasons why I don't see the Reds winning the title, although since then the second halves against Fulham and Arsenal have suggested that Rodgers' side could perhaps overcome some pretty steep odds.
After all, but for the inexplicable myopia of Howard Webb, Liverpool would have had an almost-certain equaliser, given the reliability of Gerrard from the spot in the past few years, and another marker would have been laid down. Yes, Suarez didn't need to arch his back, but remember, footballs are kicked at 80mph, and in trying to blast the ball away as hard as possible, Oxlade-Chamberlain was only ever going to send Suarez flying once contact was made; he was lucky he didn't end up in Row Z.
Liverpool are getting into the kind of groove they managed in the spring of 2009, when everyone bar Arsenal were beaten in the run-in. But as with then, my sense is that the title will go somewhere else on account of another side also mopping up points. But we shall see.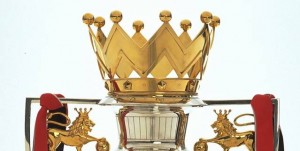 As someone on TTT reminded me earlier this week, at roughly this time of year in 2005 I said that Liverpool could win the Champions League, and explained why. Of course, in my heart I never expected it to ring so true – although I did state that I was almost certain we'd beat Chelsea if we met them.
Equally, a few months after that pronouncement, I wouldn't have bet a penny on the Reds coming back from 3-0 down at half-time in Istanbul; like every other Red in the Ataturk I found solace in You'll Never Walk Alone, but I was hoping for 3-1, maybe, and certainly praying to avoid 7-0.
It's important to dream, but my last piece was about the unlikeliness of Liverpool winning the title; and was just as much about what an incredible achievement it would be if the near-impossible happened. It was not based on a hunch, but on years of looking at how teams win the title; and in the last couple of decades, it has been richer clubs with experienced managers who were in the top three the year before. Even Arsenal in 1998 were an expensive side, when compared with others at the time. It's not impossible for Liverpool to buck the trends, but it's highly improbable.
For me, freak games are more common than freak title races. I feel it's wrong to take a game and say "look, anything can happen!", extrapolating it to a season, because weird shit happens in 90 minutes. It rarely happens over thousands of minutes.
Istanbul was a miracle, but it required just one team to get complacent and/or nervous in that second half, and one burst of Herculean effort from the other team. According to TTT's resident database guru Graeme Riley, on only six occasions has a Liverpool side come from 3-0 down to avoid defeat, out of the 283 occasions it has faced such a predicament. (These are: 1951 vs Middlesbrough; 1952 vs West Brom; 1992 vs Chesterfield; 1994 vs Man Utd; 2002 vs Basel; 2005 vs AC Milan.)
So Istanbul was almost a 50-1 shot, and maybe greater odds still when considering the strength and experience of the opposition, and the magnitude of the occasion. But equally, Liverpool have come from three-goals down to avoid defeat in the Premier League era four times (1992, 1994, 2002 and 2005, three of which were in cup competitions), and yet no team in that same time has landed this country's title without a manager who'd already won a major league title and with the team going fairly close, in terms of league position, the year before.
As I noted, no-one has risen from 7th to 1st since the good old days, before money became more of an issue. This is not to say that it is therefore impossible, just as it's not technically impossible for a defender to finish the top scorer in the Premier League. It just doesn't really happen.
Having said all that, Liverpool have a first XI that compares well with almost anyone, in a season of underachievement for some clubs. (Although you have to say that after Spurs' mini-revival, allied to the fact that they have the best away form in the division, it's only Man United who are way below expectations, even if no-one is running away with it.)
So, if this is to be a miraculous, trend-breaking season for Liverpool, what would the key factors be?
The second half of this article is for Subscribers only.
[ttt-subscribe-article]