By Mihail Vladimirov.
Pepe  Mel made a host of changes for this game following the defeat in the derby against Aston Villa in the previous game. In defence Jones and McAuley were reinstated with Lugano and Reid benched. Morrison and Anelka were both out due to injury so Gera and Berahino started, and Vydra replaced Anichebe in attack. With Gera playing closer to Vydra and not the midfield duo, the formation changed from the previous 4-2-3-1 to more of a 4-4-2.
Following the comprehensive win against Everton it wasn't a surprise to see Rodgers continuing with the same XI and 4-1-2-3 formation.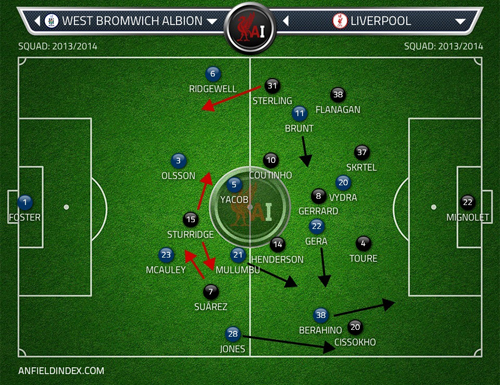 Bar a few situations of really good movement interplay and passing fluency – mainly from Liverpool – there wasn't enough technical quality showed by the teams. Without a doubt the poor state of the pitch and WBA's efforts without the ball played a large part in that but as a whole neither team impressed on that front.
Tactically the game also struggled to provide great entertainment or much to take away and remember fondly, especially compared to some of Liverpool's previous games. The main tactical interest came from how proactive WBA were throughout the game in terms of their general strategy and in-game changes, as Liverpool always looked to be trailing and playing catch-up on that front.
WBA's starting approach
Pepe Mel's starting XI suggested his team could line up in two different ways. They could have started either as 4-4-2 with Gera on the right flank and Berahino partnering Vydra in attack, or go for a 4-2-3-1 with Gera ahead of the double pivot with Berahino down the right side. In reality it was a cross between the two variants, which provided the first wave of tactical interest in the game.
WBA's proactivity in this game was mainly visible from their behaviour when they were without the ball. Evidently the home team had clear plans how to act depending on whether the ball was in Liverpool's defensive third, entering the midfield zone or going to enter their own third.
In his interview just before the game, Pepe Mel briefly hinted on his plans to isolate Gerrard and mark him out of the game, aiming to diminish his overall influence. As the game started it quickly became obvious how the Spaniard's idea transpired on the pitch. Gera started central but was so advanced with his positioning that he looked more like a second forward than a third midfielder. However, the way he mixed his general movement was crucial in his manager's plans. When Liverpool tried to build from the back with Gerrard dropping near the centre-backs, both Gera and Vydra would position themselves so that one of them stayed near him and the other moved in the way to block the path of the ball towards him. They could often be  seen turning around to see where Gerrard was, where he was moving towards and which of the centre-backs was going to receive the ball. Then they would both quickly re-position and get on with their specific marking duties.
The rest of this article is for Subscribers only.
[ttt-subscribe-article]