By Mihail Vladimirov.
Both managers selected the expected XI. With Johnson back fit and immediately reinstated in the team, it was unsurprising – and arguably warranted – to see Cissokho benched. Still, it was interesting to see Flanagan retained on the right with Johnson put on the left. The front three was once again re-shuffled, this time Suarez used through the middle and Sturridge narrow on the right.
For Swansea, Monk had rotated his team to give some of his players a breather but also deal with an unexpected injury. Ben Davies was injured so was replaced by Neil Taylor at left-back. In midfield De Guzman expectedly replaced Canas alongside Britton, with Shelvey given a start in the advanced midfield spot. Dyer and Pablo Hernandez were both fit to feature, although only the former started – meaning Routledge (for a fourth consecutive game in 11 days) played on the left.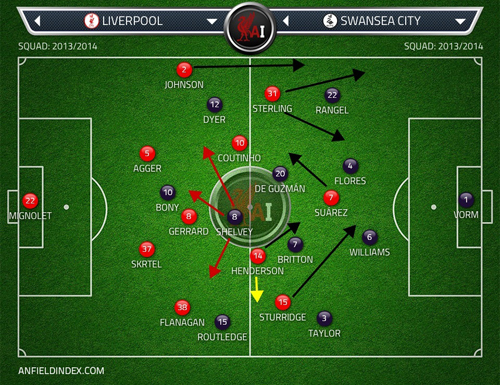 Liverpool starting reactively
Pre-game, one of the most curious tactical aspects of this game was how exactly Rodgers would prefer to approach this game. In essence, Liverpool's manager could have chosen from three distinct – but arguably, equally suitable approaches based on how he expected Swansea to play – strategies: starting attackingly reactive, cautiously proactive or with a clear gung-ho mentality.
The latter approach would have aimed to simply overwhelm the opposition in the opening 15 to 20 minutes, trying to score an early goal or two before switching to drop deep and play on the break. With Swansea expected to be feeling tired following their efforts in the Napoli game two days earlier, Liverpool were going to use their freshness to put them under immediate pressure on and off the ball, playing at quick tempo and simply looking to overload them with wave after wave of fierce attacks.
Cautiously proactive would have meant Liverpool being expected to be much calmer and methodical in their overall approach, looking to gradually develop their attacks and carefully spread in attack. The main aim would be to completely control the game with the ball and by intelligently probing in attack, looking for ways to eventually open up Swansea's defence. For this to happen, though, the players would have needed to press fiercely when losing possession to quickly regain the ball and continue with their patient possession-based approach.
Anyway, just like in recent weeks, Rodgers opted to continue with his reactive tactics. However, instead of having his team play negative or defensive football, Liverpool continued to use Rodgers' approach for mainly attacking aims. Overall, the strategy was simple, but highly efficient. Liverpool were to drop back into the 4-1-4-1 formation, looking to invite Swansea to spread out in attack, before timing their ball-winning efforts once the visitors transitioned in attack with the full-backs and the two midfielders crossing the central line, thus leaving space in behind. After possession was regained, Liverpool were expected to attack swiftly with direct passes and lots of midfield runners supporting the attacking moves. Next, when Liverpool were to get hold of the ball – for example following short goal-kicks or if the quick counter-attack wasn't 'on' – the players would recycle possession in deep areas, luring Swansea to close them down for a gap somewhere in the attacking position to open and be quickly exploited with a sudden switch of the play. All of this meant that both in and out of possession, Liverpool had clear routes for creating dangerous attacks.
On an individual level it was interesting to observe how Rodgers has re-shuffled his team in terms of certain players' positioning but still kept a perfectly balanced unit capable to provide both the required defensive stability and attacking edge.
Having Johnson (and not Flanagan) on the left with Sturridge (and not Suarez) on the right helped create the following fascinating attacking patterns. Not only on were they superbly executed by the players, but in terms of their idea and aims, were perfectly suitable to exploit Swansea's principle defensive weaknesses – the lack of a true midfield holder and Chico's overly proactive and aggressive positioning. From his central position, Suarez was often seen dropping to the left channel, trying to drag Chico further out of his position. This signalled Sturridge, from his narrow starting position on the right, to start making diagonal runs in order to occupy the space just left by Suarez; effectively ending as the de-facto main centre-forward. In addition, Henderson was always ready to powerfully surge forward and add the secondary direct attacking presence in and around the box.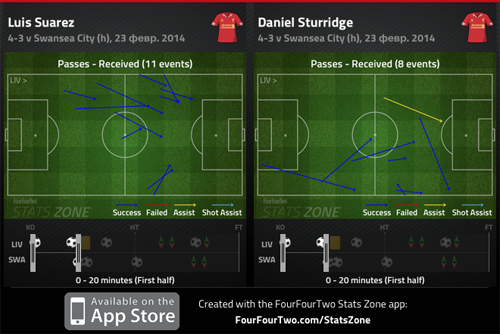 These three players – and the constant whirlpool of off-ball movement they created in central areas – were keenly supported by Johnson and Sterling working in tandem to overload the left flank. As is often the case when these two are playing together – usually on the right flank – both of them would take turns who to go on the outside and who to cut infield; who to drop deep and pick up the ball, taking part in the build-up play, and who to bomb forward. The duo on the left was often supported keenly by Coutinho, who was drifting towards them to further help overload Swansea on that side. As a result of this triangle, the players created some nice passing exchanges, which were the basis for Liverpool's supremacy over there.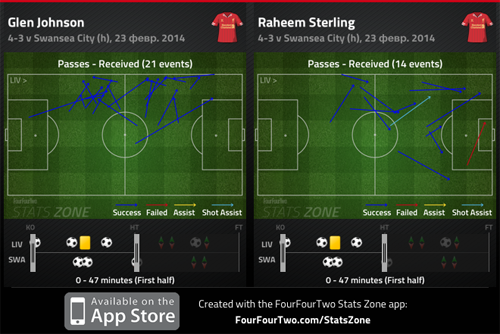 Liverpool were so bright when attacking down the left, and this had defensive repercussions too as it meant Rangel and Dyer were pinned back and forced to do extra defensive work. This robbed Swansea of their best wide outlets and most dangerous attacking pair. On the opposite side, the defensive balance was brought by Flanagan. By staying deep and rarely venturing forward, he was necessary cover for the fact that Sturridge was often vacating the space down the right flank, leaving Taylor free to bomb forward from deep. In addition, Henderson on occasion keenly drifted wide to support Flanagan and prevent him being overloaded in the same manner he was in the FA Cup clash against Arsenal (when Monreal and Podolski often teamed-up to repeatedly have a 2-v-1 go at him). Flanagan was rarely used even in the build-up phase, as Liverpool's attacks were obviously geared up towards the left flank (Johnson and Sterling) and through the middle (Suarez and Sturridge, helped by Henderson).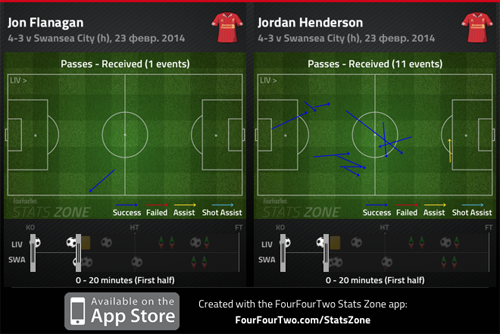 Inside the opening twenty minutes Liverpool created several attacking moves, all stemming from how tactically Rodgers has set out his team to perform. The first goal was a perfect example of how the reactive strategy, coupled with the specific movement patterns brought by the players, played out in reality. Liverpool dropped deep, luring Swansea to spread forward with both of their full-backs and central midfielders pushing on. Then in the perfect moment, Sterling timed his ball-winning efforts, closed down Rangel – who was advancing with the ball – and robbed him of the ball. Once in possession, Sterling quickly moved forward, sending Sturridge through on goal in the space vacated by Chico dragged out of position by Suarez dropping deep and to the left. The second goal came from a similar build-up play. Following a goal-kick, Liverpool quickly passed the ball to Suarez – who once again was dropping deep to the left and forcing Chico away from his centre-back partner. Once on the ball, Suarez quickly turned and fed Sturridge on the right who quickly moved infield to square the ball for the on-rushing Henderson who brilliantly placed the ball into the back of the net. In addition, there were a few attacks down the left flank, involving Johnson and Sterling; sometimes it was Johnson overlapping infield with Sterling trying to feed him, sometimes it was the other way around.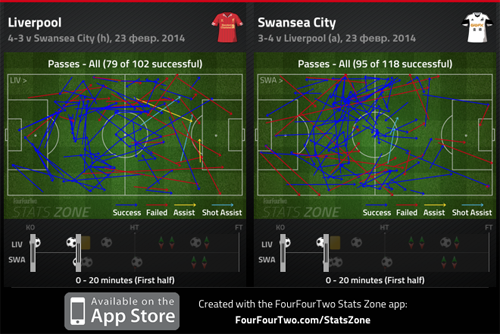 The rest of this article is for Subscribers only.
[ttt-subscribe-article]