By Chris Rowland.
In the first minute of the match against Cardiff at Anfield, Jordan Henderson sprinted into a 50-50 tackle without flinching. Two years ago Henderson looked like a rabbit in a headlamp. He is unrecognisable from that player. He proved on Saturday that his commanding performance in the thrashing of Tottenham was no one-off. Once again he was outstanding. His athleticism and energy have long since been lauded but now he's proving there is much more in his armoury.
Flourishing in an attacking central midfield role, he showcased his vision and range of passing. Confidence surged through his veins as Henderson drove the Reds forward.
Rewind back to June 9th 2011, when Henderson first arrived from Sunderland as a promising youngster about to turn 21. The first problem with Jordan Henderson, before he even wore the liver bird, was what we paid for him and who else we bought around the same time.
Within two months, Stewart Downing, Charlie Adam, Jose Enrique and Sebastien Coates would also arrive – and another £36m would be prised from Liverpool's bank account, and not as reluctantly as some of us might have liked either.  We seemed quite keen to splash the cash. The previous January, another £58m had gone on two strikers. Nobody has ever had the slightest doubt about the lower-priced one and certainly don't now, but the £35m spent on Andy Carroll and the £18.5m on Downing cast a giant shadow over Henderson as well the other players. Basically, they all got bundled in together as players we overpaid for, by the media and other fans but also some of our own fans.
Whilst on the subject of that fee, although the media relentlessly quote the figure of £20m, the definitive source of Liverpool information, lfchistory.net, quotes £16m but with an asterisk. Click on that and it says the fee was undisclosed so the quoted figure is pretty much guesswork. And if lfchistory don't know, I'm certain the media don't.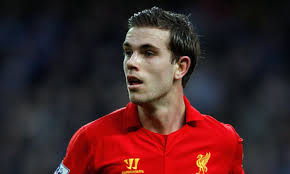 But whether £16m or £20m or somewhere in between when those mystical 'add-ons are – well, added on – the fact is, we didn't particularly like what we saw. We saw a shrinking violet, a timid tip-tapper who played it safe and made poor decisions on the field. Throughout his first season under Dalglish, there seemed little evidence to suggest we'd captured a future star and that that fee might just turn out to be money well spent.
The rest of this article is for Subscribers only.
[ttt-subscribe-article]