By Paul Tomkins.
It's been a while since we've been able to look down on Manchester United. Funnily enough, it's quite a nice feeling. It may not last, of course, as football's like that – you may laugh, but someone always laughs later (and no-one laughs last) – but right now I can't help but feel that 'we' have got the better manager and they have got the bigger problems.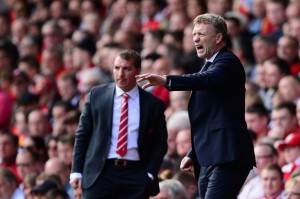 In fairness to Moyes, there were challenges – maybe even poisoned chalices – at United: replacing a club legend who bequeathed a mixed squad (albeit one containing plenty of talent, and one capable of walking the league in 2012/13). I've never thought Moyes to be a bad manager, but like Roy Hodgson, he always struck me as unremarkable, and ultimately that means uninspiring.
A big part of managing a club like Liverpool or Manchester United comes down to personality. Part of it involves the image given off to players. You can imagine a young Seamus Coleman hanging on Moyes' every word after he arrived from Ireland, just as Jonjo Shelvey was probably happy to listen to Hodgson; after all, these were the biggest names they'd ever worked under, at a time in their careers when any first team boss seems important.
But it's hard to see someone like Van Persie (or Torres, in our version of this particular nightmare) being impressed by upper-mid-table finishes. Perhaps it's no surprise that Adnan Januzaj is United's best player under Moyes, as for him, just being in the team is a wonderful experience (and the same applies to Danny Welbeck).
Players are famous for saying "put your medals on the table", as a way of proving yourself, but from Moyes' time as a manager, no table is required. Not even a tiny little one from a doll's house.
Maybe Moyes does have charisma; but to this outsider he seems to lack it. Then again, so does Manuel Pellegrini, but unlike him, Moyes' football also seems to lack personality, beyond a certain Scottish doggedness. Exactly like Hodgson at Liverpool, he seems to have slowed United's play down to that of a mid-table side, and turned them into regimented lines in attack, when you only want that in defence.
Although Brendan Rodgers has achieved no more than Moyes in the game thus far (although he's had far less time in which to do so), it seems that Rodgers has the right persona for a big job. I've doubted Rodgers' 'highest level' credentials at times, but aside from moments in the cringeworthy Being:Liverpool, he's seemed relaxed and in control.
Even in bad spells he has never looked haunted, unlike Hodgson and Moyes. Rodgers carries himself like a 'big four' manager, even if he's yet to prove he belongs there beyond the 20 games of this season so far (which see his side 4th, just five points off top spot). And his preferred style of play is expansive; closer to Ferguson's United than Moyes' Everton (or Moyes' United to date).
I like to look at what unique talents managers bring to the table, and with Moyes I see none. That doesn't mean he's talentless, and it may be that he's decent or good in a number of areas. But nothing about him screams 'winner'. (Although as the old Everton pub mural in honour of Moyes said, "you don't need to win things to be a winner.")
In Rodgers it's possible to think you see potential greatness, but he still has lots left to prove. While getting a side promoted and taking it to mid-table in the Premier League is not that unique (see Pulis, Allardyce and countless others), Rodgers was the first to do so with really intensive possession. The achievement was not unique, but the approach was. With the cheapest XI in the division he took Swansea to 11th place. He has also brought sports psychiatry into the football arena, with the preeminent Dr Steve Peters giving Rodgers an advantage over his rivals.
As decent a job as Moyes did at Everton, they never significantly outperformed their wage bill and squad cost, which usually hovered between 6th and 8th. They played unremarkable (but effective) football, and failed to win an incredible amount of the big games, particularly away from home. (Zero wins from over 40 attempts away to the big clubs.) Everton, as a club, were arguably ahead of the ball with their scouting and use of football databases, and that probably helped them remain a consistently good side over his final half-decade or so. Moyes also had the stability provided by an understanding owner and a lack of any great expectations.
Even dear old Roy was an innovator, once. Liverpool's problem was that it was in the 1970s, in Sweden. He revolutionised their football, which was still sweeper-based (that's how long ago it was), but by 2010 his was the standard style of most plodding sides across the continent. He read Updike, which means he has good taste in literature, but under pressure he talked nonsense. He visibly wilted. It's never nice seeing a grown man unravel like that, as he tries to rub his own face into oblivion, but your chosen leaders are paid to stay strong.
By 2010 Hodgson offered a perfected brand of two banks of four, which worked wonders for Fulham when they visited Anfield looking for a 0-0, but his Liverpool side liked to stay in that shell even when in possession, hitting long balls to an isolated front two. By 2010 there was nothing remotely unique about Roy Hodgson's footballing vision. Again, not a bad manager, just the wrong the manager for the task in hand.
Now, look at the other successful managers of recent times, and their distinctive skill sets. Arsene Wenger arrived in 1996 and revolutionised English football, with his style of play and his scouting of hitherto untapped territories. In time he's lost a lot of his 'unique selling points' (USPs as the business people like to say) as other continental aesthetes have subsequently arrived, and everyone now buys from everywhere. But his trophies with Monaco and Arsenal (up to 2004) still leave him rightly revered by most, and he constantly delivers a top four place to enable his team to sit at Europe's high table. I'd imagine that every player across Europe has heard of, and respects, Arsene Wenger.
Then take Jose Mourinho. Now, he's not a person I like, and at times his tactics have been pretty unattractive (in a number of ways, including sending Huth up front, and infamous eye-gouges), but if you ever wondered what it would look like if a manager walked around as if he had two dicks, he provides the answer. Perhaps only Bill Shankly and Brian Clough possessed the kind of chutzpah Mourinho exhibits, and even they wouldn't have called themselves the 'special one'. Mourino's success since leaving Porto in 2004 has all come with teams costing hundreds of millions, but he has the larger-than-life personality to carry the weight of expectation.
Carlo Ancelotti, meanwhile, arrived in England with the quiet confidence of a man who needs numerous tables on which to display his medals. He played for one of the finest sides ever, in the late-'80s Milan team of Gullit and Van Basten. He added a further two European Cups to their cabinet when he later managed them (and lost another final, lest we forget). He's fairly low-key in his demeanour, but his Chelsea team scored over 100 league goals when winning the title. He commands respect from the world's best players, not least because he's achieved more than almost all of them.
Then there's Rafa Benítez, who arrived at Liverpool in 2004 having just won the Spanish league title not once but twice in his three years with Valencia, a club that had not won La Liga for over three decades. He had a studious intelligence, and his USP was the ability to outwit any opponent in key one-off matches, with his successful (if still baselessly derided) use of rotation and zonal marking, which has led to a decade of trophies across several clubs.
Then there's the Big Daddy of them all, the man Moyes replaced: Alex Ferguson. And this provides one of the most interesting cases in football history, as Ferguson had many unique characteristics.
Ferguson, like Benítez, broke up a well-established duopoly with an underdog, in his case when Aberdeen usurped Rangers and Celtic. Now, admittedly Ferguson's first four league seasons in England involved three mid-table-or-below finishes, and in the current day he'd have been sacked well before he got the chance to turn things around.
This, of course, is now routinely run out as proof that managers need/deserve an excessive amount of time, but he did have the cachet of that remarkable Scottish success (at a time when that league was still taken relatively seriously). Also, by that very same argument Ferguson would not have got the job in the first place; after all, why didn't they just give Ron Atkinson unlimited time instead of sacking him in 1986? It took Ferguson seven years to win the title, yet Atkinson was sacked after five. How much happier would I be now, as a Liverpool fan, if they'd stuck with the flashy but unremarkable Big Ron for three decades? If managers are sometimes sacked too quickly, there's no logic in sticking with the wrong person.
Even though he celebrated goals like a five-year-old girl who was just about to wet herself, Ferguson was an intimidating bastard. More importantly, he was allowed to carry that old-style Sargent Major management over into the new era, in a way that others couldn't. And the reason why forms part of his USP.
Ferguson had power. Real power. Back in 1989 he was weak, a man barely hanging on. But by the mid-'90s he was untouchable, by anyone inside and outside of his club. He himself admits that success brought him the power he craved, and that power ensured more success.
By 2013 he was like a mafia boss, heading up the world's biggest cartel (although lawyers please note that I'm not implying any illegal activity took place). No one dare touch him. His players ran scared of him, but that also meant they ran through walls for him. There could never be any true player power at United because Ferguson had a monopoly on that particular commodity. Even the best players and the biggest names were disposable. Ferguson wasn't.
Then there was Ferguson's unique cabal, with whom he exchanged players, bottles of wine and late night words. These included underlings like Allardyce, Bruce, Hughes, Hodgson, Moyes himself, and other members of the LMA. Outsiders beware. After all, how many players did Ferguson sell or send out on loan to his cronies (or his son at Preston, until they sacked him, and they were all recalled in a fit of pique)?
With a touch of almost evil genius, Ferguson wrote to congratulate almost every manager at every level whenever they did well, which "bought" him their loyalty. After all, who wouldn't be flattered (and as we know, flattery gets you everywhere). It was a bit of 'toffee', as Paisley used to say, perhaps because it made you soft, in contrast to the way criticism spurs you to try harder.
The authorities fined Ferguson for his frequent out-of-order outbursts against officials, but David Gill, United's CEO, was also vice-chairman of the FA. To me, at least, it seemed like Ferguson also got away with a hell of a lot more than other managers. His players were also famed for fronting up to officials.
Referees were clearly terrified of Ferguson. Graham Poll was one of the profession's strongest personalities, yet even he said:
"There was a sense of relief when United played well and won, particularly at Old Trafford. I knew if they didn't win there was every chance of seeing, and more importantly hearing, Ferguson and reading his comments about me in the papers the next day. All referees knew that Fergie's standing in the game – and the fact he was at the biggest club – meant that when he unleashed the hairdryer on a referee there were inevitable headlines."
Imagine how the more lily-livered officials felt about Ferguson, particularly those trying to make their way up the ladder? Dare they even risk upsetting him? And can you honestly tell me that someone admitting to the above mindset wouldn't try subconsciously – if not overtly – to appease 'Sir Alex'?
How many points a season was all this 'intimidation' – both intended and unintended – worth? My guess is more than anything Moyes' actions could achieve. Moyes has the United hot-seat, but he has little power by comparison with his predecessor.
Ferguson did extremely well to achieve the initial breakthrough success with United, and to build some of the teams he did, but with foreign officials less concerned with his standing and very unlikely to be worried about his comments about them in English newspapers, his record in Europe is pretty poor, all told. Maybe that explains some of the disparity.
Ferguson built some great sides, but last season's title success looked like it was achieved with a combination of fear, muscle memory and Robin Van Persie, backed by the knowledge of everyone at the club about how to win the league. By contrast, will Vidic, Giggs, Kagawa, Carrick, et al, be impressed with Moyes' tales of once leading a team to 4th place (and then not even making the Champions League group stage)? Will they listen with awe about the season Everton reached a cup final? Will players across the world be desperate to play for him? Indeed, have many even heard of him?
If any of the Godfather's players let him down you can imagine them waking to an equine head on the pillow the following morning. By contrast, Moyes' glare, though in it's own Middle Earth way quite terrifying, must seem as intimidating as that of a Blue Peter presenter. Moyes may have been the Chosen One, but perhaps Ferguson didn't want to hand his team over to someone who would outshine him.
So why did Moyes get the job? Part of the trouble is that many in the British media, and many within English football as a whole, want British managers to succeed. Gordon Strachan recently said that's what people in the game want to see. It would explain why some foreign managers have been treated terribly by certain members of the press, whilst their drinking buddies get free rides. (Of course, unless it's the team they support that's being screwed up by an Englishman, which usually means the national side.)
My view would be that our clubs should want the best managers, irrespective of their nationality, with the same applying to players.
In 2004, some in the game were upset that someone like Rafa Benítez would be chosen over Alan Curbishley. Yes, seriously. Even now Richard Keys, when asked last week on Twitter, said he'd rather have Sam Allardyce managing his team than Benítez. I expect Big Sam gives better bantz, and is happier to 'smash it'.
This desire to see English (/British) managers succeed is epitomised by the idea that "Moyes deserved a top job", just as Hodgson deserved the Liverpool one.
Personally speaking, I don't think Rodgers deserved the Liverpool job. It wasn't his God-given right. I'd like to think that he was chosen to fit in with an ethos – based on his footballing philosophy – and not picked as part of a burning need to reward managers from these isles.
And in fairness to him, Rodgers has grown into the role. Maybe Moyes will do the same at United – I can't claim to be an expert on either him or United, so these are merely observations from a distance. But at this point in time he's only succeeded in taking them down to roughly where his Everton were, in the way that Hodgson sank Liverpool to Fulham's level.
Like long-ball football, "crossing football" seems to have a glass ceiling, and Everton tended to hit it under Moyes. Passing football, with mobile forwards (/attacking midfielders) and exceptional movement between the lines, is how teams usually succeed higher up the table. Now that Everton pass the ball and move better, they've improved. Now that United look to cross all the time, they've regressed.
Liverpool, meanwhile, are improving due to the exceptional talent and movement of the strikers (and the attacking midfielders). And although the defending is still something of a white knuckle ride at times, Rodgers' Reds are winning enough games to be taken seriously. And that means he should be taken seriously, too.